Gary Farrell Winemaker Theresa Heredia Takes "Pride" in What She Does
I have some wine experts, wine judges, and wine drinker friends that are actively celebrating Pride Month. These comrades approached me questioning if I was doing a content piece showcasing any LGBTQ winemakers. Embarrassingly, I had to admit that I have not put out content related to inclusion of this community in the wine industry. My special thanks goes out to those friends that were instrumental in pointing out this naïve oversight.
Theresa Heredia
Theresa Heredia is a name well known in the winemaking as well as the LGBTQ community. Her journey began as a chemistry geek, earning a bachelor's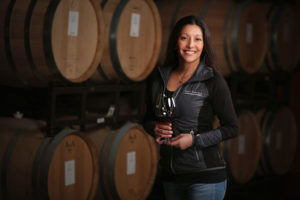 degree in biochemistry from Cal Poly, San Luis Obispo. She then went on to UC Davis and spent two years in the Chemistry PhD program. Along with some of her brethren, she was a teaching assistant for Undergraduate General Chemistry. While grading exams with her fellow grad students, the enology guys would bring wine and they would all share stories about their research. It was enlightening to find that the enology students were using the same analysis methods that she was using in peptide synthesis for her cancer therapeutics research. That one serendipitous conversation changed her career path and, within a few days, she transferred to the enology program.
Her initial industry experience and first harvest were at Saintsbury in Carneros in 2001. Admittedly a Burgundy lover, working at a winery that focused on Chardonnay and Pinot Noir was a great fit. Joseph Phelps Vineyards hired her on in 2002 where she met Craig Williams, a winemaker with 30 years' experience but still maintained a child-like passion, especially for Chardonnay and Pinot Noir.
The rare opportunity was presented to work with a newly planted vineyard on the west Sonoma Coast called Freestone. For Theresa it was an amazing way to begin her career. This biodynamic vineyard site was prepared with the best clones, proper rootstocks, meticulous vineyard management, and she had Craig Williams by her side. She says that this time making wines at Joseph Phelps with Craig made her the winemaker she is today; quite an endorsement.
Theresa at Gary Farrell
After a decade at Joseph Phelps, she was recruited by Nancy Bailey, then the general manager at Gary Farrell Wines. Her draw was not only the ability to make great wines but to connect with the end consumer in a way few producers can. She started there in 2012 and was recently promoted in 2021 to director of winemaking.
Her "site expressive" wines sourced within five "communities" of Russian River Valley AVA have won multiple awards and gained acclaim within the industry. Theresa would tell you that scores do help market wine to some consumers but hearing positive feedback from people drinking her wines is what really warms her heart.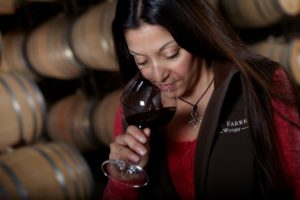 Theresa is a gifted LGBT Latina vintner and, as a lesbian woman, has supported programs within the LGBTQ+ community, both on her own and in conjunction with California's Gary Farrell Vineyards & Winery. This includes Gary Farrell being a major donor for the Human Rights Campaign, and participating and donating wine for "Out in the Vineyard." Locally, she supports the Sonoma County Vintners Diversity, Equity and Inclusion Committee and has been honored with the North Bay Business Journal's Pride Leadership Award, which recognizes local professionals for their contributions to the Pride movement.
LGBTQ winemakers make up such a small section of the American wine world that their stories typically go untold. Theresa Heredia's talent as a winemaker, her engaging personality, and her dedication to supporting inclusion in the industry exemplifies her reputation as a pillar in both these communities. This celebrity status has not been wasted on Theresa as she continues to blaze trails for winemaking and for the LGBTQ community, stating that diversity and inclusion are just good business. Endorsing Gary Farrell wines and Theresa Heredia shows your support for inclusion in the wine and spirits industry, along with validating that you have great taste in Chardonnay and Pinot Noir.
Suggested Gary Farrell Wines
Russian River Selection Chardonnay 2021(Russian River Valley AVA) – $35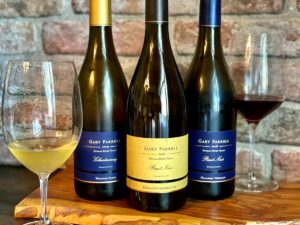 The appellation is Russian River Valley with grapes sourced from Vineyards Westside Farms, Bacigalupi Vineyard– Goddard Ranch, Olivet Lane Vineyard, Rochioli Vineyard, Allen Vineyard, Lazy W Vineyard, Martinelli Vineyard– Parnell Ranch, and Pratt – Cornerstone Vineyard. The wine undergoes fermentation & aging 10 months in 30% new French oak, remaining 9 months on the lees (expired yeast).
This structured 100% Chardonnay has a nose of tropical citrus (pineapple, lime, orchard fruit (peach, Asian pear), and baking spice. The dry palate has a brined citric style acidity and slight textured mouth-feel. The alcohol is well in check with flavors of grilled pineapple, citrus pith, toasted nut and a really interesting raw pâte à choux like quality on the finish. The bright acid and complexity are sure to please even those that turn their nose up at Chardonnay. I suggest just pour blind and don't tell them the variety. It's called tough wine love. At a production of only 4,578 Cases, this is a bottle party waiting to happen.
Westside Farms Chardonnay 2019 (Russian River Valley AVA, Westside farms Vineyard) – $55
The 40-acre Westside Farms vineyard sits along the banks of the Russian River and is planted with Chardonnay UC Davis clone 4. The vineyard has a particular advantage of having a wide diurnal temperature range (daytime versus nighttime temperature) which maintains this natural acidity in the grape.
The wine has an intensity that makes the fruit elements leap out of the glass. There are aromas of lemon curd, lime and lime blossom, orchard fruit (peach / apple compote), and sweet baking spice (vanilla). The palate is dry with an evident creaminess and flavors of citrus fruit (tangerine, lime), orchard fruit (apple, peach), and even though the fruit has a nectar-like quality, the wine maintains a freshness. The vibrant persistent acidity finishes with a tangy brined tangerine note and gently warming alcohol. This wine offers one of the best structured Chardonnays from the Russian River AVA. This remains a special bottle you have with someone who will truly appreciate it.
Russian River Selection Pinot Noir 2021 (Russian River Valley AVA) – $45
This 100% Pinot Noir has grapes sourced from Hallberg, Rochioli, McDonald Mountain, Martaella, Bacigalupi, Nonella, Pratt-Lakeview, Marshall Ranch, Castro, Abigail's vineyards in the Russian River Valley Appellation. After fermentation the new wine spends 7 to 10 days sitting on the solids as extended maceration. This helps integrate tannin and build ester complexity. It then spends 13 months in 40% new French oak barrels on primary lees.
The wine opens with a nose of red fruit (cherry, raspberry, mulberry), fennel leaf, earthiness (fallen leaves), pencil graphite, and allspice. The palate is dry with a crunchy, mouth-watering acidity, and a gently warming alcohol. The tannins are structured and approachable. There are flavors of red fruit (raspberry, mulberry), cherry skin, and a baking spice meets stems finish. This wine begs for some mushroom risotto or duck with raspberry sauce.
Hallberg Farms Pinot Noir 2018 (Russian River Valley AVA , Green Valley, Hallberg Vineyard) – $55
The grapes include clones 667, 777, 828, Pommard and a mysterious "suitcase" selection from the 100-acre Hallberg Vineyard in the Green Valley sub-appellation. This 100% Pinot Noir sees fermentation and 15 months aging in French Oak (40% new).
The nose boasts of dark and red fruits (dark cherry / black raspberry), sweet baking spice (cinnamon), a dried tea leaves in a cedar box quality and a haunting subdued floral note. The dry palate has a tangy acid structure and a medium body, appropriate for Pinot Noir. The tannin structure is elegant, integrated and silky. The finish is a sultry dance on red fruit and baking spice wrapped around a sturdy acid core. At only a 1079 case production, this is truly a special treat if you can find it.