Why Seek Out Asolo Prosecco DOCG
A few weeks ago, we were lucky enough, thanks to Studio Cru and the Consorzio Asolo Prosecco, to be invited to experience the wines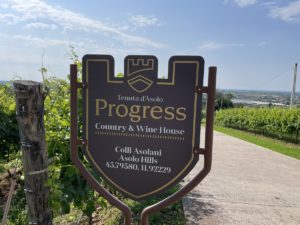 , culture and history of this beautiful area. The town of Asolo lies only 40 minutes north of the Marco Polo airport in Venice; unless you have an Italian driver, then plan on less then 30 minutes. It is absolutely true what they say about the drivers here so mind your crossing of roads with the highest of vigilance.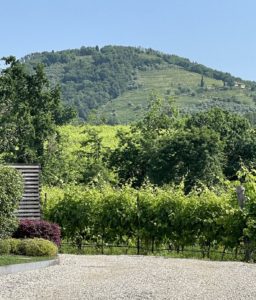 Studio Cru booked us at Tenuta d'Asolo Progress Country & Wine House and we were not disappointed. The property is also a working winery surrounded by the Asolo foothills, beautiful vineyards and only a short drive to the scenic downtown area. My descriptions cannot begin to do the accommodations justice so you have to check the link and see for yourself. The hospitality, food and wine are enough to divert your stay in Venice to Asolo for at least a day or two. For us, it was a destination for emersion in the wine, food and Asolare lifestyle.
Asolo
The town of Asolo has a multifaceted history dating back to the Roman empire. Throughout the centuries its climate and beautiful landscapes have drawn the attention of many powerful families that built guest houses here to escape the heat and crowds of coastal Venice. The Venetians, Napoleon and the Austrian empire all had their time and influences here, adding to the historical and cultural diversity. One only need to walk the cobblestone streets in the shadow of Castello della Regina Cornaro (Queen Cornaro's Castle) to feel like you have taken a step back in time.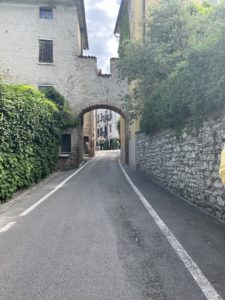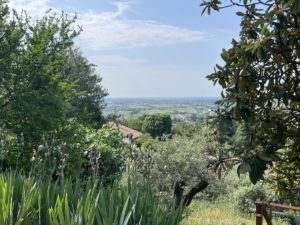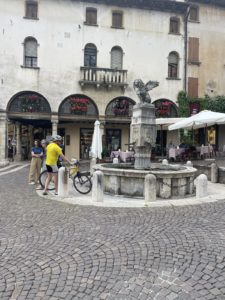 The area has so many hidden gems that will grab the attention of even the most fastidious visitor. If you are a history or engineering buff you can take a short drive to Bassano del Grappa to see 13th-century Ponte Vecchio bridge spanning the Brenta River or stop by one of their museums that specialize in WWI pieces and assorted artwork. The small town of Possagno offers a view into the life of famous sculptor Antonio Canova at the Museum Gipsoteca. You always have the option to stay in the village of Asolo itself and savor what 19th century Italian poet Giosué Carducci called the 'city of a hundred horizons.'
Asolo Prosecco DOCG – One of the Times Smaller is Better
It just so happens that Asolo is in the heart of the Prosecco production area of Northern Italy. Unless you've been living under a rock, Prosecco should be quite familiar to you as the United States accounts for over 70% of all this region's exported bubbly. As a result of dreadful marketing, many consumers have the misunderstanding that all Prosecco is the same. My hope is that as you continue reading about and consuming these amazing wines, the truth about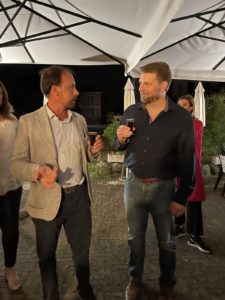 Asolo Prosecco's uniqueness will become readily apparent.
By definition, the Asolo Prosecco DOCG area covers eighteen municipalities that surround the ancient village of Asolo and are entirely within the Provence of Treviso. The only other DOCG area for Prosecco is Conegliano – Valdobbiadene, located slightly further east of Asolo. The DOC area for Prosecco, on the other hand, is vast and spans three regions: Veneto, Trentino and Friuli. To give you a better perspective as to the size of the production, Prosecco DOC puts out 700 million bottles per year and reigns as the highest producing sparkling wine region in all of Italy. As a comparison the DOCG area of Conegliano – Valdobbiadene are around 100 million bottles and Asolo at a paltry 24 million.
The staggering amount of growth of Asolo Prosecco showed an increase of area under vine from 800 ha (1976 ac) to 2200 ha (5436 ac) over the last decade. The Consorzio, wanting to keep a quality-minded focus on their region, have blocked all new Glera vineyard planting for Asolo Prosecco DOCG. This restriction demonstrates their dedication to maintaining a quality product; giving those involved a sense of pride when placing the denomination brand on their label. This self-identity and hospitality are elements that unfortunately gets lost when opening a bottle 4600 miles away from the source. When you visit, however, you soon see how eager these winemakers are to open and pour a taste of their Asolo Prosecco for you.
Asolo Prosecco – Deciphering Sweetness Levels
As you can see from the chart, sweetness levels of Prosecco, and many other sparkling wines, can be quite perplexing. Much of the confusion comes from the fact that each "category" of sweetness has a range of measured residual sugar. From a consumer standpoint, you don't have to get too much in the weeds with sweetness ranges. Rather, I will give you a simpler way to navigate these wines and find the type of Asolo Prosecco for your tastes.
| | | |
| --- | --- | --- |
| Style of Wine | Residual Sugar (g /L) | Percent of Asolo DOCG Production |
| Brut Nature | (0 – 3 g/L) | 1% |
| Extra Brut | (0 – 6 g/L) | 5% |
| Brut | (0 – 12 g/L) | 18% |
| Extra Dry | (12 – 17 g/L) | 74% |
| Dry | (12 – 17 g/L) | 2% |
The key to understanding how sweetness levels affect the final wine is dependent upon acidity. Unfortunately, there is no wine I know that shows acid levels on the label but we can make some inferences with this area of Prosecco that will help guide us.
The sweetest level we find in the area is the "Dry" category, which again can be a bit confusing. These wines are not cloyingly sweet like a Moscato but rather have a bright acidity that is slightly overpowered by the residual sugar. You can perceive the sweetness when you take a swig from your glass and this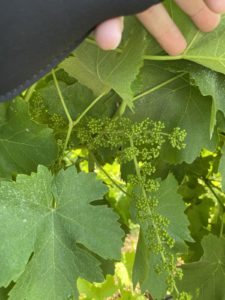 sweetness seems to heighten the fruit elements of the wine. So, if you like fruity, and sweet, this is your wine.
The "Extra-Dry" are slightly less residual sugar and, with the acid levels, have a hint of sweetness but displays more as very ripe orchard and stone fruit. The sugar also gives a slight increase of viscosity on the mouthfeel. These wines are chameleons in that how we perceive them changes depending on the food we put with them. A sweeter food will make our perceptions of the wine less sweet and more acid driven foods will enhance our ability to feel the sweetness in the wine. To no surprise, this is the most popular style for our domestic consumption.
The "Brut" level wines start to lean more to a citrus fruit element as the acidity shows through beyond the residual sugar. This style allows more of the brined (sea spray) type of acidity to emerge, a trait that is so special to these Asolo hills. The brut wines are very versatile as they can be consumed on their own for those that love acid-driven wines. One can also safely place these with a range of your favorite Veneto fare.
The Asolo Prosecco labeled "Extra-Brut" are a racy bunch. Make no mistake, these wines are all about the acid. They display a mineral-laden brined acid core with citrus fruit and pith dangling from it like Christmas decorations. These beg for food to help keep the acidity in check and are amongst the most popular with the domestic (Italian) consumers.
The unique style called Sui Lieviti (on the yeast lees), occurs when the second fermentation takes place inside the bottle rather than in the stainless-steel tank.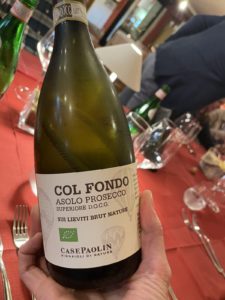 This continued ferment in bottle builds up pressure and the carbon dioxide dissolve back into the wine causing the sparkling. Since all the fermentable sugars are consumed by the yeast, the resultant wines are very dry (Brut Nature) by definition and minimum 90 days on the lees by DOCG law. Since the wines are not disgorged, the spent yeast cells stay in the bottle until consumption offering a noticeable autolytic note (biscuit, bread crust). Although finding a bottle may be difficult due to low production levels, it offers a level of wine geeky interest that is unprecedented.
There are no judgements here for your stylistic selection. As we all have different tastes, thresholds of perception and beverage preferences, drink the one that best suits your palate. I suggest gathering a small group of friends and taste through the entire range of these wines to find which is best for you. Afterall, increased consumption translates into increased learning.
Why is Asolo Prosecco Special ?
When looking from a consumer perspective, the proverbial elephant in the room remains the fact of paying twice as much for a bottle of Asolo Prosecco DOCG compared to laying out a tenner for the warehouse club special DOC Prosecco (maybe even with a prettier bottle). Does paying more really translate to something appreciable as you pour it into your thirsty gob? The short answer is, yes.
Having my boots on the ground in Asolo and tasting more than my body volume of these wines has led me to a conclusion. There is a multifaceted recognizable quality difference from the "entry level" juice most call Prosecco. The lower yields in the vineyards here translate to better quality base wines and more complex and balanced end sparkling wines. These Proseccos also have a seductive mineral core that seems to be absent in other Prosecco production regions; a trait that draws me to them.
Another quality-driven decision has some of the producers here experimenting with longer and slower second fermentations. Where Prosecco DOC requires a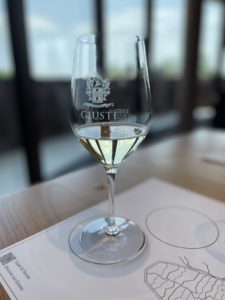 minimum of 30 days in tank, the "Long Charmat", invented in the 1970s, has the wines on the lees for sometimes as long as 15 months. Although this revived technique takes longer production times and is more costly, the resultant sparkling wines have a softer creamy mousse similar to traditional method sparkling wines, like Champagne. The difference is overtly noticeable and gives the wines an air of quality, refinement and a sexy mouthfeel.
Gazing at the glut of Prosecco that is produced and exported, it is easy to associate the name with inexpensive contrived quaffable sparkling wine. Unfortunately, for a large portion of the production, you would be correct. There are then the producers in the Asolo Prosecco DOCG that not only show a tremendous pride in their final wines but a stewardship to the land and vineyards they farm.
Suggested Asolo Prosecco Producers to Seek Out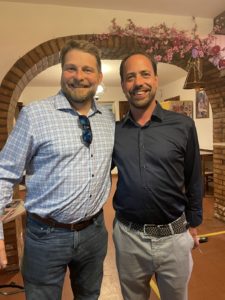 Giusti Wine