FMN – July 2023 – Coast to Coast Drinking for Independence
The recognized day for declaring our independence as a country is upon us. I always found it odd that we celebrate this day (July 4th) and not the day we actually voted to declare independence (July 2nd) nor the date the Treaty of Paris was signed, September 3rd, 1783. Perhaps just a bit of historical semantics, as regardless of the date, our tribe of ethnocentric, grill cooking and alcohol swilling Americans shall have their day. After eating and drinking our fill, we then ignite explosives to stimulate the local hospital economy and give the "on-call" hand surgeons something to do on said evening.
When contemplating this piece, I wanted to look for a few wines that not only represent America but also goes well with any grilled beast you have on your holiday menu. There are literally thousands of wines and hundreds of producers across this great land that could easily fit the bill for these parameters. Over the last month or so I was lucky enough to sample some wines from both the east and west coast that immediately came to the forefront of my well-pickled brain.
Stag Hollow
The first winery hails from one of my most favorite wine-making states, Oregon. Although many consumers are familiar wit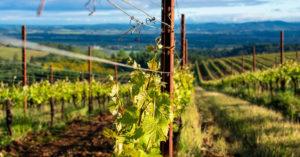 h Willamette Valley, they may not be as familiar with some of the American Viticultural areas located within. One such AVA is Yamhill – Carlton located about 35 miles southwest of Portland and 40 miles east of the Pacific Ocean. The region is bordered by the Chehalem Mountains to the north, the Dundee Hills to the east and The Coastal Range to the west. These natural barriers provide protection from the extreme Pacific weather. The subsequent warmer temperatures result in some of the earliest harvest dates in the Willamette Valley and present the opportunity to grow some varieties that may otherwise fail to ripen.
Jill Zamowitz and Mark Huff met at the University of Washington while studying forest birds in the Olympic Mountains. They were married in 1985 and, while on their honeymoon, toured the wine regions of Italy's Piedmont and Spain's Rioja. Bitten by the wine bug, they found themselves buying grapes from California and making wine in Jill's parent's basement. It wasn't long after that they purchased a sheep farm on a ridge near Yamhill, Oregon that later became Stag Hollow Vineyards, releasing their first commercial wine in 1994.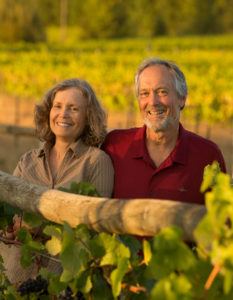 On their 34-acre property, they have been growing Pinot Noir and Dolcetto sine the 1990s and added Tempranillo about 10 years ago. In addition, they also produce some red blends, a dolcetto rosato sparkling, and Muscat. Although, the Pinot is well respected, I wanted to focus on the amazing Mediterranean varieties (Dolcetto and Tempranilo). You may not think of Oregon as a place these varieties would be successful, but in this microclimate, it is magical. The wines show full ripeness but maintain a bright acidity that keeps the wine varietally true yet not flabby nor overly alcoholic.
Growing these varieties represents the challenges that the couple loves to take on, especially when the unpredictability of nature is involved. Their love and respect for the environment shows as they have set aside 12 acres of their property in oak woodland and wetlands preserved for wildlife habitat. Also, Jill's "other job" is Commissioner at Oregon Department of Fish and Wildlife.
Attempting to be inclusive of both the eastern and western United States, our next visit takes us to the, much overlooked, Finger Lakes region. Being a cooler climate area, many consumers may be familiar with their Riesling but they offer a wide variety of potential wine discoveries.
Scout Vineyards
Located about 5 hours northwest of New York City, the Finger Lakes contain Cayuga Lake AVA and Seneca Lake AVA. Although, I am fa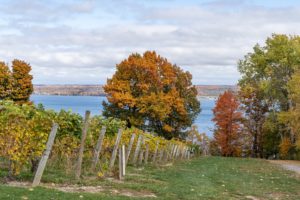 miliar with a number of producers in the area, one local winemaker turned me on to what he called some of the best Chardonnay he's ever had. Serendipitously, his complements and introductions led me to reaching out and sampling wines from Scout Vineyards.
Daniel and Olivia Budmen both attended and met at Hobart and William Smith Colleges in Geneva, NY. Olivia had the dream of being a small-town pediatrician and Daniel was on track to be an environmental lawyer. The inciting incident may have been when he accepted a research project about vineyard micro-climates at Silver Thread Vineyard. This led to an internship in Napa and, upon returning for his senior year, met his future wife Olivia.
After graduation their adventures led them back to California, over to New Zealand and eventually back to the Finger Lakes region of New York. Both worked in the wine industry while Olivia attended grad school and they started making wine for their own brand in 2017. A year later, Olivia and Daniel purchased the property that is now home to Scout Vineyards.
In my humble opinion, their philosophy of winemaking is the main reason their wines are so expressive of place. They have a "hands-off" approach believing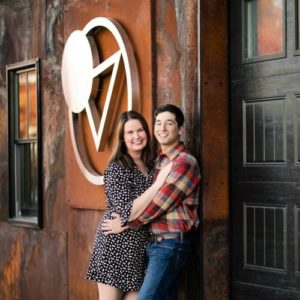 that the wines are made in the vineyard and their job is to help the grapes become the wines they are meant to be. Their wines are sustainable, minimally influenced, and reflective of the people and place that grew them. Having tasted through their Chardonnay portfolio, I have a better understanding of how the terroir affects the styles of the Chardonnay grapes and resultant wines. This was truly an educational experience.
Today, Daniel works for a local organic farm, Seneca Grain and Bean. After finishing grad school for science education, Olivia now works as a high school science teacher. Together, this inspired couple operate Scout Vineyards with the help of their families.
As you celebrate the birth of our nation, or rather the announcement of its conception, drink wines from these two domestic producers that exemplify the American (wine) dream. Not only are these wines lower production, which makes them a special treat, they are drinking well above their price points. Please just make sure if you plan to imbibe, you have a designated igniter for your fireworks fun. Wishing you a happy and safe Independence Day.
Suggested Wines from Stag Hollow:
Dolcetto d'Yamhill Superiore 2017 (Yamhill – Carlton, Oregon) – $24
The wine has a nose of sweet and spiced dark fruit. There are aromas of blueberry, blackberry, baking spice (allspice), licorice, and peppercorn. The dry palate has a broad linear acidity, medium body, with fine grained silt-textured tannins. The alcohol is well in check and adds a pleasantly slightly bitter fruit-skin note on the finish. I am more than pleased by the value for the price of this wine, one of Piedmont's underappreciated grapes. If you are an Italian wine lover, this is a must try.
Tempranillo 2017 (Yamhill – Carlton, Oregon) – $30
The nose has overt dark fruit compote (blackberry, black currant, plum) dusted with allspice, moist pipe tobacco and coco powder. The dry palate has maintained a bight fresh acidity with silty chalky tannins and a gently warming alcohol note. There are flavors of tangy dark fruit textured with chalky sweet baking spice and wrapped in leather. Rioja wine drinkers would love this non-Spanish example. This wine begs for some cured meat or Moroccan spiced lamb kebabs.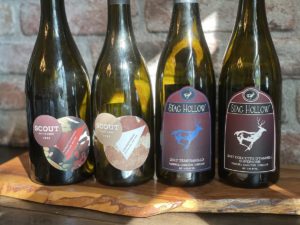 Suggested Wines from Scout Vineyards:
Marquette Nouveau 2022 (Finger Lakes, New York) – $26
This fun wine takes a hybrid grape with vinifera relatives, including Frontenac and Pinot Noir, and places them in tank whole cluster to undergo carbonic maceration (like a Beaujolais Nouveau). The nose has a candied and fruit element with ripe plum / blackberry jam, raspberry jolly rancher candy, banana and spice (black pepper). The dry palate has a bright crunchy acid structure and a very subtle tannin level, due to the gentle nature of this process. Flavors of raspberry, cranberry are wrapped in a lingering acid core. I'm definitely coming back to the 2023 vintage for this Thanksgiving.
Cayuga Lake Chardonnay 2020 (Cayuga Lake, New York) – $45
This 100 %Chardonnay comes from 55-year-old vines planted in shale soils. The nose shows a concentration of fresh ripe orchard fruit (peach, pear, nectarine), slight toasted element and an underlying mineral petrichor note. The dry palate has a broad linear acidity with a sexy round textured mouth-feel (a nod to the 12 months on gross lees). The flavors mirror the nose with an added lean to the tropical citrus and a savory almond poundcake nutty finish. For my palate, this is in the top 5 of any domestic Chardonnay I have ever tasted.