FMN – August 2023 – Help Beat the Summer Heat with Wines from Languedoc
The outdoor mercury and grocery store prices seem to be in competition as to which can rise the highest and languish us with the most discomfort. Enduring this summer heat with a lighter wallet bodes for slow misery through the proverbial "dog days" of summer. Although there remains little relief that I can provide for sweating like a meatloaf, I can suggest some value wines that may help you drink your way until Autumn.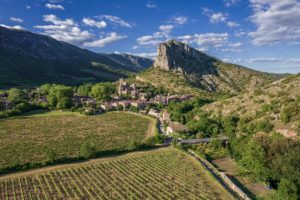 Languedoc (Laan-ga-daak) is a large wine growing area on France's Mediterranean coast that has a regional appellation (Languedoc AOC) as well as 30 appellations spread over four departments: Aude, Herault, Gard and Pyrénées Orientales. This vast area has long provided an opportunity to find good wines drinking well above their price points. The caveat, however, was you had to do some research in order to tease out the "quality for value" from the large ocean of quaffable wines produced in this vast region.
Languedoc Rebirth
Fortunately, for us the consumer and for the reputation of Languedoc in general, the powers that be have championed the idea of becoming more quality focused with their wine production. The allowed grape varieties and percentages therein, have become stricter along with encouraging lower production levels. This rebranding of the region has elevated the quality but consumer prejudices, until overcome, have kept the retail costs lower by comparison. This situation equates to better wine at a lower cost and, to our benefit, a happier consumer.
Languedoc Growing Conditions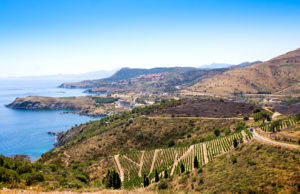 This large region has an interesting and diverse array of growing conditions that greatly affect the final wines. The terrain varies from the hot coastal Mediterranean areas to the elevated and more temperate continental climate of the Black, Pyrenees and Cévennes mountain ranges. These mountains not only affect the temperature and weather patterns but also moderate the impacts of the three prevailing winds in the area. The brutal Alpine Mistral across the Rhone Valley, the humid Marin from the Mediterranean and the cool Tramontane from the Atlantic all make their mark on the affected vineyards. If that was not diverse enough, virtually every category of vineyard soil can be found somewhere within the Languedoc. With all these terroir variables, one can easily see how the wines can truly each take on a personality of their own.
Languedoc Red
Red wines are a large majority accounting for almost two thirds of production and although you may find some vins de cépage (varietal wines), most are a blend. Much like the Cotes du Rhone to the north, the reds are dominated by GSM (Grenache, Syrah, Mouvedre) blends with some Carignan and Cinsault. You may also see some more obscure red varieties, like Fer Servadou or Lledoner Pelut, in small quantities.
Languedoc Rosé
Over the past few decades, the rosé has increased in both volume and in appellations that produce this pink wonder. Made from the aforementioned red grape varieties, rosé wines have become so ubiquitous in Languedoc that they account for 1/3 of France's total "pink" production. These wines tend to be dry (little to no residual sugar), fruity, acid-driven and fuller bodied versus their Provençal counterparts; making them amazing food wines.
Languedoc White
The white wines consist mostly of blends, with varieties similar to those of the Rhone: Marsanne, Roussanne, Grenache Blanc, Clairette, Vermentino, Viognier, etc. There is, however, one exception to these blended white wines. Picpoul-de-Pinet is the only all white still wine appellation in all of Languedoc, producing varietal wines from an obscure grape of the same name, Picpoul Blanc. Its name translated means "lip stinger" alluding to the sometimes bracingly high acid level in the wines it produces.
Languedoc Sparkling
The sparkling wines of the region predate those of Champagne and are limited to one area, Limoux. Although the area of production is the same, there are three different appellation labels based on the method of production. These sparkling wines are either produced by traditional method, where the second fermentation takes place in the bottle (like Champagne) or by Method Ancestral, where the wine is bottled before the end of the first fermentation. As the first initial ferment continues in bottle, the bubbles are trapped inside thus giving the wine its lower-pressured fizz.
Languedoc Sweet
Although the natural sweet wines of Languedoc are made only in two appellations and in minute amounts, they are worth seeking out. Using extremely ripe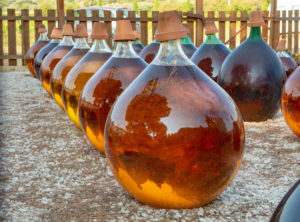 Muscat Blanc à Petits Grains grapes, a neutral grape spirit is added to the fermentation before it has completed. The yeast is killed off, fermentation ceased, and the resultant wine is sweet due to unfermented sugars remaining. These wines are addictively unctuous and although traditionally used as aperitif, are amazing with desserts and foie gras.
One can see that with all the styles, grape varieties and terroirs, Languedoc has almost endless possibilities for wine exploration and discovery. I invite you to seek out not only my recommendations but any from these appellations that you serendipitously happen upon. Within the next decade this will be one of the most trendy and popular regions. Thus, you are now drinking ahead of the curve and beating the heat all without blowing up your budget.
Suggested Wines
Domaine Delsol, Réserve Delsol, Picpoul de Pinet, 2022 – $12
This 100 % Picpoul Blanc wine hails from Domaine Delsol, situated along the Thau Lagoon in Montagnac in the newly formed Picpoul de Pinet AOC. The nose has ripe orchard fruit (peach, nectarine) and a slight hint of citrus (tangerine). The palate is dry with an evident increased viscosity of mouth-feel; a nod to the two months lees aging. The acidity is unapologetic, citrus-driven and seems to crescendo on the palate. There are flavors of citrus (lemon, lime, and tangerine) with a slight reminiscent echo of the orchard fruit. This wine is bright, thirst quenching and would serve well as a poolside sipper or the base for a wine cocktail. I love to pair this wine with seafood ceviche, marinated shrimp or fish piccata.
Domaine Jean Claude Mas, Côté Mas Brut Rosé, Crémant de Limoux, NV – $16
This traditional method sparkling wine is produced at the Château de Martinolles estate in Limoux and contains 70% Chardonnay, 20% Chenin Blanc, and 10% Pinot Noir. One first notices the complexity on the nose with scents of orchard fruit (peach, apricot), citrus (tangerine), floral (honeysuckle, citrus blossom), strawberry and yeast starter. The palate is dry with mouth-caressing mousse and evident tangy acid structure. There are flavors of tangerine, blood orange, and a barely ripe strawberry nuance on the finish.  Pair this wine with soft cheeses (brie, goat) or grilled barbecue chicken (just try it).
Domaine Haut-Gléon, IGP Vallée du Paradis, Rosé 2022 – $17
This Château Haut Gléon blend contains Grenache Noir, Pinot, Merlot, and Cabernet Sauvignon. Some of these varieties are not permitted for rosé wines in Corbières, where the chateau is located. Thus, they declassified to the IGP, where these grapes are permitted. The wine has aromas of ripe peach nectar, red fruit (strawberry, red currant) with a slight floral note. The palate is dry with bright acidity and a sturdy structured mouth-feel. Flavors lean slightly more cranberry, white cherry and clementine with a clean acid-driven finish. This would make a great food wine, pairing with salad courses (especially with dried red fruits) and grilled fish.
Domaine d'Aussières, Altan d'Aussières, Corbières, 2020 – $32
Aussières dates back to 97 AD and the abandoned estate was purchased and revived by Baron Éric de Rothschild in 1999. This classic red Corbières contains 38% Syrah, 34% Grenache Noir, and 28% Carignan. The nose bursts with an overt freshness, thanks to some carbonic maceration. The nose has elements of candied "jolly rancher" like fruit (raspberry, plum, blackberry), strong notes of garrigue (thyme, sage, juniper) and a slight moist tobacco note and tea leaf. The palate is dry with crunchy acidity, medium body, and a prevalent but fine-grained tannin structure that has an affinity for the gums. There are flavors of plum, raspberry, cherry, blackberry all wrapped together in a blanket of herbs. The finish sees the red fruit fade to an herbaceous gently warming finish. Pair with slow roasted meat: pork shoulder, beef ribs or veal shank.