FMN – September 2023 – Football and Wine
The time of year has arrived when we focus from sweating like a pig to the pigskin sport, football. When I was young, there were many years that my father and I had differing opinions on politics, beliefs and the world in general, but we always could talk about football. Now that I'm older and have a family of my own, football continues to be a "common ground" that can begin conversations. The only difference between then and now is my imbibements during these gridiron games.
Although I am not too bougie to have a few beers with friends while shouting obscenities at whatever color laundry I happen to be rooting for that week, I refuse to limit myself to suds alone. We have all enjoyed the big box store oven pop ins that we thoughtlessly throw into our gobs and wash down with whatever quaffable alcohol was on clearance.  There are times, however, when you may want to put your first-world problems behind and show those few special friends why a game-time invite can be something special.
Pinot Blanc
The first variety I chose has long been misunderstood as a second-tier sipper versus some of its other phenotypical expressions. Although widely grown throughout the world, Pinot Blanc rarely plays the leading role in any major wine producing region. Some feel the variety is rather bland with little redeeming qualities but this could not be further from the truth. From the zesty and fresh Northern Italian versions to the off-dry tropical notes of the German Weißburgunder these wines, with the proper care, can be quite an experience. For your soiree, I recommend covering the label to remove any of these misconceptions and let your guests speculate over the variety. Make certain you know your audience as this discovery may furrow the brows of your more pretentious tasters.
Grüner Veltliner
The next variety has gained popularity among the trendy wine crowds because of its versatility, interesting aromatics and uniqueness. Grüner Veltliner remains the unapologetic signature grape of Austria, occupying about a third of all the country's vineyard area. This variety has a range from easy drinking still wines to complex ageable spicy examples. Grüner is also used as the base of sparkling wines (sekt) and concentrated dessert wines (Auslese and Trockenbeerenauslese). The variety has ebbed onto the fringes of mainstream and now enjoys plantings on our side of the pond, including Oregon, Washington, California and British Columbia. One only has to experience the spicy, white pepper notes and interesting roller-coaster acidity to realize that this is truly something special.
Mourvèdre
For my prejudicial wine consumers, those that insist on red only, fret not as I have a selection that will please your anthocyanin-loving palates. I could make the proverbial punt and select one of those big California Cabs, Argentine Malbecs or even a Burgundian Pinot Noir but that would be too easy. The point of a gathering like this is to take your guests on a journey that they would not have traveled on alone. Trust me, they and you will thank me for the introduction to Mourvèdre.
Most likely originating from the Catalan name for a town in Valencia, Spain (Mourvedre), the variety also goes by the names Mataró, a town on the Mediterranean coast. The oldest recorded name, Monastrell, dates back to the 14th Century and derives from Latin for monastery. This suggests that, once again, our beloved monks were the first responsible for the propagation of this variety.
Seen as part of the popular Rhone Valley (GSM) blend and those of the Mediterranean coastal appellations, Mourvèdre can be extremely difficult to make into a varietal wine. The variety needs a lot of heat to ripen but can build potential alcohol quickly and, if overripe, can display a pruned, baked fruit element. One must also be cognizant of Mourvèdre's potentially overt tannin structure and tendency toward reduction. In spite of these difficulties, the variety makes some complex and sought after varietal wines in areas of Southern France (Bandol), Spain (Jumilla, Yecla, and Valencia), and even California and Washington State.
Although this grape makes a strong argument as a blending partner, varietal wines made from Mourvèdre can somehow be powerful and elegant at the same time. Aging, decanting or pairing with some protein can help to soften the tannins, making the wine even more approachable.
As you are planning a football get together, keep in mind that, although beer and wings can be well-received for the status quo, there is nothing wrong with kicking it up a notch or two. For a select few couples, have a game day celebration that they will remember. After all, there is nothing wrong about being a bit bougie while watching football, just wear your good jersey.
Suggested Wines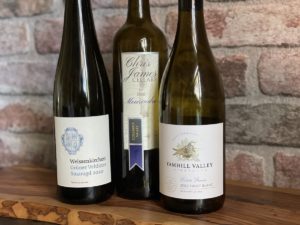 Yamhill Valley Estate Grown Pinot Blanc 2022, McMinnville AVA, Oregon – $30 
The nose has complex layered aromas of stone fruit (peach, nectarine), citrus (lemon curd), lime blossom and a toasted nutty note. The palate is dry but with a viscous, creamy texture. The acidity is broad and linear and meanders through to the finish. There are flavors reminiscent of stone fruit compote topped with lemon curd and lime zest moving to a slight nuttiness on the finish. Pair this wine with your marinated shrimp kebabs, fish tacos or, if you are splurging, pan seared scallops.
 Weissenkirchen Grüner Veltliner Smaragd 2020, Wachau DAC, Austria – $30 
This wine has overt aromas of tree fruit (apple, pear), apricot skin, citrus (lime), freshly picked green herbs (tarragon, savory), and a slight white pepper note. The palate is dry with a bright citric-like acidity, and medium body. There are flavors of fruit skin, citrus (lemon, lime), and wet limestone. The finish displays a slight waxiness along with an upstroke of acid. This is a great wine on its own for the acidophile but it will also pair well with lemon pepper chicken wings or cream cheese stuffed jalapeño peppers.
Chris James Cellars Mourvèdre 2020, Columbia Valley, Oregon – $42 
The nose shows seductive notes of berry (raspberry, blackberry, blueberry), spice (black pepper), sweet spice (allspice), and an earthy, savory, meaty note. The dry palate, has bright tart acidity, and a warming alcohol. The tannin is prevalent and slightly rustic but well in check due to polymerization. The palate has the same berry and savory notes with an uptick in baking spice. Pair this wine with burgers and sticky slow-cooked pork ribs.