FMN – November 2020 – No Temperance Thanksgiving
We are now in the eleventh hour of this trying year with the Thanksgiving holiday quickly approaching. Often glanced over and wrongfully relegated to a mere bookend signifying the beginning of the Christmas shopping season, this underappreciated holiday creates an amalgam of some of the best things in life: food, faith, family and football (not necessarily in that order).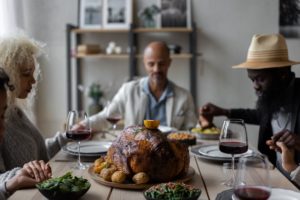 I still reminisce about those big family Thanksgivings of yesteryear where you literally had to wait for someone to die to move up to the "big table" and family gossip was flowing only secondary to the volume of alcoholic beverages. Every family had a member they talked about when not around. If your family didn't have one of these, then you were it. Nonetheless, these large gatherings are becoming less common but we still have our immediate family, "orphaned" friends and coworkers that we can take in and corrupt in the name of being festive.
As with any holiday, I like to extend the celebration past just one measly day. For this reason, my eating holiday will begin on Wednesday evening and finish sometime around halftime of the football game on Sunday night. It may seem a bit excessive but I'm already in my "big-boy" pants and any opportunity for resolution remains two months away.
I've realized over the years that it's difficult and near impossible to bring wine to a dinner or event that will make everyone happy. We all have such diverse and unique palates that one person's swill is another's diamond in the ruff; and that's perfectly fine. So I bring wines that I consider enjoyable and well-made but I confess that I love to introduce guests to something they would not otherwise purchase themselves. And since there can be a gamut of foodstuff for Thanksgiving weekend feasts in addition to the "traditional" gobbler and dressing, I try to offer a range of wines to go with even the most unusual of offerings.
With your white wine selections there are a myriad of choices but I like to stay domestic and diverse. I try to get to the Low country every year and that means seafood. There always seems to be an oyster roast, clams, shrimp and maybe even some redfish or trout, depending on my fishing prowess. All of that can be quite lovely with differing white wines depending on your preparation. I try to focus on weight of food and weight of the wine when I'm working on white wine and food pairings. This and acidity level and structure, to me, carry more importance than similar flavor profiles. Raw seafood calls for light crisp and acidic whereas adding rich sauces or grilling can call for a sturdier white.
My red wine choices are based more on the extraction levels and the structure (especially tannin). These are affected by grape variety, terroir, and wine making decisions. For my lighter style, I love to choose Pinot Noir, especially those made true to variety. I've had my share of wines made from this grape that were viscous, tannic and pushing 15% abv; it's just not Pinot Noir. Tannin structures play an important role in pairing as the green and coarse tannins will impart a bitterness that may compound their perception when the food also has a bitter note (greens). One thing to keep in mind is that your choice of seasonings play a huge role as salt and sweetness tend to diminish our perception of bitterness. True, that protein rich steak will help with tolerating a tannic red but salt that steak and see how much better it can be.
Those things aside, don't fret over the wine selections for your weekend of gluttony as there really cannot be a "wrong" choice. Most will not even notice as they thoughtlessly shovel food into their gobs and drink like Vikings. If you like the wines and your friends, guests, and family do not, then there will be more for your personal consumption. After all, some of them are the reason you are drinking. I wish you and yours a safe and bountiful Thanksgiving.
Suggested Wines:
A to Z Pinot Gris                                                           Oregon                                                 $14.99
Sourced from multiple vineyards in the state of Oregon, this wine names the varietal as "Pinot Gris" as opposed to Grigio. This gives us the hint to a more a French / Alsatian style versus the Italian style. The nose has aromas of ripe orchard fruit (peach, apricot, quince), melon (honeydew) and citrus (tangerine). The palate is dry with mouth-watering persistent brine-like acidity. Flavors of tangerine, blood orange and pineapple finish with a lingering pleasant sea-mist acidity. Pair this wine with grilled trout, brined turkey, and baked clams.
St. Innocent Chardonnay                                           Willamette Valley, OR                             $25.99
This Chardonnay hails from their Freedom Vineyard 10 miles SW of Salem, OR and boasts two Dijon clones. The overt nose has aromas of extremely ripe orchard fruit (pear, peach, apple), toasted note and buttered pound cake. The dry medium plus palate has a grapefruit like acidity and gently warming alcohol. The toasted note carries through to the palate along with some perceptible barrel tannin, giving a hint to the neutral French oak use. The flavors are more tropical citrus and citrus pith with a warm toasty finish. Pair with blackened redfish, roasted turkey, and sturdy stinky cheeses.
Folk Machine Chenin Blanc                                       Clarksburg, Merritt Island, CA                  $17.99
One notices the diverse nose of this wine with orchard (nectarine), tropical citrus blossom, mushroom, and a cheesy note attributable to prolonged lees contact and malolactic fermentation (MLF). The palate has a rich textured viscosity combining the effect of the naturally fuller bodied Chenin Blanc and the use of MLF. The bright crescendoing acidity dances well with this full mouth-feel creating a delight for your palate. The finish is lean and clean with more tropical citrus (lime). Pair this with fried turkey, left over cold turkey sandwiches, marinated shrimp or, since this wine is vegan, your falafel. At only 967 cases produced, this presents a really cool, funky and special treat.
Teutonic Bergspitze whole cluster Pinot Noir         Chehalem Mountains, OR                          $28.99
The German term bergspitze, meaning top of the mountain, is duly named due to the fruit for this wine come from the high altitude Balk Peak and pays homage to the German winemaking influences this company emulates and the Alsatian ancestry of these Pinot Noir clones.
The red fruit aromatics are rich and ripe (cranberry, raspberry and some red currant), baking spice (cinnamon, allspice) and freshly sharpened pencil. This wine presents with a crunchy linear mouth-watering acidity and a lighter medium minus body. The palate demonstrates more tart red fruit (cherry, cranberry) with spice, notable tannin and a minerality that emerges with the finish. At a mere 12.24% abv, it's a crowd pleaser and an evening sustainer. Pair this wine with turkey leg, game hen, and my favorite guests before everyone else arrives.
Folk Machine Carignane              Redwood Valley, Mendocino, CA                                  $21.99
This is definitely a variety that people aren't going into a wine store and asking for. Originally from northern Spain but also popular in southern France this variety has a reputation for being rustic, tannic and a challenge to consume as a varietal wine. In the new world of California wine, we now have a slightly tamed version with overt flavors and quite approachable. The nose has vibrant dark fruit (blackberry, elderberry, currant), with a purple floral (Petit Verdot-like) element. The palate has a tart crunchy acidity, a medium body, and a fine grained integrated tannin structure. The mouth feel remains elegant and silky with flavors of dark berry, baking spice and a slight mineral edge. Pair this with sage-seasoned dressing, turkey thigh, and game bird (quail, game hen).
Revelry Merlot                                Columbia Valley, Washington                                     $16.99
Washington remains an underappreciated area for Cabernet and Merlot and if you still look at Merlot as an inferior grape, put your flip-phone away, the world is really round and change those jorts. The nose on this wine has blueberry, blackberry, green peppercorns and a slight floral element. The palate has an interesting contrast between fine grained tannins felt on the gums and a velvet textured fruit element. The fruit and acid are in the forefront with the tannins and baking spice emerging on the finish. This is an elegant version of this variety that would pair well with lamb, Osso Buco, and pizza (prosciutto, mozzarella and arugula). You can also save this for your reflection wine after everyone leaves.