FMN – October 2020 – Don't be a Ponce, Drink Diversely
The current state of our country troubles me to the point of being yet another reason I drink. The divisiveness between races, political parties and generational views seems to be at an all-time high.  Although I am not a political writer, I do feel we all need to remove our "labels" and have a conversation on how we can work to bring things back together. That being said, I will get down off my soapbox and pick up a glass as this congregation of betterment will definitely be serving wine.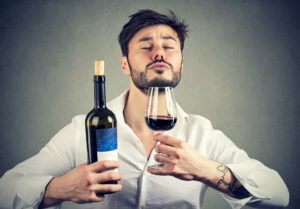 We should probably begin with eliminating some of the pretense begot by some of the self-professed expert sophomaniacs associated with the wine industry. If you find some of the wines that industry professionals pine over unappealing, you do not have an incomplete or "unrefined" palate. This remains an ignorant untruth that not only makes the consumer feel deficient but damages the view of the wine industry as a whole. If you like it, drink it with blatant disregard for what anyone else says.
Many in the industry are not completely to blame as these beliefs have been passed down from mentor to student for now generations. If you are told a certain food and wine pairing is "traditional" you will continue to try it until you finally convince yourself that it works. Certain producers from classic regions are held in so high regard that when they have a challenging year and make mediocre wine, the critics rave over it. So even well-educated wine industry folk need to check themselves and identify their preferences, opinions, and prejudices to rise above the infobesity and become a better consumer advocate.
Full disclosure, there are many higher-priced and industry-acclaimed wines that I adore but, from a consumer's perspective, one finds it hard to rationalize dropping a C-note on a bottle of juice untasted. Luckily, I have taken on the continuing effort of tasting as much as I can to bring you some "diverse" value wines that I'm certain will make some pretentious saber-toting experts cringe.
One of the first tips for drinking quality wines that have good value is avoiding the trends. In other words, go for what your fellow consumers are leaving on the shelves. For years I was buying wines from the Salento Peninsula (the heel of Italy) for less than twelve a bottle. I literally had to get down on one knee to pull bottles from the bottom shelf. Unfortunately, someone discovered and wrote about them resulting in over doubling the price.  Emerging or reinvented producing regions fall into this category as well. Eastern and Central Europe, China, and the reinvented Austria all have promising futures but are drinking well presently; and at good prices. This also rings true of domestic regions in Texas, Arizona, Idaho, and even Mexico.
Regional popularity and consumer acceptance of wine styles seem to wax and wane. One example is the wines of Australia that once filled the shelves have now been relegated to a small corner in most wine shops. The inept marketing that left consumers believing that all the land down under had to offer was bold Shiraz, remains partly to blame. And when the taste preference shifted to lighter styles, they were not even considered in the consumer conversation.
As I mentioned, the styles of wine that consumers prefer shift from year to year but even greater from generation to generation. The once touted fortified wines of Port, Sherry and Madeira are now viewed as boring and stodgy; like something grandpa may have sipped as a "nightcap" (another term not used anymore). Nothing could be further from the truth and I admire these so much, you may see them soon in an upcoming article.
Along with these, dessert wines have suffered but for a different reason. Somewhere along the way of us wanting to educate customers and consumers we unjustly filled them with the belief that all sweet wines (proper dessert wines included) were cheap, not a quality product and appreciated only by those with a neophyte palate. What a monumental disservice the establishment has committed. These wines are incredibly challenging to produce and require the utmost skill of the producer to get them right. These are not the "soda-pop" sugar-added wines you may think but rather viscous, honeyed treasures with a firm acidic backbone creating balance by conveying a perception of being less sweet than they truly are.
Diversity is important and it's what makes this country and, potentially, our wine closets great. Maybe the wine industry can be a metaphor for the world in general. Meaning that you cannot believe what you hear from different leaders and experts all the time. Instead, do some of the leg work and research on your own before spreading half-truths and confabulated stories. Look at the damage these exploits have done to brands and styles within the wine industry. Imagine the damage it can do when applied to people, countries and social beliefs. Sit down and have conversations to make things better, and preferably do it over a few bottles of wine.
Terra Santa Ile de Beauté                                          Corsica, France                                                              $11.99
Grown on the eastern side of the island of Corsica by the UVIB cooperative, this bone dry blend (60% Vermentino and 40% Chardonnay) has a nose of lemon zest, blood orange, quince and a slight note of honeysuckle. The round viscous palate displays a bright brined persistent acidity with flavors of tropical citrus that finishes with a salted tangerine element. Located close to Lake Diane, known for the cultivation of mussels and oysters, its ability to pair with seafood is no accident.
Monte Rio Cellars Dry White Zinfandel                 Lodi, California                                                $19.99                 
This wine cries hand-sell. Those drinking White Zin are doing so for the sweetness and those drinking dry rosé are not looking for a label that says "White Zin". The stigma that goes along with that phrase is unfortunate but maybe this wine can change that view. The wine has red fruit aromatics (cherry, leafy raspberry) and a slight dried current element. The bone-dry palate has flavors to match the nose with an added cherry stone aspect. The medium plus palate and the tart crunchy acidity give it a pleasurable mouth-feel. Pair with blackened redfish, marinated pork kebabs, and grilled barbecue chicken.
Heinrich Red                                                   Burgenland, Austria                                                 $17.99
Austrian wines can be incredibly interesting as many of the both white and red grapes are not widely grown in other parts of the world. This red blend contains 50% Zweigelt, 35% Blaufrankish, and 15% Saint Laurent. The nose conveys tart cherry, drying tobacco and spice. The palate is light and elegant with smoked, spicy red fruit and a tart cranberry finish. At only 11% abv, one can consume at leisure. Pair with traditional goulash, grilled portabellas and game birds.
Château de Fayolle 2014              AOC Saussignac, SW France                                                    $17.99
This southwestern area in France shows why botrytis affected Semillon can be so sexy. The wine has an overt nose of orchard fruit nectar, candied tropical citrus, botrytis, apricot and honeysuckle. The palate has an unctuous sweetness balanced with a long bright acidity. There are flavors of honey, apricot compote and botrytis with a viscous mouth-coating seductiveness. This dessert wine has a lot to offer for a fraction of the cost of more well-known expensive areas. Pair this with savory (pâté or foie gras) or with desserts (cheesecake or crème brûlée).