FMN – September 2020 – Grilling Wines
Well, with the promise of autumn on the horizon and potentially some semblance of a football season, we turn our focus to cooking outside. Admittedly, I am a year-round griller but it does lose some of its luster with heat indexes being triple digits and when my grill is preheated to the proper temperature even before I light it. I much prefer a slight chill in the air to sweating in my wine glass as I flip "something that had parents" over the glowing embers.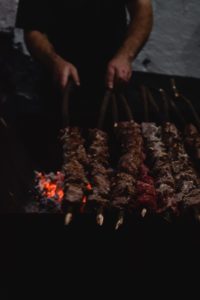 There are countless wines that love a good charred piece of flesh to accompany and consequentially, as of late, I've found myself drinking my way through Spain. Although many try, pigeonholing Spain into a certain wine style is completely useless. Not only are there countless grape varieties, markedly different climactic influences, and varying rules of production, interventionist winemaking has taken a firm foothold in this "Old World" wine producing country, exponentially increasing styles.
Traditional wine making meeting twenty-first century experimentation results in a wide diversity of styles, even when discussing the same grape variety. Tempranillo, for example, remains Spain's most dominant red variety, accounting for over twenty percent of area under vine and grows in almost every region of production. The type of wines produced, however, can be so vastly different that one may not realize they contain the same grape.
To appreciate the differences you must first understand some uniformities of this ancient variety. Tempranillo, meaning "little early one", defines the grapes early ripening nature and small thick-skinned berries. This ratio of skin to pulp produces wines with potentially deep color and distinctively chalky tannins felt in the cheeks. The variety usually has a lower alcohol level compared to many other black Spanish grape varieties but under hotter conditions can and does jump above 15%abv.
Although many have sampled a Rioja or Ribera del Duero, they failed to realize that they are drinking Tempranillo. Partially because, like France, Spain labels their wines by area of production rather than grape variety and also partially due to the excessive colloquial names Tempranillo has accumulated over the years. If Rioja did name the variety, they would call it Tempranillo but Ribera del Duero would counter by labeling as Tinto Fino or Tinta del País. Tracking the grape through Spain you may also find the names Tinta de Toro, Cencibel, Tinta Aragónez or even Ull de Llebre (in Catalunya). One can begin to understand why the labeling refers to the area of production rather than the variety.
Another aspect that affects how Tempranillo expresses itself is the compulsory rules inside different Spanish production regions. The two popular Tempranillo areas, Ribera del Duero and Rioja, are defined by their aging requirements; the time a wine must spend in barrel and time before release. Terms like Crianza, Reserva and Gran Reserva are used, in ascending order of aging, to signify how the wine was aged and gives a consumer some clue as to how it will convey.  Some winemakers have bucked tradition by using more French versus American Oak and increasing maceration times (skin – juice contact) which changes the wine tremendously. Classic aged Rioja had elements of strawberry with vanilla where modern styles have darker fruit and richer baking spices. Many regions, where oak aging is not mandated, have migrated to a non-oaked more youthful fresher style.
Climactic influences and soil terroir also play a major role with Tempranillo. Hotter climate areas tend to see a decrease in the grape's acidity. To aid in maintaining this natural acidity the mileu of the vines need to be more temperate or have a modifying element to evoke cooler evenings. Ribera del Duero has high altitude and Rioja has some altitude and ocean influence that provide cooler evenings and aid in grapes maintaining higher acid levels. Warmer climates may use blending or even acidification to preserve balance in their wines, depending on production area regulations.
With all the rules and regulations, many producers will "declassify" or label their wines outside the DO or DOC areas in order to make wines in a style or using methods that are otherwise not permitted.  Another option is for a producer to go through the arduous process of gaining "Vino de Pago", or single vineyard status. This allows the winery to produce wines by the rules they deem necessary to make the best wines they can. Although a seemingly altruistic answer to winemaking, the process is long and quite political.
While I can continue to discuss how expressions of Tempranillo can fluctuate throughout Spain due to climate, aging, blending and wine making choices, there remains a better and more effective learning tool. You can read all those wine magazines and attend wine lectures by well-versed charming wine experts but there is truly no substitute for tasting the wines yourself. Even if you are not completely sure what you taste, keep tasting. And after all that tasting, light the grill and prepare to finish the bottle.
Suggested Wines:
Viña Cerrada Rioja Gran Reserva 2012                  Rioja DOC                                         $19.99
This wine consists of 75% Tempranillo, 20% Graciano, 5% Mazuelo and, by DOC law, aged a minimum of 24 months in barrel, 24 months in bottle and 60 months total before release. The garnet color shows this wine's oxidative aging as does the nature of the fruit. There are aromas of dried fruit (dark cherry, elderberry, plum), cedar box, sweet spice (cinnamon and allspice). The palate and body are medium minus in intensity with a mouth-watering acidity, fine chalky tannins and a tart cranberry like finish. This represents an elegant version of the Tempranillo variety. Pair with cured cheeses, ham (Iberico, Serrano) or secreto, cured meats, and grilled pork chops or pork tenderloin.
Bodegas Barco de Piedra 2017                  Ribera del Duero DO                                    $15.99
Meaning "stone ship" and referring to the Castle of Peñafiel, this wine contains 100% Tempranillo (known here as Tinto Fino or Tinta del País). One first notices the interesting aromatics of ripe fruit (raspberry and blueberry), floral (violet), and a slight note of unsweetened baking chocolate. The palate has a bright mineral-laden acidity that continues throughout and flavors that mirror the nose. The palate is structured and elegant with the alcohol kept in check. Although extremely "sippable" on its own, I recommend pairing with grilled veal chops, marinated flank steak, or sticky pork shoulder (butt).
Bodegas Volver single vineyard 2016      La Mancha DO                                                $17.99
This 100% Tempranillo demonstrates what a warmer climate and high altitude can do for this variety. This may be one of the boldest expressions of Tempranillo I have ever tasted. There are overt aromas of roasted fruit (currant, blackberry, plum), dried tea leaves, licorice, and sweet baking spices. The palate has a richness of well extracted baked fruit with evident warm alcohol. The evident chalky acidity maintains backbone and structure with a warm baked black fruit compote finish. Pair this with grilled ribeye, beef spare ribs, and venison tenderloin.Gr