FMN – December 2020 – Drinking for a Fresh Start
Saying this year has been trying and unusual would be a gross understatement. I will not rehash all the enigmatic events of the last eleven months but rather look forward to the promise of the fresh start of 2021. Many of you will remind me that we still have a month to go and anything can happen to further secure this year's place in atrocious history. Your poignant and perceptive response is well noted and one of the reasons "flattening the curve" of my wine consumption will not be a foreseeable option for the remainder of this year.
This month I have decided to select the wines that I selfishly want to drink. There are a myriad of reasons for these choices: stirred memories, great holiday food partners or just because they are darn good. So each has their special place, with no particular order, and in the interest of time and space will certainly not be "all-inclusive."
I allocate varying levels of love to different sparkling wines but I do appreciate all production styles and appellations. Although a Charmat method (tank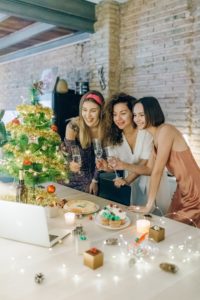 fermentation) sparkling makes a refreshing poolside sipper or a fruity and fizzy addition to mixed cocktails, I honestly prefer the traditional method sparkling wines. The realization that the second fermentation occurred in the very same bottle you purchased and poured from illuminates the "geeky-cool" area of my brain.
There are many countries and appellations that produce these wines, including the infamous Champagne, but lately I've been on a Spanish wine kick so Cava fits the bill quite nicely. There are many "pop-and-drop" Cava producers out there and the allowance of Chardonnay into the blend has also helped to drive prices down with entry level wines. I, however, am a traditionalist and love my Spanish Cava grapes of Macabeo, Parellada, and Xarel-lo (shar-ale-low). The premium level of these sparkling gems can be ethereal to experience and, be warned, you may ruin yourself from purchasing those $8 bottles ever again.
I remain extremely picky and judgmental when it comes to white still wines; more so, it seems, than with any other style. So if I am making selfish selections this month, rest assured my white wine choices will be something special. A bit of self-awareness has revealed that I am an acidophile; I really like wines with bright evident acidity. I also prefer my whites to be lower in alcohol and not heavily manipulated. These elements lead us to cooler and temperate climate regions, like Loire Valley.
The Loire boasts a plethora of varieties and styles but I am especially captivated by some of the white wines of the region. Found in the Central Vineyards area of Loire, Sancerre claims some of my personal favorite expressions of Sauvignon Blanc. These age able wines are dry, acidic, with a flinty minerality that must be experienced to truly understand and appreciate.
Although Chenin Blanc has found success in other countries, I believe the appellation of Savennières captures its soul. Many Chenin wines have a honeyed and even off dry element but here we find the most austere and dry version that begs for aging. This unique style of dry Chenin becomes hauntingly expressive with just a few years of bottle age. From a personal note, this is the appellation that changed the way I view white wine and the complex concepts encompassed within.
As many flock to the stores to secure their bottle of Beaujolais Nouveau, released the third Thursday of November, I search for the post-pubescent big brother version, namely the Beaujolais Cru. I am at a continued loss as to why more people aren't flocking to these wines. Even though they are made with all the respect and care that any Cru wine would enjoy and have ridiculously good price points, Gamay still carries the burdensome title as the bastard grape of Burgundy (thanks to Philip the Bold). The ten contiguous Cru vineyards all have their own personality and, as a wine geek, I would love to do a guided tasting comparing all of them.
Our final wine, and remember our list is far from all-inclusive, lives in one of the most interesting wine regions in all of Italy, Piedmont. The Nebbiolo variety has been growing here since the 13th Century and has ventured out of these borders very little over that span of time. Perhaps due to its fussy nature, being very particular about what soil and climactic conditions it will tolerate, a similar trait with Pinot Noir. But unlike Pinot, this grape produces wines that can be impressively tannic in their youth. With modern wine making techniques, some producers are creating wines much more approachable on release. Nonetheless, when made with respect and care, this variety can be one of the most interesting in the world due to the unique marriage of elegance and rusticity.
As we look back, many of us have taken a financial hit with layoffs and furloughs, had emotional stresses with losing some friends, family and colleagues and faced new challenges with reinventing how our jobs are performed. Our perseverance, and some alcohol consumption, has brought us through the storm with hope on the horizon. Brandishing cautious optimism and a bit more liquid assistance, we can make the rest of the year a little brighter. I hope you and yours have a happy and safe holiday season.
Raventós i Blanc, De la Finca 2015           Penedès, Spain                                                             $32.99
This very special terroir-driven vintage Cava contains 50% Xarel-lo, 40% Macabeo & 10% Parellada.  Aromas of yellow plum, bruised cider apples, toasted bread and earth coax the customer to taste. The palate is a balancing act of bright acidity and a sexy, silky mousse of fine palate caressing bubbles with a tart green apple like acidity. Pair with hard cheeses, lighter earthy mushroom heavy dishes, or just to start the evening.
Baumard Savennières AOC 2009              Savennières ,Loire Valley, France                            $36.99
One first notices the interesting aromatics of apple, kiwi, lanolin, and a slight floral component (chamomile). The palate in this 100% Chenin Blanc is bone dry with a crescendoing mouth-watering acidity and a gently warming alcohol. The flavors mirror the palate along with some citrus and a smoky mineral laden finish. Serve only slightly chilled as over chilling will mute the delicate aromatics. Serve this with lobster, scallops, or even veal.
Domaine de la Chapelle Bizot Chiroubles Cru 2019                 Beaujolais, France                    $16.99
Being the highest elevation in the Cru area, it has the lightest body and perhaps a good place to being your Beaujolais Cru journey. The nose boasts of cranberry, cherry, spice (pepper) and a fruitiness demonstrating partial carbonic maceration. The dry palate has a tart crunchy red fruit type of acidity and a slight amount of fine grained perceptible tannin on the gums. The finish has an interesting chalky minerality. Pair with grilled pork sausages, pork tenderloin or mushroom filled pastery.
Viette Perbacco Nebbiolo Langhe DOC 2017                 Langhe, Piedmont, Italy                       $29.99
This 100% Nebbiolo named "Perbacco" – or "delighted surprise" has aromas of rich ripe black and red fruits along with star anise, allspice, and a dark floral note. The palate has a medium body with obvious dusty, powdery tannin that seems to be felt mostly under the tongue and upper gums. Food will help tame the tannins and make the wine even more approachable. Pair this with rib roast, lamb shank or dishes containing truffles.