Florence Wine and Food 2023 Wine Sip and Savor (Part 4)
Sip and Savor Reserve – Wine Teaser #4
With Florence Wine and Food Fest almost here, this will be the fourth, and final, wine teaser content piece. If Lent, the pollen or temperance has prevented you from being teased per se, the sneak peek of wine #1, wine #2 and wine #3 are still awaiting your prying eyes. Although these four wines are by no means all inclusive of what the Sip and Savor Wine Stroll Reserve plans to pour in your glass, these pieces at least give you a glimpse of what this amazing event will offer.
This wine brings us back to our domestic shores of the west coast and Napa Valley. Although there are a myriad of notable wine pioneers that helped put Napa on the map, Koerner Rombauer's journey and the legacy he built have touched so many along the way.
Rombauer Story
Koerner joined the California Air National Guard in 1956 and enjoyed a 30-year career as a military and commercial pilot. He and his wife Joan moved to Napa in 1972 and were bitten by the wine bug. They dipped a proverbial toe into the industry by starting as partners with Bill Beaver and Bill Collins in Conn Creek Winery. With a desire to be more involved, they sold their share in Conn Creek and invested in their own winery in 1980.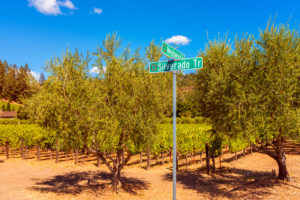 Winemaker Bob Levy joined the project before there was even a winery built. Interestingly enough, the first vintage (a 1980 Cabernet Sauvignon from the Stags Leap District), was done by generator as the project was not completed in time. This first Rombauer was produced at Shafer Vineyards but bottled at Stag's Leap Wine Cellars in 1982. Some was even produced at the Rombauer home as he had their four-car garage bonded as a commercial winery to help handle the harvest.
Bob Levy went on to make wines for Jason Pahlmeyer and Merryvale Vineyards (founded in 1983 by vintner Bill Harlan) before starting Levy & McClellan with his winemaker wife. Koerner added a custom crush facility in St Helena to service other up and coming wineries including Dominus, Neyers Cellars, Duckhorn, among others. They even did the first few vintages for Merryvale Vineyards, providing the introduction between Bob Levy and Bill Harlan, one of the most amazing and longstanding winemaking relationships in the valley.
Joan passed away in 2002 and Koerner in 2018 but the legacy continues as a family run business to this day. The present generation has continued Koerner and Joan's belief in philanthropy and being the best stewards of the land that they are responsible for.
Rombauer Merlot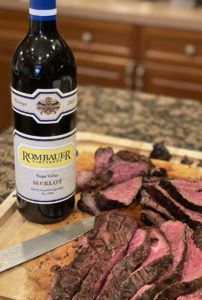 Although it is difficult to choose just one wine from their portfolio, we selected the Rombauer Vineyards Merlot 2019 (Napa Valley, California), composed of 84% Merlot 11% Cabernet Sauvignon 5% Petite Verdot. The grapes for this wine are both estate-grown and sourced from grower-partner vineyards on the Napa side of Carneros, where the clay soils are similar to those of Bordeaux's right bank.
The wine itself has an overtly ripe compote-like fruit structure with black plum, black currant, blackberry and a touch of mint. The 15 months in French oak (40% new) adds a an interesting note of a cedar box filled with pipe tobacco and dusted with allspice. The well-integrated silky tannins settle on the gums. Although this wine would go with any land animal that had parents, I suggest pairing with pan seared lamb, duck, or slow roasted sticky pork recipes (porchetta). Perhaps you could even find a recipe in The Joy of Cooking, the internationally renowned cookbook written by Koerner's great aunt Irma Rombauer.