Florence Wine and Food 2023 Wine Sip and Savor Reserve
Sip and Savor Reserve – Wine Teaser #1
The Florence Wine and Food Festival is, once again, getting ready to erupt the downtown into blissful culinary and oenophilic delight. Much to my pleasure, I am charged with the selection and implementation of the Sip and Savor Reserve feature of the Wine Stroll on Friday evening. Basically, select the wines, write the copy, and provide notes to the chefs for menu development. During the event, I drink and run my mouth to whomever will listen, something that comes relatively easy for me.
To wet your palate (pun intended), I will be unveiling one of the selected Wine Stroll Reserve wines each week leading up to the event. This offers those attending a sneak peek of what's to come during this special event. I recommend all the experiences that Florence Wine and Food offers so if you have not yet purchased a ticket, the only bottle you may be uncorking will be filled with regret.
The first wine of this "teaser" series is a rosé wine from the south of France. Before you yawn, roll your eyes and begin to question my integrity, know that this is not your typical over-produced river of rosé we see coming from the area. This wine is quality-driven, with pedigree and a good story.
Two Burgundians, Jacques Seysses (founder of Domaine Dujac), and Aubert de Villaine (co-owner of Domaine de la Romanée-Conti), found themselves searching for under-realized wine growing areas in the south of France during the late 1980's. The result was a forty-six-hectare vineyard in the Var, 30 kilometers away from the Mediterranean, in Nans-les-Pins.  Facing due south at 350 to 400 meters altitude and backed by the Aurelian mountains, the clay and limestone vineyard soils resemble an amalgam of the great terroirs of Burgundy and St. Emilion. In a region long associated with a generous production of simply quaffable wine, these guys have demonstrated the potential quality possible from this area.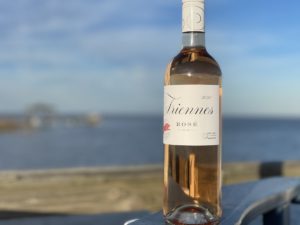 The property is renamed "Triennes" in honor of the Triennia, a festival held every three years for Bacchus, the Roman God of Wine. Triennes Rosé 2021 (Méditerranée Indication Géographique Protégée) is principally Cinsault blended with Grenache, Syrah and Merlot. One first notices a pale salmon color resultant from just a few hours of skin contact.  The nose bursts with aromas of cherry stone, raspberry, melon rind, and jasmine. The dry palate has a crunchy red fruit acidity, a sturdy medium body with a very slight perception of chalky tannin. Flavors of cherry, strawberry, melon rind, cherry leaf, and a slight citrus pith element continue throughout the finish. Tip of the hat to winemaker Remy Laugier.
The wine is so versatile when it comes to food pairings. The elegance and freshness allows it to accompany garden salad or an assortment of canapé but the sturdy acid and structure encourages grilled pork or fried foods. Of course, you could just sip on a glass for the psychological health benefits.