FMN – March 2023 – Spring Grilling Season (With Wine)
The southeast has recently delt with rain almost every weekend and bipolar temperature changes that have not only confused us but also our local fauna as to what season we are experiencing. So that little prognosticating rodent was partially correct when he predicted six more weeks of winter. Nonetheless, the spring seems to have sprung as evidenced by the floral blooms, budbreak on trees, and pine pollen coating every surface in site.
Unfortunately, the allergy sufferers currently find themselves within one of Daunte's levels of persecution, but we can all relish in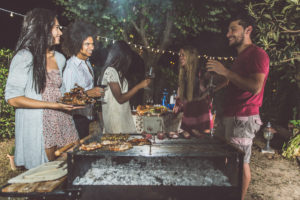 the promise of warmer weather and the beginning of grilling season. Although I do grill throughout the year, in all types of inclement weather, there remains something special about spring time outdoor cooking. Perhaps it's the ability to grill without relying on the coals as a source of warmth nor sweating onto your food during the heat of the summer. It is one of the perfect seasons, in my humble opinion, to enjoy the convergence of food, weather and beverage.
Honestly, selecting wines to accompany whatever haplessly finds its way over your hot coals should not be a source of anxiety. One easy way to overt disaster is by looking at what different countries and cultures drink with their char-grilled delights. These pairings have evolved over the last few hundred years so there is no need to "reinvent the wheel", so to speak. After all, I can copy the heck out of a good pairing idea.
Rhone, France
Starting in France, where many of my wine journeys begin (and end), provides a multitude of opportunities for pairing with our grilled fare. The Southern Rhone produces wines that are not only easy-drinking crowd pleasers, but also make great "bed fellows" with all sorts of charred animals. They are usually Grenache heavy with the balance containing any number of grapes: Syrah, Mourvèdre, and Cinsault, to name some of the more frequently used. Although the Cotes du Rhone and Coted du Rhone Villages represent some of the best value, trading up to one of the Cru areas is well worth the few extra dollars.
Rioja, Spain
The next country on our journey is the food haven of Spain. This country has a long history of all sorts of outdoor cooking methods that vary from region to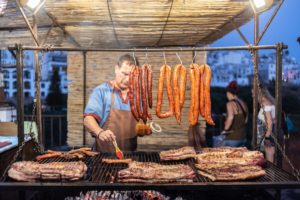 region. One of my favorite regions that I pour for my grilling guests is Rioja. The red wines from this area are usually dominated by the Tempranillo grape with the balance being Garnacha (Grenache), Mazuelo (Carignan), and Graciano. Although they can be labeled geographically by the subregions and towns, I find that the aging designations a much better indicator as to the style of the wine. The still wines can range from no age designation to Crianza, Reserva and Grand Reserva, increasing in years before release as we move up the scale.
As some wine is meant to age longer then others by the nature of choices during the winemaking process, the increase in age is not to be confused with an increase in quality. Rather, any rise in price for these older wines have much to do with the higher cost of labor and time before release. One thing I really like about Rioja wines is that they are ready to consume on release, irrespective of whatever age designation. Thus, the only worry we have with opening a bottle too early is based on the hour of the day rather than the year of the harvest.
Barolo, Italy
Italy has always had a long and interesting culinary history of using fire to cook certain colloquial dishes. Although a book could be written on wine with grilled food from Italy, and I'm certain there is one, in our interest we will focus on the Piedmont region. Even within the Piedmont, we could make a menu from any number of the popular grapes of the region but I am especially fond of the Nebbiolo grape expressed as Barolo.
Classic Barolo took decades to become approachable due to its high tannin and acidity. Some producers choose methods that make these wines drinkable much younger, sometimes to the chagrin and criticism of more traditional producers. In any event, the Nebbiolo grape has interesting and elegant aromatics only to lure the unexpected consumer into the punch of acid and tannin. Both elegant and powerful, Barolo wines elevate your back yard barbecue to bougee without having to cross the tracks.
I truly hope you and yours are able to dodge the raindrops and pollen long enough to take advantage of the impending warm weather. I have an inkling that my locals are thinking the same as I am as this past weekend the store shelves are dreadfully low on bags of charcoal. As an aside, to get even with that quadruped that has a day named after him, I'm looking for anyone that has a recipe for grilled groundhog.
Suggested Wines
Terroir Daronton 2020 – (AOC Vacqueyras) – $18 
This Southern Rhone blend is composed of 78% Grenache, 20% Syrah, and 2%Cinsault. Initially there was a slight reductive element but luckily it opened up with some aeration. The nose has sultry dark fruit elements (blackberry, blueberry), herbal notes (garrigue), spice (allspice). The palate is dry, with crisp tart acidity, medium body, medium intensity, and well – integrated alcohol. The tannin structure is evident and slightly stalky but will be easily tamed with some fat or protein in your mouth. The flavors are of the same dark fruit and herbs with an added leafiness. Although these wines are classically consumed alongside wild game (as cuts or sausages), pair them with your favorite hamburger (or venison burger) recipe. Added caramelized shallots and blue cheese only solidifies the pairing with this wine.
Monte Real de Familia 2018 – (DOCa Rioja Reserva) – $20             
This 100% Tempranillo from Rioja Alta spends 24 months in oak (50% American and 50% French). The nose has rich, ripe fruits (dark cherry, Mirabelle plum), spice (cinnamon), herbal (dill) and a slight cedar box note. The palate is dry but the ripeness of fruit gives it a slightly off-dry feeling. The acidity is crunchy with a medium body mouthfeel. The alcohol is gently warming with well-integrated chalky tannins felt mostly on the cheeks. The flavors mirror the nose and the finish has fruit entwined with spice. Since Tempranillo loves pork, pair this with slow roasted pork shoulder (butt). I usually cook mine with fruit wood (cherry or apple) mixed with some pecan.
Gioso 2017 – (Barolo DOCG) – $20 
This 100% Nebbiolo spends 24 months in Slovenian Oak. The nose is elevated (perhaps a slight amount of VA) with sweet cherry, pitch, anise, and a slight earthy herbal note. The palate is dry, mouth-watering acidity and a medium minus body. The warming alcohol leads to the evident sandy tannins felt on the gums. The palate has the red fruit elements and added sweet spice along with an earthy tannin laden finish. I love Nebbiolo but it always seems to show better with some fat and protein. Traditionally paired with wild boar but I urge you to pour this when you grill a ribeye. If you have that medium rare ribeye alongside a risotto with Parmigiano Reggiano and truffles, it may change your view on life.