Florence Wine and Food 2023 Wine Sip and Savor (Part 3)
Sip and Savor Reserve – Wine Teaser #3
As the Florence Wine and Food Fest draws nearer, I am filled with anticipation for those attending. Each day of the event offers not just amazing food and drink but memorable experiences for our guests. I truly hope people walk away with not only a greater appreciation for local businesses, products and, certainly wine, but also a greater understanding of their own palates.
This teaser is the third in a four-part series to provide those that bought, bartered or stole a Reserve ticket to the Wine Stroll a proverbial glimpse of what's to come. If you have been unplugged from reality or just out of the country, the wine one and wine two content pieces are still available. With the talented Katie Button as our headliner, I felt it remiss to not include a Spanish wine in our Reserve repertoire.
The grape of this third mystery wine has limited vineyard area, being found almost exclusively in its spiritual home of northwestern S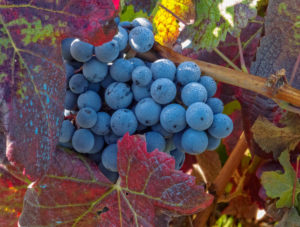 pain (Bierzo) along with selective areas of Portugal (Dao). The Spanish recognize this grape as Mencía (Men-thee-ah), the Portuguese as Jaén (Hi – en), and I call it delicious. For decades these Mencía wines were known for being light, aromatic thirst-quenching reds; what I would call 'picnic wines.' More recently, this style stigma had been challenged. What do you get when you put a talented winemaker, a quality-driven producer and restored old-vine Mencía vineyards together? In short, magic and Descendientes de J. Palacios Petalos 2021 is one such example.
Álvaro Palacios
To understand this wine, you have to first be familiar with the visionary Álvaro Palacios. He was born into an already established wine making family, Bodegas Palacios Remondo, in Rioja. Álvaro studied enology in Bordeaux, while interning under Jean-Pierre Moueix, winemaker at Pétrus and Trotanoy. Instead of heading back to Rioja and the family business, the desire to blaze his own trail led him to Priorat.
Purchasing his first vineyard there in 1990, his name was known on the world stage within five years. Álvaro's successes in Priorat are nothing less than extraordinary and these complex, quality-driven, terroir-expressive wines, including the world renown L'Ermita, helped elevate Priorat to a level of success they have not enjoyed since pre-phylloxera times.
It was Álvaro Palacios nephew, Ricardo Perez Palacios, that discovered the vineyards that would lead to the next project. While studying permaculture in Léon, subsequent to his viticultural studies in Bordeaux, Ricardo happened on some very old plantings of Mencía high on the mountain slopes above the village of Corullón. Álvaro was called on to inspect the property and an immediate decision was made to partner and invest with his nephew in this new endeavor. They named the estate in honor of Alvaro's father who passed away in 2000.
The Bierzo property truly showcases the importance of land stewardship, with the winery and vineyard only a small part of the estate. This "complete" farm raises animals that provide fertilizer for vines and milk for cheese production. Cover crops and certain fauna are planted to attract beneficial insects. There are even orchards from which they have juice production. All of which complements the philosophy of their talented winemaker, Ricard Perez.
As an aside, Sr. Perez is well known as Spain's foremost expert on biodynamic viticulture. He is even credited for translating Rudolph Steiner's book, considered the biodynamic bible, into Spanish. His views of having an attachment to the land led him to host classes on baking breads and making cheeses, skills from the region that he believes are slowly being lost with the younger generations.
Although Descendientes de José Palacios (DJP) makes a host of terroir and vineyard specific wines, we selected their Petalos for our special Reserve area. Named for the petal-like shapes the outline of the vineyards create on the map, the grapes are sourced from carefully selected local growers. This 100% Mencía ages for a few weeks in new French oak barriques followed by 6-10 months in 2nd and 3rd passage barrels.
Our Mencía Tasting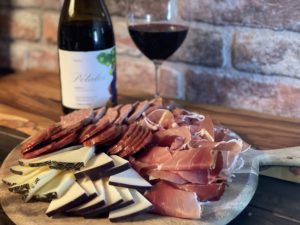 Initially the wine was overtly reductive, an issue plaguing Mencía, and I honestly thought it might be a goner. Luckily, with some aggressive decanting and swirling the wine came to life. The aromas are complex and overt with fruit (blackberry, elderberry and currant), herbs (mint and thyme), floral (violet) and spice (pepper). The palate is dry with elegant silky fruit, tart crunchy acid and chalky tannins felt on the cheeks. The flavors mirror the nose with the addition of minerality. The finish is clean, silky and filled with the same chalky mineral tones wrapped in fruit. This wine begs for pork (grilled dry-rubbed ribs, slow-cooked pork) hard sheep cheeses, or a charcuterie board filled with cured meat (Cecina).