Malbec Day April 17th 2023
Almost every day of the year has some special occasion associated with it. Some of these are obscure and rarely recognized or celebrated. Others are well-known and transcend cultural and regional boundaries. One such under-celebrated holiday quickly approaches, promising wine, food and whatever other debauchery and tom-foolery you can conjure to welcome in Malbec Day.
The day was established in 2011 by Wines of Argentina to help promote the grape that helped reestablish this country back on to the world wine stage. The significance of April 17th comes from the day (in 1853) on which Argentine President Domingo Faustino Sarmiento tasked Michel Aimé Pouget, a French soil expert, to bring vines with winemaking potential to Argentina. Among the many varietals Pouget brought for trial was Malbec.
Although the day was initially predicated on promotion of Argentine Malbec, one can easily appreciate how it has quickly grown to showcase all Malbec regions throughout the world. Not only has this "holiday" been under-celebrated but the convoluted story of the variety itself is poorly publicized. For this reason, and because I am a fan of all Malbec expressions, journey with me through the story of the shortcomings, successes, tribulations and subsequent reemergence of our beloved Malbec.
 The Birthplace of Malbec, Cahors
Although, at one time or another, the Malbec grape was planted in many different regions throughout France under a myriad of colloquial names (Cot, Auxerrois, and Pressac to name a few), the birthplace is claimed by Quercy, more specifically Cahors. Located among the conglomerate of appellations in the southwest of France, Cahors has had mention of their Malbec since the Middle Ages. This crossing of Prunelard and Madeleine Noir des Charente (also the parent of Merlot) has enjoyed the favor of regents including Eleanor of Aquitaine who allegedly served it at parties and at her wedding to Henry Plantagenet. Pope John XXII was also rumored to enjoy this "black wine of Cahors."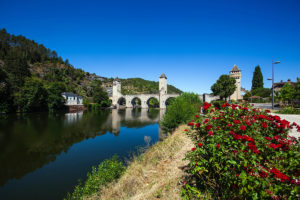 Even though the wines from Cahors were widely known among the early French and English aristocracy, the popularity and availability waned for a few hundred years starting in the 1300s. Bordeaux controlled the wine trade and, thanks to the insatiable English appetite for French wine, business was booming. All wines produced in the southwest France regions had to float their products down river to Bordeaux for export. The Bordelais would hold the goods of the upriver producers until their own stock was sold. Favoring their own producers over those further upstream kept their "brand" well established in export markets while economically damaging the reputations and availability of the southwest appellations. This made the wines from these smaller landlocked appellations, including Cahors, less attractive to foreign consumers.
The variety itself is not without its own issues and shortcomings that have made it a challenge for growers and producers. It is widely known to have problems with coulure (poor fruit set), rot, downy mildew and susceptibilities to frost (with secondary buds not being very fertile). All of these, as an aside, are not uncommon in these French appellations. In fact, most of the vines in Cahors now are less than 70 years old due to necessary widespread replanting after the famous frost of 1956.
Malbec's History in Bordeaux
Although the birthplace of this variety was Cahors, the Malbec grape has a significant history in Bordeaux as well. It was not uncommon for Bordeaux producers to import batches of Cot from Cahors with the intent to blend into their wines. It added color, structure and complexity to these already popular wines and gave the grape some validity.
From this came plantings and popularity in Saint-Émilion and other Bordeaux right bank areas where it was known as Noir de Pressac. O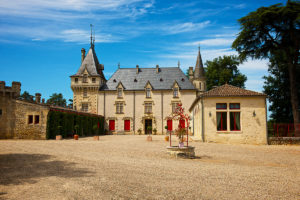 nce the Bordeaux left bank swamps were drained in the mid to late 17th Century, there was the opportunity for planting these new vineyard areas. Sieur Malbek brought the grape from the Right Bank and planted it in a wide variety of terroirs in the Medoc. Due to the success and popularity of Pressac in the Left Bank of Bordeaux, it was renamed Malbec, in honor of the man who first planted it there.
Although it was popular and numerous 1855 classified chateau used it as part of their blends, Malbec always has issues in this region. Along with the aforementioned shortcomings with this variety, getting it to ripen fully was always a concern. During that period the Malbec planted in Bordeaux fully ripened on average of every 5 years or so.
When phylloxera decimated the vineyards in the late 19th and early 20th Centuries most had to be grubbed up and replanted. Many vignerons decided to decrease the amount of Malbec or omit it completely from their repertoire. If that wasn't bad enough for Malbec's Bordeaux survival, the famous frost of 1956 devastated both banks of Bordeaux and necessitated massive replanting. Unlike the Malbec replanting that took place in Cahors after the frost, this time only a minute amount of Malbec was reintroduced in Bordeaux. Currently, our beloved Malbec represents only 1% of area under vine in Bordeaux.
Malbec in Argentina
As we mentioned earlier, Michel Aimé Pouget first brought Malbec to Argentina in the 1850s. The grape did well with the arid air and the higher altitudes and became an almost instant success. The timing was perfect for Malbec as the Argentine wine industry was starting to prosper. With the construction of railroads between Mendoza and Buenos Aires, influx of migrant workers and urbanization, grapes and wine could get to market much easier and faster. Argentina was on the map for their exported wines.
All this came to a screeching halt with the "Dirty War" in the beginning of the 1980s. This series of social and economic crises decimated the wine industry. The result was not only a decrease in domestic consumption, but an export market of widely planted and overcropped barely quaffable table wine.
In an attempt to make their exports more popular, vine pull schemes began and Malbec was being grubbed up and replaced for the more intentionally accepted Cabernet Sauvignon.
Luckily, this was halted in the 1990s and the industry realized changes were needed to be more competitive on the world stage. In the 1990s Argentina began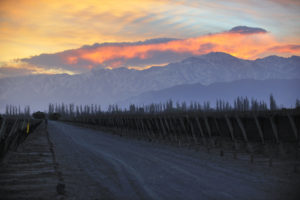 to look to their neighbors in Chile that quietly established a credible export market. From their example and with the help of the government (along with outside knowledge and investment) aided growers with technological modernization and education. The results saw amazing wines hitting the market in the early 21st Century that instantly gained global attention. In conjunction with this quality rise, the Argentine peso became devalued which made these exported wines a ridiculous value, catapulting their popularity among consumers.
Other than the indigenous Cereza grape, Malbec enjoys the greatest vine area as this variety is found in every major growing region in the country; from the high altitudes of Lujan de Cuyo to the northern desert regions in Salta and even in the cooler south of Patagonia. Even though this imported grape was born in France, consumers world-wide associate Malbec with the country of Argentina.
Malbec in the World Today
Even though Malbec fell out of favor in Bordeaux for decades, Cahors never wavered in their dedication to their variety. To be labeled Cahors today, wines must contain a minimum of 70% Malbec, with Merlot and Tannat completing the blend. What has changed is the technological advances in viticulture and winemaking that have greatly benefitted these wines. They are less rustic and much more approachable in their youth, something that our current market demands.
There has been a recent resurgence in France thanks to the Argentine successes with Malbec. Many of the classified growth Chateau still have a small percentage of their vineyards dedicated to Malbec. Some producers in the Bordeaux appellations are even making 100% Malbec and experimenting with amphora. Even though Malbec has largely been in varying levels of decline in Bordeaux for a century, forward-minded producers are finding new ways to reinvent this variety.
Many of the famous Chateau partnered with producers in Argentina to bring knowledge, experience and investment to these new world producers. Chateau Lafite Rothschild partnered with Catena Zapata and Chateau Cheval Blanc with the aptly named Cheval des Andes, just to name a few. The result has been nothing less than ethereal. These once classified value wines have gained enough accolades and recognition that they demand much higher prices compared to their inception. Nonetheless, they are still quite a value for the amazing quality you get in the bottle.
Becoming a star in Argentina as a varietal wine (100%) and as varying percentages of blended wines has encouraged other countries to take a look at the potential in their own vineyards. Australia, New Zealand and South Africa have some growing that are used as an adjunct to their "Bordeaux-style" blends. In Italy they refer to it as Malbech and shows up mainly in Veneto, Abruzzo and Puglia usually part of a blend but some rare varietal wines can be found. Even areas of Canada and Mexico have thrown their proverbial hat into the ring to capture some of this varietal's world-wide success.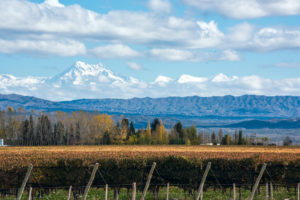 Chile has long had large amounts of Malbec under vine but it was not given the proper respect. They were over-cropped, producing nothing more than quaffable wines or relegated to a volume blending partner. This has since changed and many quality-minded producers are putting out some very interesting complex examples, especially in Colchagua.
Domestically, there are some examples of varietal wines in California but much is used as part of a blend (even as a small part of the Opus One). Washington state has a multitude of producers taking a crack at this variety and so far, some of the most interesting Malbec wines on these shores.
So, break out a bottle (or three) to help me celebrate this amazing and diverse grape variety. If you have the ability to taste different countries or regions side by side, you truly get an added appreciation of all this grape can become in the proper hands. Happy Malbec Day.
Suggested Wines
Trivento Reserve Malbec 2021 (Luján de Cuyo and the Uco Valley) – $10
This 100% vegan certified Malbec may be one of the best values on the market. The nose boasts of crunchy red and blue fruit (cherry, raspberry and blueberry), a slight cedar note, violet, and a slight green herbal component (dill). The palate is dry with a tart mouth-watering acidity and medium body. The alcohol is 13.5% and well-integrated. The tannin structure is subtle and would suit those that are tannin-averse. The palate matches the nose with an added sense of spice (green peppercorn). Pair with hamburger topped with blue cheese or BBQ chicken).
Tentadora Reserva Malbec 2018 (Valle de Cafayate, Salta) – $19
This wine consists of 85% Malbec, 9% Tannat, 6% Cabernet Sauvignon and spends 22 months in French oak (25% new). The seductive nose has fruit compote (blueberry, blackberry, raspberry, plum), chocolate, mint, and baking spice (allspice, vanilla). The dry palate has an acid core wrapped in fruit (with more of the blueberry coming through) and spice (pepper). The tannins are sandy, evident but not overtly mouth drying. At 14.5% alcohol, there is a gentle warming quality that lingers on the finish. This wine begs for some rich sticky meat (rib roast, lamb shanks).
Chateau Eugénie Tsar Pierre Le Grand 2020 (Cahors) – $18
This 85% Malbec and 15% Merlot blend has aromas of blueberry, blackberry, cedar box, forest floor, and baking spice. The palate is dry with a medium acidity, and medium body. The alcohol is well in check at 13.5% and an integrated dusty tannin feel. The palate mirrors the nose with a subtle elegance of restraint. The finish has the fruit and tannin texture pleasantly lingering. Pair with cassoulet and earthy mushrooms or duck confit.