FMN – April 2023 – Reinvented Spring Cocktails, Southern Style
The month of April gives us many opportunities, and reasons, to consume our favorite ETOH containing beverages. Whether you are cringing at your impending tax season woes or just need to have a bit of alcohol assistance to get you through Easter with your family, we have you covered. This is also the time of year that brunches seem to be most popular. Any amalgamated meal that allows both sweet and savory foods along with morning drinking, is ok in my book.
Although I do not discuss it much, I am a big cocktail fan. In my opinion, crafting these unique liquid pieces of art require an understanding of not only the spirit and the components, but how they all interact with each other and the taster's palate. Making someone a cocktail implies thoughtfulness as it takes more than just simply opening a bottle and glugging it into the proper glass. There is effort and love "poured" into each sip; the alcoholic equivalent of having grandma bake cookies for you.
It's no surprise that with the increase in sparkling wine consumption, more cocktails are using this bubbly as a base for their creations. The classic French 75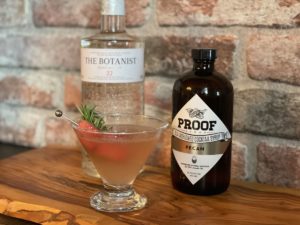 was an inspiration for our first cocktail as I love the idea of adding a spirit to the sparkling to kick up the abv (alcohol by volume). Created post World War One, it was named after the 75mm cannon used during that war. Many bars and mixologists have put their creative spin on this classic but none have made it truly southern, until today.
Our version pays homage to the original by using sparkling (but changed to rosé Prosecco) and a good herbaceous Gin. We kept it Spring-inspired and southern by including watermelon, pecan syrup and replacing lime for the lemon. The name was inspired by these components: Sparkling (wine) + Water (melon) + (Pe) can, which gives us the "Sparkling Water Can." The drink is delicious but the name may still be a work in progress.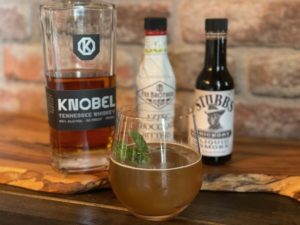 The next cocktail is an amalgam of two things that I strongly associate with the south, sweet tea and Bourbon. Although just mixing the two of these together might seem like a good plan in itself, these drinks are all about balance. For this reason, I make my own sweet tea for these using mostly local honey, which reduces the sweetness slightly but also gives it a level of flavor that sugar alone just cannot provide. Also, some acid in the way of lime juice and my secret ingredients: chocolate bitters and liquid smoke. Since I do love a mint julep, I borrowed the idea of the mint to provide a level of freshness. Although the presence of the honey makes the drink cloudy, the "(Smoky) Sweet Southern" is all about flavor and not so much appearance.
The final cocktail is an old favorite that was invented in 1921 by Fernand Petiot, an American bartender at Harry's New York Bar in Paris. Initially just mixing equal parts tomato juice and vodka, the 'Bloody Mary' was invented. When he moved back to New York city and made the cocktail there, the patrons claimed that the drink was a bit bland for the American palate and this was when all the spicy accoutrements (pepper, hot sauces, Worcestershire sauce) were added. Whether that name was influenced by a waitress named Mary at the Bucket of Blood Club in Chicago or after Mary Tudor, the drink has taken on a personality of its own.
For our purposes, the personality of this drink is being adapted for the southern palate. I have a connection to Beaufort and visit friends there as often as I can. When there we consume copious amounts of local seafood based on season and availability. With these seafood feasts comes some consumption of alcohol, usually without temperance. So, the Blood Mary becomes a mid-morning assist that gets you right back in the game.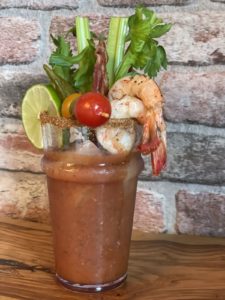 Since this unique drink hits all elements of the palate, it gives us the ability to place a gamut of local goodness in our version, "The Bloody Beaufort". We not only garnished with pieces of southern love in the way of shrimp, pickled okra and crispy bacon but include them in the drink itself. Maintaining the classic flavors of Worcestershire, horseradish, and tomato juice but also southing-it-up with the addition of clam juice, Vidalia onion puree, and Old Bay helps keep our cocktail below the Mason-Dixon Line.
Although many premade mixes exist on the market, and some are quite good, there is something special about making this from scratch. Remember grandma could have just bought cookies from the store but that's not we roll down here. The potential range of ingredients offer much lateral maneuverability to personalize your own recipe. I add the liquid from reconstituted dried mushrooms to evoke a savory aspect that it lacks otherwise.
I invite you to partake in the experience that is creating your own cocktails. You can use the tax man, Easter or nice weather as an excuse that drives you to drink, but we both know that you were probably close enough to walk. Make grandma proud; bake your own cookies and craft your own cocktails.
Cocktail Recipes:
Sparkling Water Can
2 oz watermelon juice
Watermelon cut into 2 one-inch cubes
½ oz Proof Old Fashioned Pecan cocktail syrup
½ oz lime juice
1 oz herbaceous Gin (The Botanist)
Sparkling Rosé
Rosemary sprig (garnish)
Cut watermelon into 1-inch cubes, skewer them and place in freezer for a few hours. In a chilled cocktail mixer add watermelon juice, pecan syrup, lime juice, and Gin. Stir gently to chill (not shaken) and pour into a wide rimmed fluted glass. Slowly pour sparkling to top off glass. Garnish with rosemary and frozen skewered watermelon cubes.
(Smoky) Sweet Southern
4 oz sweet tea – made with local honey
2 oz Knobel Tennessee Whiskey
6- 8 Mint leaves
1 tsp Lime juice
1 Tbs simple syrup
2 dashes Aztec Chocolate bitters
1 dash liquid smoke (a little goes a long way)
Bring 3 cups of water to a slow boil and add 6 Tbs local honey (stir to completely melt honey). Turn off heat and add 4 black tea bags and the simple syrup. Steep for 5 – 7 minutes, remove tea bags and allow to cool.
In a cocktail shaker (1/2 full of ice) muddle mint and add Bourbon, lime juice, liquid smoke and top with sweet tea. Shake vigorously. Place a large ice cube (or sphere) into an 8 oz Old Fashioned glass and top it with 2 dashes of the chocolate bitters. Pour cocktail contents over ice topped with the bitters. Optional garnish with mint.
Bloody Beaufort
1 ½ oz Vodka (add to glass and top with mixture)
1 cup Clam juice
4 cups Tomato juice
½ cup Reconstituted strained mushroom water
3 Tbs Old Bay
1 tsp fine sea salt
3 Tbs Horseradish
¼ cup Pickled juice
1 Tbs honey
4 Tbs Worcestershire
1 small Vidalia (sweet) onion pureed
Juice from ½ a lemon and ½ a lime
1 Tbs hot sauce (Texas Pete) – Tabasco if you like it even spicier
1 Tbs of minced fresh dill
Garnish: dilly bean, pickled okra, piece of crispy bacon, low country shrimp, celery stalk
Rim spice blend:
2 tsp Old Bay
1 tsp celery salt
1 ½ tsp smoked paprika
1 tsp granulated onion
1 tsp granulated garlic
Puree one small Vidalia onion and set aside. Add 1 cup of slow boiling water to a package (1/2 oz) of assorted dried mushrooms and let sit for 20 minutes and strain off liquid. Add all components (except vodka) to a flat-bottomed pitcher and mix with immersion blender until smooth. Chill mixture in refrigerator overnight. Wet the rim of a highball glass with a lime wedge and dip rim of glass into spice blend. Fill glass 1/3 full with ice and add vodka. Pour over chilled mixture and garnish as desired.