World Chardonnay Day Addendum – Stoller and Chehalem
It's Never too Late for More Chardonnay
So recently we put a content piece out there to support World Chardonnay Day, helping the consumer to better understand the different styles of Chardonnay. Although it is quite impossible to cover every region and Chardonnay producer, we attempted to show the spectrum of what is possible with the amazing versatile grape.
A few days after the content release I received some Chardonnay for consideration from the Stoller Wine Group, covering a variety of labels in different AVAs of Oregon. Having visited some parts of these AVAs, I felt it remiss to not include some of these amazing wines in our Chardonnay Day promotion. Although they do produce some distinctive varietal wines from a number of different grape varieties, this go-around we will focus on the Stoller and Chehalem Chardonnay labels.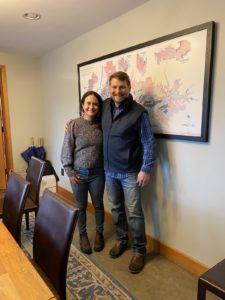 Chehalem winemaker Katie Santora is originally from Utah but became interested in wine while studying at UC Davis. Ultimately graduating with a degree in enology and viticulture she joined Chehalem as assistant wine maker in 2012 and assumed the role of winemaker in 2018. When having a conversation with Katie it becomes immediately evident that she is knowledgeable and passionate about the wines she is a steward for. Although carrying the title of winemaker she views herself more as a guide, assisting the grapes to become the wine they aspire to be; a philosophy that, in my humble opinion, more winemakers need to subscribe to.
Karl Weichold has a degree in biochemistry from Texas A&M and began his oenophilic career working for wi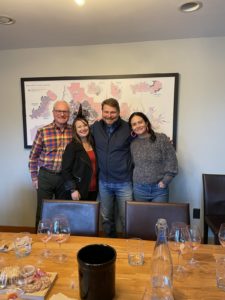 neries in the Texas Hill country. In 2009 he relocated to Oregon to work as an enologist for 12th & Maple. He then moved to Erath Winery in 2015 to take the role as assistant winemaker. Working at Stoller Wine as a production winemaker since 2020, the experience and passion show through in the wines he helps create.
Inox Unoaked Chardonnay 2022 (Columbia Valley AVA, Oregon) – $25
The name Inox come from a French term for stainless steel (acier inoxydable) and is sourced from grower partners throughout Columbia Valley, Oregon. Katie told me that when she pours this for people, they are surprised when they find out it is Chardonnay, a testament to the misconceptions of this variety.
The wine has an overt nose of fresh, unctuously ripe fruit. Stone / orchard fruit (apricot, peach, Asian pear), melon (honeydew), tropical (guava), and a fruit blossom aromatics are all layered and integrated. The palate is dry with persistent linear mineral-laden acidity that provides the support for all the other components to hang on to. The body has an interesting viscous textural mouthfeel that adds interest. The palate has similar fruit to the nose with the acid pushing the fruit to show more citric in nature (tangerine, pineapple). The finish lingers with the acid and ripeness of fruit in harmony and a palate cleansing resolution. The wine would be best sipping in quiet contemplation or with non-spicy Thai cuisine.
Stoller Family Estate Chardonnay 2022 (Dundee Hills, Oregon) – $25
The grapes are a selection from blocks across the estate and consists of a blend of Dijon clones 548, 76, 95, and 96. The wine is fermented and aged in a variety of medium (8% concrete, 8% neutral oak, and 84% stainless steel). The nose has aromas of apricot, peach nectar, orange peel, apple blossom, and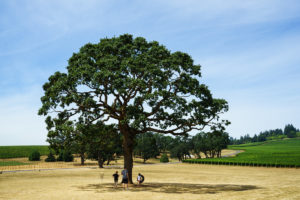 confederate jasmine. The dry palate shows a slight viscous nature with brined tropical citrus (kumquat, orange, pineapple) and a blossom note. The finish lingers with hints of citrus and ocean spray. Pair with shrimp ceviche and lazy days by the pool.
Stoller Family Estate 2021 Estate Chardonnay (Dundee Hills, Oregon) – $40
Sourced entirely from the Stoller Estate Vineyard, this 100% Chardonnay spent 12 months in concrete cubes and then another 3 months with lees in stainless steel tanks. The wine has subtle aromas of smoky gunflint, melon (honeydew), and lime yoghurt. The palate is dry with a slight viscosity and an interesting citrus driven acid structure that broadens as it travels through the palate. There are flavors of citrus (lemon / lime, tangerine), hints of dried wild flower, a petrichor type mineral structure and a slightly saline infused finish. At only 841 cases produced, buy it if you can find it. Pair with seafood bouillabaisse and afternoon day drinking.