I Veroni Chianti Rùfina – 'Auguri' and 'Salute'
Let me first admit that I have a love – hate relationship with Italian wines. With all the diversity of climates, varieties and traditions, new and exciting discoveries lurk around every corner. The aspect of Italian wine that weighs heavy on me remains the confusing nature of everything Italian wine. The rules for the vast number of DOC and DOCG appellations vary greatly as well as the type and amount of inclusions with indigenous "other" varieties that leaves the end consumer shrugging their shoulders. Even a grape variety, like Sangiovese, can have a myriad of names as you track the grape through different regions and appellations. Although they are a headache to study and keep straight in my, sometimes alcohol affected brain, I absolutely love to imbibe on Italian wines.
The most recent wines I'm sampling are from Tuscany, more specifically the region of Chianti. Tuscany is long known for wine production and the region itself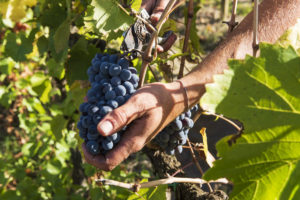 has 58 appellations designated for wine production. Chianti is one of the more well-known areas of Tuscany and itself has seven sub-zones of designation. The main red grape planted here is Sangiovese, which accounts for over half of the area under vine.
The Subzone of Chianti Rùfina
Our wines are from the Rùfina, the smallest sub-zone, located in the northeastern part of Chianti. This unique production area has Apennine Mountains to the north acting as a rain shield causing a dry microclimate. The mountain passes allow cool maritime breezes to flow into the vineyard areas, creating the coolest vineyards in all of Chianti. This unique cooler climate along with the clay and limestone marl soils (which Sangiovese seems to love), makes Rùfina some of the most perfumed, elegant and refined wines in all of Tuscany.
To be called Chianti Rùfina the grapes, obviously, must be grown in this delimited area and also contain 70 – 100% Sangiovese. The balance of the blend can contain the indigenous varieties (Canaiolo Nero and Colorino), international varieties (Cabernet Franc and Cabernet Sauvignon – individually or together maximum limit of 15%) and white varieties (individually or together maximum limit of 10%). The wines must be aged 12 months before release, with the Riserva designation aged 24 months. The take home message is that these wines have time to integrate and develop tertiary aromatics as well as integrate their tannin structures. As a consumer, that means these wines have interesting aromas and flavors above that of their primary fruit and they don't feel as astringent in our mouths.
Fattoria I Veroni
Located about 10km outside Florence's city center, the land where "I Veroni" farm rests today has a viticultural history that dates back to the Middle Ages. The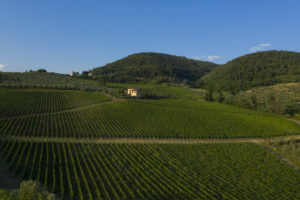 oldest document mentioning the property specifically comes from the 1500s and references the farm, vines and winemaking on site. Some of these old concrete fermentation vessels can still be seen on the property, left there as a remembrance to the long tradition of winemaking here.
Lorenzo Mariani represents the fourth generation of ownership, dating back to his great grandfather's purchase of the property in 1897. At that time, the property not only produced some wine but also tobacco and olive oil. Lorenzo's grandfather bottled the first wine under the "I Veroni" brand, referring to perimeter terraces of the 16th-17th-century building that were used to dry tobacco leaves. As the name "I veroni" derives from "verone", an ancient Tuscan term which indicated a terrace.
Today the "I Veroni" property spans 70 hectares (175 acres) surrounded by oak and cypress forests. Vineyards account for approximately 20 ha and consist of mainly Sangiovese with the balance plated to indigenous reds (Canaiolo and Colorino), international varieties (Merlot and Petit Verdot) and white varieties (Malvasia and Trebbiano). Staying true to the tradition of the property, over 4000 olive trees are planted on 40 ha and account for approximately 10,000 bottles of organic extra virgin olive oil produced yearly. The forested land and olive trees not only add to the scenic ambiance but also to the biodiversity of this amazing site.
The Terraelecate Project
One of the recent and exciting projects was the creation of the Terraelectae Project by the Chianti Rùfina Consorzio. This proprietary designation TerraElectae or TerrÆlectae (from the Latin terræ electæ, "chosen soils"), was born to enhance the importance of Chianti Rùfina as an independent appellation by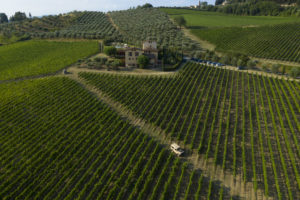 establishing a new trademark different from all the other Chianti appellations. This designation can be used only by Consorzio members for Riserva level wines made from 100% Sangiovese. The aging requirements are prolonged compared to the standard Riserva level (minimum of 30 months, including 18 months in barrel and 6 months in bottle). This designation and these wines are meant to be a representation of the best that Chianti Rùfina has to offer. As happenstance has it, "I Veroni" takes part in the Terraelectae project with their single vineyard Quona Chianti Rùfina Riserva DOCG, showcasing all the potential that a varietal Sangiovese can become.
So, if you have the mistaken belief that all Chianti tastes the same or you have not revisited these Sangiovese based wines since they came in a straw basket (appropriately named "fiasco"), then you are in for a pleasant surprise. These wines, especially with barrel age, can be some of the most complex, interesting and value-based treats in all of Tuscany. But, please, do not take my humble word for it.
The Wines
I Veroni – "I Domi" Chianti Rùfina DOCG 2021 (Chianti, Tuscany, Italy) – $16
This organic wine is a blend of Sangiovese 90% Canaiolo Nero 5% Colorino 5%, all from the I Domi vineyard. The stainless-steel ferment follows with 12 months in varying sized French oak barrels. The nose bursts out of the glass with aromas of red and blue fruit (cherry, raspberry, blueberry), spice (anise, nutmeg), pipe tobacco, and a floral element (violet). The dry palate has a broad crunchy acid structure, a medium body and a dusty texture. The tannin structure is evident with a sandy texture, expected for Sangiovese. The fruit and spice carry through to the palate and the wine finishes with a gently warming alcohol. The wine begs for food like lamb ragu, meat sauces or even a grilled ribeye.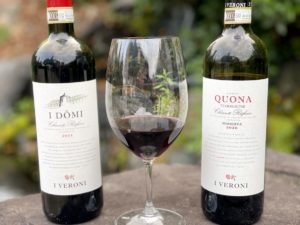 I Veroni – "Quona" Chianti Rùfina Riserva DOCG 2020 (Chianti, Tuscany, Italy) – $25
This 100% Sangiovese hails from the San Martino in Quona's vineyard and after ferment in Slavonian oak barrels spends 18 months aging in French oak barriques (50% new). The nose is seductive with rich aromas of plum, currant, blackberry, sweet baking spices (nutmeg, allspice), floral (violet) and moist sweet tobacco in a cedar box. The palate is dry with medium body and broad, sturdy acidity. The tannins are prevalent, fine grained and silty, and pleasantly lacking in astringency. The strength of this wine is with its elegance and restraint. Pair with wild boar (traditional) or venison au poive (modern) to further elevate this amazing example of Sangiovese.