World Chardonnay Day 2023 – Why You Do Like Chardonnay
May 21st or 25th 2023 (Just Celebrate the Whole Week)
I know it seems like every grape variety has an associated special celebrated day and, thanks to creative marketing, that statement becomes truer every year. So why should Chardonnay Day even cause a second thought or a raising of the proverbial eyebrow? Many of you (wrongfully) claim to not even like this grape that for decades became synonymous with white wine. To not like Chardonnay, however, is to not like wine. A bold statement but one I am prepared to defend in the name of Chardonnay.
Chardonnay The Grape
To understand Chardonnay the wine one must first have an appreciation and comprehension of the grape. The name comes from the village of Chardonnay in the Mâconnais region of Southern Burgundy but was also known by early names such as Beaunois (from the Beaune), Morillon and Aubain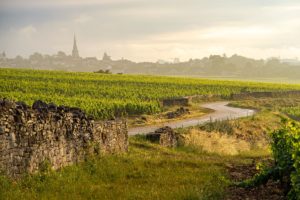 e, to name a few. The grape probably came into existence sometime in the Middle Ages as a natural crossing, now known to be between Pinot and Gouais Blanc. This means that our beloved Chardonnay has a sibling relationship with Gamay Noir, Melon de Bourgogne and Aligoté. It is hardly surprising that they are all grown in the very same region as the birthplace of Chardonnay.
Although most grape varieties show hints of the vineyard where they were grown, Chardonnay is the paradigm of terroir and winemaking expression. I heard a winemaker refer to it as a "malleable" grape, in that it is very sensitive to terroir, winemaking techniques and winemaker manipulations (both with a lowercase and capital "M"). Others have called it a table rasa, or blank slate, because it takes so readily to anything you want to do to it in the winery. From my, and I believe the consumer's prospective, this can be both an attribute and a detriment to the end wine.
Chardonnay has Style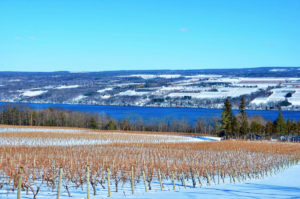 Chardonnay's potential stylistic range is a major asset to the variety, endearing the grape to winemakers in a broad spectrum of climates and thus growing regions. Cooler climate regions, or those with broad diurnal temperature ranges (difference between day and night temperatures), tend to retain more of their natural acidity. These wines show as racy and bright sometimes with mineral-laden undertones. The nature of the fruit on the nose and palate in these areas are more orchard (pear, apple) citrus (lemon, grapefruit) and fruits with a pit (peach, nectarine). In wine speak we call those fruits stone fruits for no other reason than it sounds sexier.
As the growing area shifts to the warmer side, the fruits start to show riper, richer or even transition to more tropical (melon, pineapple). If the region is extremely warm these fruits can exhibit baked or stewed elements. Also, with warmer sunnier regions we see higher sugar levels and thus higher resulting alcohol. This presents a challenge for the winemaker to achieve a balance of components; a challenge that sometimes results in wines overtly perceptibly "warm" on the palate.
Another major issue resides with acidity levels. If the nighttime temperature stays warm enough that the vine's metabolic processes are still active, the vine's acidity is sacrificed to produce energy during the night, when photosynthesis is not active. The process is called gluconeogenesis and you probably have not heard that word since high school biology. Apology for triggering your school-years PTSD. Nonetheless, without intervention, the resulting wines would feel flaccid on the palate, a term no one is comfortable with.
Manipulate Some Chardonnay for Me
First, let me say that the word manipulation definitely has a negative connotation but there are times when the wine does need a little nudge in the right direction. This could mean making some acid adjustments to maintain balance, as in our aforementioned example or the presence / absenc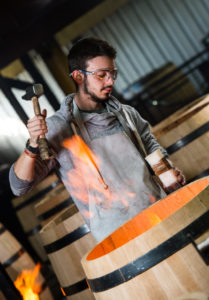 e of different techniques to gain a specific desired style. So, before I take a proverbial cricket bat to the practice of over-manipulation, we first need to understand some winemaking practices that affect the style of our Chardonnay.
Aside from all the viticultural decisions affecting the final wines, including choice of Chardonnay clone (28 authorized in Burgundy alone), there are winemaking inclusions and exclusions that dramatically affect what we experience in the glass. One big influencer is the type, length of time, and age of any oak the wine comes in contact with. Oak can give some rounder mouthfeel elements, spice and even some perceptible tannin. Potentially this technique can add some layers of complexity and an interesting texture if done well.
Wines that lack any oak contact (perhaps all stainless steel) have a tendency to be a bit leaner with the acid structure and primary fruit more perceptible and in the foreground. Decisions of oak use are a stylistic one and there truly is no right or wrong answer as long as the wine is in balance. However, much like some beers using a generous amount of hops to cover up a multitude of production sins, the same can be said about a Chardonnay and oak.  When the wine spends so much time in contact with barrel or staves, the two would be common law in many states. The result is a wine that tastes of nothing but wood.
Yeasty Goodness
Another winemaking decision involves the use of extended lees contact. When the wine has interaction with the expired yeast a few things happen. The texture of the wine changes due to the breakdown of the yeast and release of mannoproteins. There also can be an added complexity of a cheesy, yoghurt, or biscuit note to the wine. Although the process does help with protection against oxidation, it is not usually the main reason for its inclusion. Truthfully, too much lees contact and stirring can cause reductive issues and may be yet another reason for avoidance. Stylistically if the winemaker wanted to make that racy, fruit forward leaner style, this may not be a technique used for said wine.
Malolactic Who?
Finally, we can discuss the misunderstood and often overused malolactic fermentation. Before you cut and run from the use of a multisyllabic wine technical term, it is much simpler than you think. It is really just a conversion of sharper malic acid (think green apples) to a milder acid called lactic acid (think milk). So,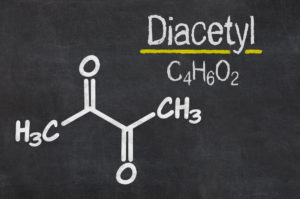 the process lowers or softens the perception of the acid on the palate. It can be useful in softening those wines that have a bracing acidity but can also render a flaccid wine if used incorrectly or to excess.
The other issue with MLF is the production of diacetyl. This molecule is what makes butter smell and taste like butter. A slight amount can add complexity but this little bugger can quickly dominate the nose of a wine. I'm certain you had a Chardonnay that smelled and tasted like buttered popcorn served in a raw oak bowl. That style of Chardonnay dominated the domestic wine market for decades but was also the reason many joined the ABC (Anything But Chardonnay) club and drove them to lighter crisper varieties.
Make no mistake, there is a style out there for you. If you visibly flinched at the mention of a rich full-bodied, oaky, buttery Chardonnay then you are an acidophile. Thus those cooler climate, lean, acid-driven styles would be right in your wheelhouse. If you like them a little fuller and thicker perhaps singing "I like big Chards and I cannot lie…", then there is that style out there for you as well. Most other Chardonnay have some variations of different climates, soils, and winemaking decisions that produces more variations of final wines than any other grape variety that I know. In addition to these still wines, Chardonnay is a popular base for many traditional method sparkling wines and even late harvest dessert wine. Thus, with great confidence, I can find a Chardonnay that fits your wine profile. See the suggested wines below.
Crossings Produced from Mama Chardonnay
X Baroque à Liliorila
X Siebel hybrid à Ravat Blanc
X Palomino Fino à Chasan
X Seyval Blanc à Chardonel
X Chasselas à Charmont and Doral
X Kövidinka à Sila
X Plavai à Sukholimansky Bely
Wine Suggestions (From lean and acidic to full figured and shopping at Lane Bryant)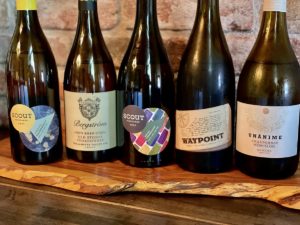 Domaine Chenevieres 2021 (Premier Cru Chablis Fourchame) – $50
This cool climate 100% Chardonnay was stainless steel fermented and spent 10 months on the lees. The nose boasts of yellow apple, pear, peach, petrichor (minerality), tropical citrus (lime, pineapple), and citrus blossom. The palate is dry and slightly more viscous than one would expect (lees contact) with structured linear acidity. The palate has some of the orchard fruit with more of the tropical citrus. There are also added nuances of limestone and a slight brined, pleasantly bitter, citrus finish. The wine would go splendidly with cheeses (goat cheese, gruyere), ocean crustaceans (clams, oysters), or fish with tarragon and crème sauce.
Scout Vineyard Stainless Steel Chardonnay 2021 (Seneca Lake, New York) – $30
The Clone 76 Chardonnay was grown on Nutt Road vineyard on Seneca Lake. As the name states, it is absent of any oak exposure and spends 8 months on its lees. The subtle elegant nose has stone / orchard fruit (apricot, white peach, Asian pear) and is reminiscent of spring time in the orchard. The palate is perceptibly dry but I felt a small amount of residual sugar for acid balance. The body is smooth, sexy and caresses the tongue like velvet.  There are the same fresh ripening orchard and stone fruits on the palate with a slight splash of lime. The pleasant tangy finish seductively lingers allowing the fruit, slight RS and acid core to finish together. Pair with mild creamy cheeses, the outdoors or just in your own quiet contemplation.
Bergstrom Old Stones Chardonnay 2020 (Willamette Valley AVA) – $45
The grapes are estate-sourced from Bergström, Winery Block, La Spirale, Silice, & Le Pré du Col Vineyards in Dundee Hills, Ribbon Ridge, and Chehalem Mountains AVAs. The grapes are whole cluster gently pressed and undergo native fermentation in French oak barriques (10-15% new). One hundred percent of the wine goes through malolactic fermentation and spends 18 months on the lees. This Chardonnay has a complex nose of tropical (wood fire grilled pineapple), citrus (nectarines, lemon curd), citrus blossom, and toast with tangerine / peach jam. The palate is dry with a tangy linear acidity and a slightly increased viscosity (lees aging). The palate has a similar presentation to the nose with an added stony minerality and an impressively clean brined toasted citrus fruit finish. Pair with baked clams (casino), baked brie, or lobster roll.
Scout Vineyards Gestalt Chardonnay 2021 (Seneca Lake, New York) – $30
This started as two different wines with both being fermented and aged in barrel (300 L barriques), but with one treated oxidatively and one treated reductively. They also spend 12 months on gross lees. Daniel and Olivia stated that they planned on bottling the two wines separately. However, after tasting a blend of the two it was clear the sum was greater than the two parts. A beautiful metaphor for life. This geeky ridiculous wine has a nose of circus peanut candy, orchard (peach / pear nectar), lemon verbena, lemon custard, lime blossom, and a hint of tarragon. The palate has a barely perceptible residual sugar, sturdy acid core, and an obvious viscous mouth-caressing body. The palate has stone and orchard fruit with an added tangerine and pineapple note. The finish sees each fruit taking their turn to bow out leaving a palate cleansing citrus tang closing the curtain. Pair with grilled trout and good life decisions.
Charles Heintz Waypoint Chardonnay 2020 (Sonoma Coast) – $60
The wine goes through fermentation and 18 months in 43% new French oak barrels. The nose is subtle but complex with ripe stone and orchard fruit (peach, apple), melon (honeydew), with hints of tarragon and chamomile. The textured palate has fruit similar to the nose with the linear acid core exuding more of a tropical citrus with baking spice note. The French oak and alcohol emerge more on the finish but neither is obnoxious. The integration of components is definitely the strength here along with prolonged oak exposure without being a contrived oak bomb. With only 190 cases produced, you'll be rewarded if you can find a bottle. Pair with lobster mac and cheese or baked trout.
Mascota Unánime Chardonnay 2020 (Uco Valley, Mendoza, Argentina) – $20
This wine has malolactic fermentation (30%) in oak barrels and six months of ageing "sur lie." The nose has bright notes of citrus (lemon, pineapple), orchard fruit (white peach), and slight hints of baking spice (vanilla) and fresh cut oak in a wood shop. The palate has a viscous creamy textured mouth feel, toasted citrus elements (lemon, pineapple, tangerine), unsweetened butter cream, hints of dusty oak and a long warm, slightly bitter (citrus pith) and oak textured finish. Pair with grilled salmon and citrus inspired poultry dishes.
An Addendum with more Chardonnay. Just click HERE.