Villa Gemma Bianco Colline Teatine – tonight's dinner wine
This wine is a great week-night sipper when your significant other decides to surprise you with a nice Italian-themed meal. This is exactly what happened to me this evening. Veal piccata on the way, yes please.
I just got home from work and with this news I reached for a nice Italian white that I knew would withstand the acid, brine and butter from this dish. So, as I've stated in my other white wine themed content pieces, put that white wine in your freezer for 20 – 25 minutes to get a proper temperature without muting the aromatics from over chilling. Set a timer, a loud timer. I've been that guy that said, "I won't forget it's in there." Only to have a interesting wine ice decoration inside the freezer that I had to clean up the next day.
You may notice from the label that our wine is declassified to an IGT, or regional designation. This may sway some from purchasing, but that would be a mistake. Many amazing wines found all over the world, drinking well above their price points, are declassified from their respective appellations. This may occur due to blending grapes into the wine that are not "approved" by the local appellation, using techniques outside the "rules" of the appellation (like machine harvesting), or using grapes grown outside the designated vineyard areas. For whatever reason, they can represent an interesting find outside the norm of the region, usually at an attractive price point.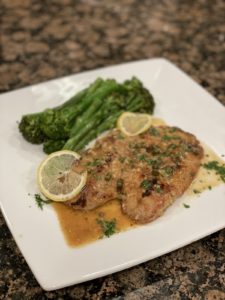 The winemaker, Gianni Masciarelli, produces his wines from grapes grown in the Abruzzi Provence, located along the eastern (Adriatic) coast of Italy. This wine consists of 40% Pecorino, 30% Tebbiano d'Abruzzo, 20% Chardonnay, 10% Cococciola. An interesting and smart blend collecting nuances from all these varieties into one wine. The nose has aromas of stone fruit (white peach), slight melon rind, and floral notes (jasmine). The palate is dry with an interesting crescendoing acidity, and a fuller (more viscous) body than I expected.  The fruit elements transition well to the palate with more citrus fruit elements emerging (lime, tangerine and pineapple). The finish lingers with continued structured acid decorated with splashes of these different fruit components. This would easily be a palate cleansing sipper but offers so much more when paired with food that understands how to dance to its music. Although there are endless possibilities, mine happens to be the aforementioned Veal Piccata.