South Africa, Walker Bay, Sunday's Glen and Hermanuspietersfontein
A friend and co-worker recently returned from seeing her in-laws in South Africa. She graciously lugged two bottles of wine back for me, for which I am incredibly appreciative. Just like that, a content idea is generated. A special thanks to her, her husband and, for that matter, anyone that gifts wine from their travels.
A South African Wine Industry Primer
For those not exceptionally good at geography, South Africa is located at the southern tip of, you guessed it, Africa. For its latitude you would expect a relatively hot climate and this is certainly true of the regions located further inland. In the coastal areas, however, the climate is moderated by the cooling influences of the Benguela current. This, in my humble opinion, is where some of the more elegant and sexier wines of South Africa come to fruition.
South Africa is a classic example of why I do not like the terms "Old" and "New" world. Dutch settlers planted vines in the 1650s and were producing wine less than a decade later. Keep in mind this was only a few decades after the Dutch drained the Medoc in France's Bordeaux region. So, this country could definitely be considered "Old World" when it comes to the birth of their wine industry.
The wine industry here, like many others in the world, had its good and bad times. The arrival of the French Huguenots in the later 17th Century brought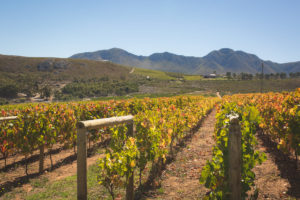 knowledge and desire to the blossoming wine industry and it prospered. They found a niche with their dessert wines, even exporting these wines to Europe.
The grape louse, Phylloxera, in the late 1800s decimated the industry, as it did with much of Europe. The industry here never fully recovered economically due to the lack of focus on quality over quantity and the logistic difficulty with transport from their remote location. The formation of the Koöperatieve Wijnbouwers Vereniging van Zuid-Afrika Bpkt (KMV) by the government was an attempt to push the focus toward quality and even encouraged producers to use the glut of excess grapes to make fortified wines, something they do well even to this day.
The recovery was incomplete and short-lived with the beginning of Apartheid in 1948, effectively cutting off their wine industry from the rest of the world for half a century. It was not until the mid-1990s, and the end of Apartheid, that the industry began to show promise once again. Thus, this older wine region saw a rebirth from the politically-caused isolationism just over the last 25 years. For this reason, many look at South Africa as both an "Old" and "New" world wine country.
Even though South Africa is making better quality wines and has the support of both internal and external forces, we still do not see many of these on our local shelves. Packaged wines exported to the United States lag behind the UK, Netherlands, Sweden and Germany. There are just not a lot of people walking into wine shops and asking for South African wine. Granted, truth may be multifactorial, involving not only the political past of this country but also the gross lack of understanding we have for the culture, language and thusly their wines.
There are some wine shops that will carry these wines knowing they will be a "hand-sell" or introduced in a tasting session to give consumers exposure. I applaud them for this but if you do not have one of those shops near you, look for them as you travel or seek out these wines online. You will be rewarded.
Seemingly a mouthful to pronounce, this winery boasts the longest Afrikaans name for a cellar in the world. Located in the amazing appellation (Walker Bay district) in the Western Cape of South Africa, the winery enjoys the aforementioned benefits of cool ocean proximity. The grapes are sourced from a monopole located in Sunday's Glen, a Ward inside Walker Bay.

The winery name pays homage to Hermanus Pieters, an educator that traveled from the Netherlands to teach children in the small settlement of Caledon. He found the area where his namesake town rests today during the search for grazing land for his sheep, as teachers were paid with livestock in those days. Today the town is known as Hermanus as the 'suffix' of pietersfontein was dropped in the early 20th Century; rumored because of a lazy postmaster.
The winery takes their stewardship of the land very seriously as they are one of twenty farms belonging to the Biodiversity and Wine Initiative (BWI), showcasing those that demonstrate best environmental practices. They continue to break the mold of what consumers think South African wine was or should be. Although forward thinking they stay true to their heritage as evidenced by being the lone wine cellar in South Africa to use Afrikaans-only names.
The Wines
Kaalvoet Meisie Sauvignon Blanc 2022  Walker Bay, Sondagskloof – $20 
The producers refer to Kaalvoet Meisie as caring, green, 'the soul of Sondagskloof', who grew up on the farm, and never wore shoes. You can almost close your eyes and see this girl. I find it interesting and refreshing that they have thought enough to ascribe a personality to this wine.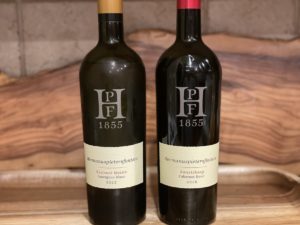 The composition is 92% Sauvignon Blanc, 6% Nouvelle, and 2% Sémillon. Don't feel remedial if Nouvelle is not familiar to you. This relatively obscure grape is a cross between Cape Riesling (Crouchen) and Ugni Blanc (Trebbiano Toscano) and was developed at the University of Stellenbosch by Professor Christiaan Johannes Orffer in 1964.
The wine is pale and brilliant with aromas of passion fruit, orchard fruit (peach, pear), fresh cut grass / herbs, fruit blossom and a slight citrus (tangerine) note. The palate is dry with evident tart pungent acidity and an interesting viscous body. There are more citrus than orchard fruit notes here with tangerine, citrus pith, dried herbs and a mineral backbone. The length is medium with the lingering acidity begging for food. Pair with soft cheeses (goat, brie), yogurt marinated grilled chicken or clams in garlic butter.
Swartskaap Cabernet Franc 2018  Walker Bay, Sunday's Glen – $40
The term Swartskaap can refer to a scapegoat or patsy but in this case the meaning is black-sheep. The wine is 100% Cabernet Franc and is the only single block wine in the entire portfolio. The decision to mature in new and 2nd fill 225ltr French oak barrels for 18 months plus a year in bottle before release was wise. There is a complexity and integration in this wine that only comes with patience and aging.
The wine has interesting aromatics that drastically change as the wine opens up. I honestly first thought the wine as faulted due to being slightly reductive. Thankfully, that blew off quickly and the wine slowly unveiled itself. There are aromas of dark fruit (blackberry), black olive, green peppercorn, dried herbs (Fybos) and a slight cedar cigar box note. The palate is dry with juicy acidity, a medium body and fine-grained sandy tannins. There are flavors of red and black fruit (currant, blackberry, cherry) with the juice of these bathed in dried
herbs and a baking spice nuance. An interesting and complex wine that treated these grapes with the attention they deserved. Pair this wine with herb crusted pork tenderloin, game bird with currant sauce, or venison au poivre.