Introducing You to the Wines of Georgia
I am always campaigning people to drink diversely. This piece evolved to become one of those chances to practice what I preach. E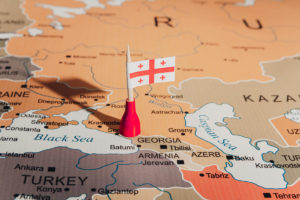 ven with all that wine and spirits schooling I've subjected myself to, Eastern European regions are covered minimally, if at all. When the opportunity arose to sample and explore the wine, history and food of Georgia, I was all in. Honestly, I first had to look up a map to see exactly where the heck it is located. Spoiler alert, it is not located just north of Florida, nor is the capital, Augusta.
Georgia Overview
The country of Georgia is slightly smaller than the state of Maine and nestled against the eastern edge of the Black Sea, at the intersection of Europe and Asia. It borders on Azerbaijan, Armenia, Turkey, and Russia. Georgia stretches between the Greater Caucasus Mountains to the north and the Lesser Caucasus to the south with the capital being Tbilisi.
This strategically important location has kept Georgia relevant throughout history. The Dariali Gorge, now part of the Georgia-Russia border, has long been a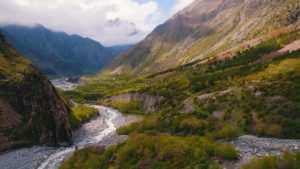 corridor for nomadic peoples migrating south. Containing one of the routes along the famous 'Silk Road', Georgia has supplied economical and trading centers between Western Asia and Transcaucasia and always boasted their multiethnic populations. It is quite amazing that with all the outside cultural influences, the Georgian people still maintain an identity quite unique when compared to their neighbors.
A Little History of Georgia
To understand Georgian wine, or any country for that matter, you need to have an understanding of the historical background. I am certainly not suggesting a proverbial decamillennial deep dive down the rabbit hole but an overview does offer insight into the complex cultures and influences that are the foundation that make this country so diverse and interesting. And wine is definitely the most interesting expression of history and culture.
The first thing to realize is how long the region and culture have existed. Archaeologists found evidence of winemaking in the South Caucasus region dating back to 6,000BC, making it the oldest known on record. The ancient Greeks (Homer and Apollonius of Rhodes) not only mention the wines and viticulture of the area but allude to the region in their mythology. The famous Georgian kingdom of Colchis (Egrisi) was said to be the homeland of Princess Medea, the setting of the Legend of the Golden Fleece and the final destination of Argonauts.
Because of their location, Georgia has not only had an advantage as a trade route but also suffered their share of battles, invasions and occupations from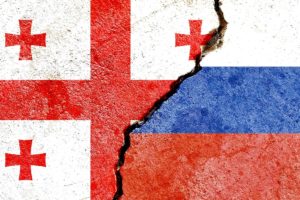 almost every historically significant enemy in this part of the world. The Achaemenid Empire, Roman Empire, Sasanian Empire, The Seljuk Turks and Khwarazmian Empire, Genghis Khan's Mongols, Ottoman Turks and Russian Bolsheviks. (Not by any means an all-inclusive list).
A large peasant revolt occurred in 1905, which led to political reform opening the door for the rising Marxist Social Democratic Party. Josef Vissarionovich Djugashvili, a Georgian Bolshevik, became a leader of the revolutionary movement and later went on to control the Soviet Union. You may know him by his more popular name, Joseph Stalin. From 1936 to 1991 Georgia was within the USSR, behind the proverbial "Iron Curtain." In 1991 Georgia declared independence as well as other countries of the former Union.
From the declaration of independence, the country had some political growing pains resolving peacefully with "The Rose Revolution" with the National Movement candidate winning the election in 2004. Since then, the country has experienced a period of economic growth and prosperity.
Georgia Modern Wine History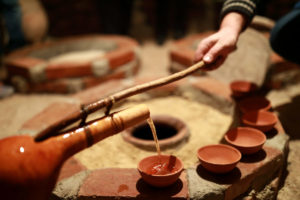 Many have heard Ukraine called the breadbasket of Russia but most are unaware that Georgia was known as the wine cellar. When still under Soviet control, the country exported over 80% of its annual wine to Russia and, at that time, quality was far less important than quantity.
Even with Georgian independence and the Iron Curtain lifted, they strongly depended on Russia for wine exportation. The pleasantries did not last and a crippling Russian embargo on Georgian wine followed by a war with Russia in 2008 led to a loss of 96% of its wine export market. Ever since, Georgia was forced to diversify their export markets and look to the west for future growth.
To keep competitive with the more discerning wine palates of their new target audiences, the Georgian wine industry shifted to a more quality-driven focus. Further aiding this reinvented wine industry, the 2014 free trade agreement between Georgia and the European Union removed trade tariffs on Georgian wine. These compounding factors along with a renewed marketing plan, allowed this ancient wine producer to become relevant again.
Today, Georgian wines can be found all over Europe (especially in the north), and even stocked by British supermarkets like Marks and Spencer. With the Russian ban on Georgian wine 'water under the proverbial bridge', Russia remains by far Georgia's top customer (in volume though not value). Georgia now exports to 53 countries, with Ukraine, Poland, Kazakhstan, and China dominating and the United States still lagging behind. Seeking out these wines on domestic shelves may take a little effort but, not only will you be rewarded with wines drinking ridiculously above their price point, you will also be ahead of the impending fad over these 'reinvented' ancient wines.
What's So Cool and Unique About These Wines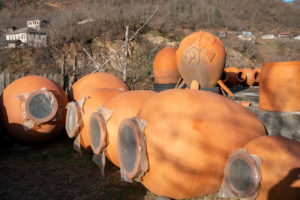 There are 25 winemaking PDOs and the country is home to over 500 varieties of grape – more than anywhere else in the world. The varieties found here are not what I would, by any means, call popular. They may exist in some neighboring countries, but, for all intents and purposes, they are unique, ancient and rare. If you find any information about varieties like Rkatsiteli, Mtsvane, Kisi, and Saperavi, it will most likely be in reference to Georgian wine. The wine geek in me is an absolute sucker for unusual wines so it was my "you had ma at hello" moment.
Georgia is also well known for its unique method of production making qvevri / kvevri (pronounced "kway-vree") wines. These are fermented (and sometimes aged) in clay vessels (sharing the same name) while buried underground with only the lids exposed. The process is so unique and historically significant that it has been given heritage protection status by UNESCO.
Even though "orange wines" represent only 1 percent of production, they have become associated with the Georgian wine culture. These amber wines are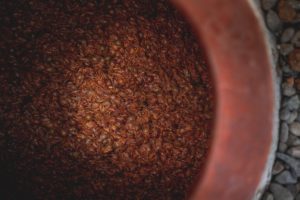 made from white grape varieties that have seen differing amounts of skin contact and oxygen exposure. The result is a tinted wine with tannin-like texture and a myriad of interesting phenolics. The natural-wine movement with interest in clay-fermented and skin-contact wines have reignited consumer curiosity and given these some world-wide exposure. If you have never sampled this stylistic oddity, mark it on your bucket list. It was truly both a rewarding and humbling experience sampling through these wines.
Finally, The Wines
Winery Casreli Erekle 2020 Qvevri – $20
Casreli winery that was founded by five medical doctor colleagues that are passionate about organic agriculture and Georgian winemaking traditions. The vineyards are located 450m above the sea level, right bank of Alazani valley, Vachnadziani village, Gurjaani municipality, Kakheti region, in Eastern Georgia. The wine is a blend of the native grapes Rkatsiteli, Kisi, Kakhuri Mtsvane and Khikhvi with natural vinification and aging in qvevri (clay amphora).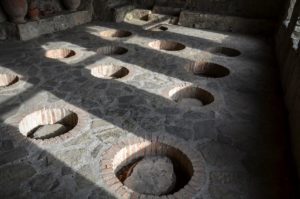 Since the wine is unfiltered, I recommend pouring through a stainless-steel filter into a decanter. When drinking white wines made with skin contact, 'orange wine', you can serve them a bit warmer than traditional white wines. I put mine in the fridge for 15 minutes and it was spot on. Also, since there is a presence of tannin, you may need to aerate these wines for a few minutes for the wines to 'wake up' and release their full aromatic spectrum.
Classified as an 'orange' wine, one first notices the beautiful amber color and viscous nature of the wine movement in the glass. The nose of wild flowers, dried tea leaves, desiccated orchard fruit (apple, pear nectarine), candied citrus peel, and sweet spices. The palate is dry with tart and slightly bitter acidity and a noticeable texture and tannin structure. There are flavors of dried fruit, citrus pith, dried tea leaves, and raw almond. A very interesting and different experience if you are not accustomed to skin contacted white wines. This wine begs for food and would be incredibly versatile. Pair with traditional Khinkali, olive tamponade, and tagine dishes with white raisins.
Zhuka-Sano Rkatsiteli – $20
The story begins with Zhuka and Sano, a married couple from Tbilisi, moving to Ruispiri, Kakheti and buying a vineyard. Focusing on organic viticulture, the couple opened their Zhuka-Sano Winery in 2015. The winery sits in the beautiful Alazani River Valley between the Caucasus and the Gombori Mountain ranges. The wines are made in the traditional qvevri Georgian style, with some of these clay vessels dating back to the early 1900s.
They specialize in the indigenous Rkatsiteli grape; said to be one of the oldest varieties in the world. Although the high acidity makes it a superior candidate for sweet wines as well as fortification to brandy, it also makes some am

azing 'amber' wine.
The wine displays a color like an aged Sauternes or sunlight striking a piece of amber. The nose has aromas of concentrated orchard fruit (nectarine, peach), savory dried herbs, celery seed, toasted filbert nuts, sweet baking spice and a blossom note. The dry palate has nuances of citrus pith (nectarine), toasted nut, black tea, and a brined type of acidity. The finish is medium in length and clean with persistent textured tannins lingering. Pair with Georgian pork dishes, soft creamy cheeses and cured meat charcuterie.
Teliani Valley Tsolikouri 2019 – $16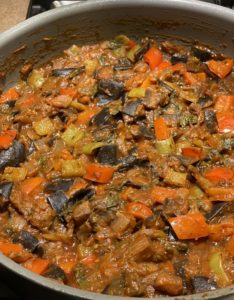 Teliani Valley Wine Company is located in the mountainous western Georgian appellation of Racha-Lechkhumi. This dry white wine is produced from 100% Tsolikuri (soul-lee-kore-ee), a grape traditionally seen in the production of sweet wines. This wine sees no skin contact and is all stainless-steel production to maintain the aromatics of the grape and retain the freshness seen from its high-altitude growing conditions.
The wine is a clear bright lemon color and displays aromas of tropical fruit (grapefruit, pineapple, pomelo), kiwi, and a slight white floral note. The dry palate has a citric driven acidity, medium body with flavors of grapefruit, blood orange, and pith wrapped around a mineral-laden core. This is what I refer to as a 'lateral wine', an easy transition for those who like Sauvignon Blanc, cool climate-Rieslings, or even Pinot Gris. Pair this with grilled chicken, Traditional Georgian dishes like (Lobio, Nigvziani Badrijani, or Pkhali, for the vegetarians), or even Piccata dishes.
Tinatini Saperavi 2019 – $18
Tinatini winery, founded in 2017, is located in Kakheti Region, Sagarejo Municipality in the village of Badiauri. The winery carefully sources their grapes from quality-driven local growers. This wine is 100% Saperavi, fermented in stainless steel and has one month of skin contact. The dancing lady on the label represents the spirit and resilience of the Georgian people.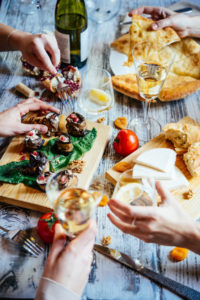 The Saperavi grape is noted for being high in tannin, acidity, and color (thus its name meaning 'dye' in Georgian). It has the distinction of being one of the 12 known teinturier varieties, where the juice has color as well as the skin. These wines usually become more approachable with some bottle age helping to tame some of the tannin prception. The use of some microoxygenation can help make these wines more approachable with less aging.
Our sampled wine has a deep inky opaque purple color. The seductive nose has complex aromas of blue and black fruit (blueberry, blackberry), purple floral (violet), sweet baking spice (allspice), green peppercorn, and moist pipe tobacco. The palate is dry with mouth-watering crunchy acidity, gently warming alcohol and a prevalent sandy tannin structure. There are flavors of blue and black fruit with crushed peppercorn and a mix of sweet and savory baking spices. This wine asks for bottle age or begs for a food companion. Pair with traditional dishes such as Chanakhi (lamb dish), duck breast over wild mushroom risotto, or liver mousse pâté.
Mukuzani Saperavi 2019 – $14
This wine is 100% Saperavi and hails from the Duruji Valley Winery in Kakheti. To help with the wine's integration and approachability, it spends one to two years in Caucasian oak barrels. The nose has a baked fruit element (blueberry, blackberry, prune), spice (allspice, vanilla), moist tobacco in a cedar box. The palate is dry with a crunchy (and slightly bitter) acidity, and a medium body. The alcohol is well in check and the tannins are fine grained and gritty. The flavors mirror the palate with the nature of the fruit slightly less compote-like and more tart. Pair with lamb kebab, charcuterie meat (especially Linguiça or Spanish chorizo), or roasted goat dishes.
Recipes (and links)
Ingredients
⅓ cup extra-virgin olive oil, plus more as needed
3–4 small eggplants (1½ lb.), stemmed and cut into ¾-in. chunks
2 tsp. kosher salt, divided, plus more to taste
2 large yellow onions, peeled and coarsely chopped
2 large Cubanelle peppers, seeded and cut into ¾-in. pieces
1 medium red or yellow bell pepper, seeded and cut into ¾-in. pieces
1½ cup uncooked tomato purée (passata), fresh or jarred
⅓ cup coarsely chopped cilantro, divided
⅓ cup coarsely chopped parsley leaves, divided
20 basil leaves, preferably purple, torn
½ tsp. ground coriander
¼ tsp. dried thyme leaves
3 garlic cloves, crushed or grated
Directions
STEP 1 To a large pot set over medium-high heat, add the oil. When it's hot and shimmering, add the eggplant and 1 teaspoon of the salt, turn the heat to medium, and cover. Cook, stirring occasionally, until soft, light golden, and beginning to break down, about 16 minutes. Using a slotted spoon, transfer to a paper-towel-lined plate and set aside.
STEP 2 Turn the heat to high. To the empty pot, add the onion and remaining salt and cook, stirring frequently and adding more oil if needed, until translucent and brown in spots, about 5 minutes. Add the Cubanelle and bell pepper and cook, stirring occasionally, until softened slightly, about 3 minutes. Stir in the tomato purée and half each of the cilantro, parsley, and basil, then add the coriander, thyme and eggplant, and 1 cup of water and bring to a boil. Turn the heat to medium, cover, and cook, stirring occasionally, until thickened slightly, about 6 minutes.
STEP 3 Stir in the garlic and remaining cilantro, parsley, and basil and cook until fragrant, about 1 minute. Season with salt and serve hot or at room temperature, drizzled with oil if desired.
Ingredients
Dough
2 cups all-purpose flour (about 8 1/2 ounces), plus more for work surface
1/2 teaspoon fine sea salt
1/2 cup water
1 large egg, beaten
Olive oil, for greasing
Meat Filling
4 ounces 80% lean ground beef
4 ounces ground pork
3/4 cup water
1/3 cup finely chopped yellow onion
2 tablespoons finely chopped fresh cilantro
2 tablespoons unsalted butter, melted
1 teaspoon fine sea salt
1/4 teaspoon dried thyme
1/4 teaspoon coriander
1/4 teaspoon caraway seeds, finely chopped
1/4 teaspoon freshly ground black pepper, plus more for serving
1/4 teaspoon crushed red pepper, or to taste
1/8 teaspoon ground cumin
1 garlic clove, finely chopped
Bay leaf
Directions
Make the dough
Step 1 Stir together flour and salt in a medium bowl. Make a well in center of dry ingredients, and add 1/2 cup water and egg. Stir with a wooden spoon until a shaggy dough forms. Turn dough out onto a lightly floured surface, and knead until smooth and elastic, 4 to 5 minutes. Place dough in a lightly oiled bowl, and cover loosely with plastic wrap. Set aside.
Make the meat filling
Step 1 Using a fork or your hands, stir together all meat filling ingredients in a large bowl until ground meat is completely broken up and mixture is well blended.
Step 2 Divide dough into thirds. Shape 1 dough portion into a ball, and roll out to about 1/4-inch thickness on a lightly floured work surface. (Keep the remaining dough portions covered with plastic wrap while you work.) Using a 2 1/2-inch round cutter, cut out 8 dough circles, rerolling dough scraps as necessary.
Step 3 Roll each dough circle into a larger 4-inch circle. Place about 1 tablespoon (about 1/2 ounce) meat filling in center of each dough circle, and pleat dough edge, gathering top like a pouch to enclose filling. When you have pleated all the way around, pinch top edges together firmly, and give the dough a little twist to make a stem and to make sure the khinkali is well sealed. (If you don't want the stems, lightly press the twisted stem down into the dumpling with your finger.) Place finished dumplings on a piece of lightly floured parchment paper; cover loosely with plastic wrap, and repeat process with remaining dough portions and filling.
Step 4 Bring a large pot of salted water and bay leaves to a boil over high. Carefully add half of dumplings to water, and stir gently with a wooden spoon (without piercing dumplings) to make sure they don't stick to bottom of pot. Boil until dough is tender and meat is cooked through, 8 to 10 minutes. Remove khinkali with a spider, and drain on paper towels. Repeat with remaining half of dumplings. Sprinkle khinkali with black pepper, and serve hot.
Ingredients
4lbs pork shoulder
4 onions
24oz Pomegranate juice
¼ cup of olive oil
Salt and pepper to taste
¼ cup of Khmeli-Suneli (Georgian spic mix)
1 Tb of ground coriander
Directions
Step 1  Cut meat in medium size cubes.  Slice onion into rings.  Mix meat and onion together, add Khmeli-Suneli, coriander, salt and pepper.  Pour pomegranate juice, oil to the mixture and mix up well.
Step 2  Cover the meat and put in the refrigerator to marinate for 48hrs.
Step 3  Drain meat mixture and pat dry. Thread meat cubes onto skewers and baste with olive oil. Cook over charcoal grill.