FMN – February 2023 – Affordable Wines of Bordeaux – What Your Sweetheart Really Wants
This month we delve into the impending holiday (with a small "h") that offers us equal kismet at both exoneration and doom, Valentines Day. This pitfall of a holiday has long lured an unsuspecting love-struck fool to their heart-wrenching demise. A documented anxiety exists associated with finding the perfect gift, demonstrating to your significant other both how much you adore them and the fact that you are not a complete buffoon.
Worry not young padawans of love, I am here to keep you out of that proverbial dog house and help you into the love shack. Many make the rookie mistake believing all the marketing hype associated with this farce of a holiday. Your sweetheart does not want expensive jewelry, clothes, or lifeless gifts of this ilk. Rather, they really want some wine, Bordeaux to be more precise.
Before you scoff at my suggestion due to obscurity or expense, know that I have accounted for both.  Firstly, anyone who has even one iota of anything wine has at least heard of the most recognized branded wine region of the world. Also, you know that I have located some of this Medoc magic at a price point that will keep you both flushed with excitement.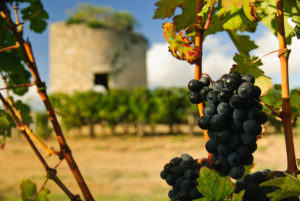 The Médoc area of Bordeaux refers to the 'Left Bank' or those wine growing areas north of the city of Bordeaux and west of the Gironde River. The climate is slightly warmer versus the more inland 'Right Bank' due to moderating influences from the nearby Atlantic Ocean. This slightly warmer climate, in conjunction with more gravel soil (compared to more clay and limestone of the Right), make this France's spiritual home of Cabernet Sauvignon. This grape usually enjoys a majority of the blend with a multitude of other black grapes (notably Cabernet Franc, Merlot, Petit Verdot, Malbec, and Carménère), as a supporting cast.
The key to finding affordable wines from a region well-known for expensive, classified and en premier purchases is threefold. If the grapes were harvested from multiple sites over a larger geographic area, the wines are usually less expensive compared to those grown in a single vineyard within a prestigious area. One can sometimes find wines in close proximity to those famous vineyards with the same soils but just over that imaginary line to compulsorily change what they can legally put on the label.
Another way to find amazing wines at a lesser price is by buying what the pros endearingly call "second wines." It's not quite as demeaning as it initially sounds. Many Chateaux reserve the best of the best grapes to use for their most prestigious wines. That leaves, however, a large amount from the same vineyards out of the mix. The winery will make what they call second wines (under a different label) with these miscreants. These wines can be almost as good as the winery's top wine at dimes on the dollar, a great value for us consumers.
One thing to keep in mind when buying bargain Bordeaux, they routinely do not carry the same ability to age as some of their more expen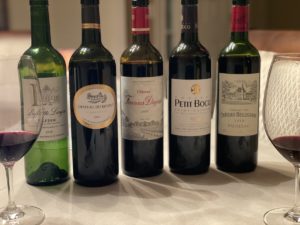 sive brethren. This, obviously, will not affect your purchases as those will most likely be consumed that evening in hopes of 'improving your chances'. Just look at the vintage date (grape harvest) on the bottle you purchase. Generally speaking, if the vintage is more than six years old and the bottle is under $30, you may want to take pause. Don't misunderstand, this doesn't automatically infer that the bottle will not be drinkable, it just means the retailer will have some 'splainin' to do.
As you begin to formulate a game plan for the upcoming money grab of a holiday, be sure to include some Bordeaux in your repertoire. With the unlikely scenario that wine was not exactly first on their gift list, after three glasses of Bordeaux, you will be all they want. I would not steer you wrong when it comes to love (or wine). After all, I am a romantic.
Suggested Bordeaux Wines
Chateau Laffitte Laujac L de Laffitte Médoc 2018 – $20 
The fine gravel and chalky-clay soils of this 10-hectare (24.7 acre) vineyard are located in the commune Bégadan inside the Médoc gives us this wine composed of 60% Cabernet Sauvignon, 35% Merlot, 5% Petit Verdot. There are aromas of red and black fruit (dark cherry, blackberry, elderberry), cedar cigar box, a hint of menthol, celery seed and green peppercorn. Dry, medium broad acidity, medium body, well integrated alcohol, fine grained sandy tannins that have an affinity for my gums. The palate mirrors the nose with an added blackberry leaf note. A reward for this price point as the machine harvesting and short stint (6 months) in French oak barrels help to keep the price reasonable.
Château du Retout Haut – Médoc 2018 – $28 
This 32.67 ha (80.7 acres) estate is located in the Cussac-Fort-Médoc on outskirts of St-Julien. The 2018 vintage consists of 60 % Cabernet Sauvignon, 28.5% Merlot, 11.5% Petit Verdot and spends over 12 months in oak (33% new). The nose has rich dark fruit (blackberry, elderberry), notes of cedar, baking spice (clove) and evident elevated floral notes (violet, lilac). The dry palate has a tart acid structure and a medium body. The tannin structure is evident, gritty and has an affinity for the gums. The palate is similar to the nose with fruit having slightly more crunchiness on the palate. The finish has all the fruit and spice with the tannins persisting along with warming alcohol. The wine opens up and tames the tannins with any dish containing proteins and some salt.
Château Fourcas Dupré 2019 – $25 
Located in the Listrac – Médoc this contiguous 47.5 ha (117.4 acres) vineyard has been around since 1843. The 2019 vintage has 45% Cabernet Sauvignon, 54% Merlot, and 1% Petit Verdot and lives in French Oak (33% new) for 12 months. The elegant complex nose has aromas of red fruit (raspberry), cassis, currant, spice (allspice, peppercorn), pencil shavings and unsweetened baking chocolate. The palate is dry with bright mineral-edged acidity and a medium body. The alcohol is well-integrated and ripe tannins have a silty chalky texture. The fruit transfers to the plate along with the chocolate and spice. The finish is lingering and pleasant with good integration. Absolutely great value.
Château Petit Bocq 2018 – $28 
The grapes for this wine come from 19.40 ha (47.9 acres) on 90 separate plots all over Saint-Estèphe. The 2018 is made up of 50% Merlot, 48% Cabernet Sauvignon, and 2% Petit Verdot. The wine ages for 12 – 14 months in fine grained French oak (40% new) with egg white fining. The wine has an opulent nose of blackberry, blueberry, black walnuts, spice (anise), and graphite. The dry palate has a vibrant sturdy acid core with well-integrated alcohol. There are juicy flavors of blueberry, blackberry, baking spice and a fine-grained sturdy tannin structure that has more of a sticky element. Interesting seeing Merlot as the main grape here and it is quite evident in the fruit and mouthfeel (tannin structure).
Château Bellegrave 2018 – $29 
This estate in Pauillac 8.75 ha (21.6 acres) produces this wine along with their second wine, Les Sieurs de Bellegrave. The 2018 vintage contains 56% Cabernet Sauvignon with 44% Merlot and sees 12 months in French oak (40% new barrels). The wine has a rich nose of plum, fig, blackberry, spice (allspice, clove), graphite, moist tobacco, and a slight earthy nuance. The palate has more red and black fruit, crunchy fruit acidity, and medium body. The tannins are prevalent but ripe and fine-grained (slightly silty) in texture. The finish has fruit, acid and tannins all locked in embrace.
**These wines were provided as samples through a national PR company**