FMN – May 2020 – Konstantin Frank and Oak Farm Vineyards
This past week I had a 'virtual' tasting opportunity with a few winemakers / winery managers. The first was with Sierra Zeiter and Dan Panella from Oak Farm Vineyard in Lodi California and the second with Meaghan Frank (fourth generation) from Konstantin Frank Vineyards in The Finger Lakes region of New York. While sampling through both sets of wines, I realized that our domestic selections are much more diverse, quality driven and affordable than I have given them credit for.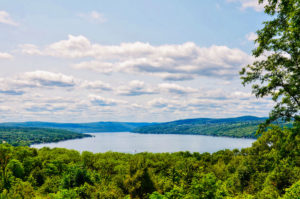 Dr. Konstantin Frank brought with him a PhD in viticulture and extensive experience working in the cold Ukraine climate when he immigrated to the United States in 1951. He quickly found a home in upstate New York, taking a position at the Cornell University Geneva Experiment Station. At this time the New York vinicultural industry consisted mainly of indigenous North American varieties and some attempted hybrids with varying levels of success.
Many other grape growers scoffed at Dr. Frank's confidence that vinifera could grow and thrive in the upstate. His belief that grafting the proper cold-tolerant root stock onto vinifera heads proved so successful it changed the entire state wine industry. The ramifications were far reaching and created potential wine regions in many other cold climate areas across the United States.
Today his legacy continues with the third and fourth generation Frank family members at the helm. They continue to experiment with new varieties and push the envelope of what is possible in a cold climate region. From their traditional method sparkling to their eastern European varieties, you will not be disappointed or bored with the spectrum of choices in their portfolio.
One of their interesting varieties, Rkatsiteli (kat-say-tell-e), seems obscure but has been indigenous to the country of Georgia for millennia and remains the most planted white grape in both Bulgaria and the Ukraine. Introduced to New York by Dr. Konstantin Frank, this cold tolerant, high acid grape has the ability to build high sugar levels while maintaining its natural acidity. It was rumored, but unsubstantiated, that this was the variety planted by Noah when the flood waters subsided. A really interesting wine with an interesting story gets me every time.
Oak Farm Vineyards, on the other hand, could be called a new kid on the block by comparison. The vineyard property was purchased in 2004 and the now head wine maker Sierra Zeiter and the Director of wine making Dan Panella will have much to do with the success of this winery.
With their complimentary views on winemaking, respect for the land and willingness to experiment to make better juice, these two winemakers have created an environment for success. Lodi remains well known for a diverse canvas of varieties and styles, much different from some of their 'conservative-viewed' neighboring AVAs. This plays into the philosophy of Oak Farms to make the best wine (quality over quantity) and staying true to the grape variety all while not being afraid to take chances and sometimes fail.
Some interesting winemaking decisions prove their willingness to cross the lines of established beliefs without fear. The controlled partial shading of fruit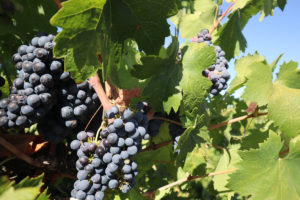 zones in their Sauvignon Blanc to balance pyrazine levels (that pungency well-known in New Zealand Sauvignon Blancs), is subtle but evident in their wine without overpowering the fruit notes. Their version of the classic Spanish Albariño remains true but offering a riper fruit expression and with prolonged lees (expired yeast) contact, the released mannoproteins create a fuller mouth-feel creating a harmony with the bright acidity. Their complex barrel regime proves its worth with their Barbera; aging in American, French and Russian (Caucasian) oak that adds layers of complexity and creates an amazingly soft integrated tannin structure.
These decisions and outcomes are not surprising after speaking and tasting with Sierra and Dan. Their passion for their wines is seemingly surpassed only by their humble honesty about what it takes to make great wine. This recipe for success fills me with anticipation of what may be next coming from their creative minds. They will definitely be on my list of visits when I make my way to Lodi.
Even though these wineries created their successes in different ways, at different times and in different areas of the country, they have one thing in common: the creative spirit and an unfaltering belief in their craft. I like to believe that this element remains one of the things that keep our nation great. At these times, supporting our domestic wine market can create an amazing rippling effect through our slumbering economic milieu. So we now have the responsibility to drink for the resurgence of our economy and I pledge to do my part.
Suggested Wines:
Dr. Konstantin Frank Rkatsiteli 2019                      Finger Lakes, New York                $16.99
The color displays a pale straw with a slightly green hue. Aromas of marshmallow circus peanuts, quince jelly, ripe apple blossom, with a rich unctuous nectar –laden nose. The palate has some residual sugar but well hidden behind a tart, mouth-watering crescendo like acidity that finishes strong and lingers. The fruit notes on the palate are much more subtle and less complex versus the nose. Nonetheless the wine is well balanced and would be a great lateral for those drinking Sauvignon Blanc or Pinot Grigio. This wine would be a great sipping summer wine or pair with marinated shrimp or seafood salad.
Dr. Konstantin Frank Blaufränkisch 2017              Finger Lakes, New York                $21.99
This variety is Austria's second most planted grape after Zweigelt. One first notices the bright vibrant ruby color. The nose emulates raspberry, blueberry, currant, spice (pepper) and a minty herbal nuance. The palate is dry with bright tart lingering acidity. There are flavors of crunchy red fruit with pepper on the palate. This medium body wine has a light sandy tannin structure and a tangy red fruit finish. With slightly more black fruit and more pepper but the weight is reminiscent of a cold climate Pinot Noir. Pair this wine with pork tenderloin, bratwurst and veal.
Oak Farm Vineyards Sauvignon Blanc 2019          Lodi, California                                $20.00
The clear, brilliant, pale golden color gives way to aromas of ripe tropical citrus, lime blossom note, fresh cut hay / brush with a pyrazine lift. The dry palate has persistent but rounded acidity that is evident but not overly piercing. The body has an increased viscosity that coats the palate. For a California Sauvignon Blanc the alcohol is well in check while avoiding any unripe qualities.  The finish is long with tropical citrus (tangerine) and passionfruit. Pair with a weekend pool day, seafood salads (with lime juice), and seafood pasta dishes.
Oak Farm Vineyards Barbera 2017                          Lodi, California                                $25.00
This wine has the classic vibrant ruby color often found with these wines. The nose harbors a welcomed complexity of dark berry (black berry, blueberry), plum, tea leaves, purple flower. Palate is dry with blackberry, plum, cigar box, baking spice (cardamom) and a bright sturdy acidity. As a testament to the barrel regimen the tannin structure is less sandy/gritty and more finely silty. The finish lingers with layers of fruit, bright acidity and a gently warming alcohol. I really cannot say enough about this wine. Pair with pan seared duck breast (with currant sauce), grilled Italian sausages and barbecue ribs.