FMN – April 2020 – Pandemic Drinking
At this point we are all a bit weary of hearing about the Corona virus and the impact on our health, economy, and social lives. Luckily, we still have the ability to buy alcohol; either as a 'drive-by' or ordering online and having it shipped to your front door. Like you, I am enduring this situation through creative ideas and encouragement to minimize your consumption disruption.
We are social animals and our desire to share our alcohol intake with the company of others seems branded in our DNA. As a responsible person practicing 'social distancing', this may seem counterintuitive as it remains difficult to refill someone's glass or have a conversation from six feet away. Before now, my understanding of 'flattening the curve' was to watch the meniscus of wine in my glass get ever lower as it flows into my gob. But in these difficult times, technology may just have the answer.
If you can't go out to meet your friends and coworkers, you have the option to gather virtually online. As the thought of trying to handle the tech element may seem overwhelming, have your sequestered child aid you in the task; after all they are one of the reasons you'll be drinking. Honestly, the options are plentiful and easy to set up and use.  I recommend Zoom or House Party with a controlled number of guests and a predetermined theme (like a wine tasting) to keep the evening organized.
If having a party with friends virtually lacks appeal, you also have the option of engaging in some online events as a party-of-one or with a spouse. There are a myriad of chef-sponsored events to inspire home cooks and virtual happy hours displaying cocktail ideas and mixology classes. These are a great way to break up a mundane evening while staring at the same four walls.
Along with the social impact, we endure the economic strife that accompanies these trying times. I myself await my impending furloughed status and will have to adjust my indulgences accordingly. For those of you with extensive wine cellars or Bourbon collections please email me so I can help with any consumption deficiencies. For the rest of us there are two issues that may stalwart our abilities to feed our bad habits: supply and cost.
For those residing in states that have the liqueur stores on lock-down, you have three options: petition the governor, change states or find a friend that makes some old stump-hole hooch that they are willing to share. Luckily, I live in a state that has not only kept the liqueur stores open but has made it legal to add alcohol to your take-out order from your favorite local dining establishment; thus no disruption in the supply side of the argument.
The economic sanctions that my wallet places on my beverage budget remain an entirely different animal. There are a number of ways to approach this crisis and, as usual, I have a few opinions of my own on the subject. If you have the money to purchase, now is the time. Shipping costs are lower due to lower gas prices and demand has dropped due to many closings. Purchasing now will also aid your local stores, restaurants and the wineries and distilleries themselves while fulfilling your patriotic duty of boosting the economy.
I, likewise, have recently increased my stock of a wide range of beverages with my impending unemployment. Some of the better bottles that have been patiently waiting for a special occasion may also be breached. Make no mistake, my idea of a special occasion is far from a viral pandemic but times of crisis make a good argument for exceptional alcohol. I wish you and yours health, safety, perseverance, and (with the assistance of your favorite beverage) a positive outlook on the future.
As my physician friend once said, "Like a bad kidney stone, this too shall pass."
Beverages for shelter-on-site:
Charles Krug Sauvignon Blanc 2019                        Napa Valley, California
Sauvignon Blanc is my white choice for two reasons: It goes with a lot of different foods and I had it readily available. This well-known and highly purchased variety has that light thirst quenching freshness that allows you to start drinking early afternoon without feeling like you are drinking. This Peter Mondavi estate wine, in the heart of Napa, has the classic green straw hue with aromas of lime, citrus blossom, passion fruit and the classic California Sauvignon Blanc pungency. The dry palate has mouth-watering citric-like up front acidity causing a prickly mouth feel, a medium body and flavors mirroring the palate. Serve well chilled and pair with most poultry dishes, a summer salad or grilled seafood.
Carlton Cellars Estate Pinot Noir 2014                   Yamhill-Carlton AVA, Oregon
Pinot Noir is another variety that I always have on hand. These are not only great food wines but also often used as my 'contemplation' wines. The light garnet color leads to a nose of freshly raked autumn leaves, wet earth, dark ripe cherries, with a hint of toast. The dry palate has a bright crisp fruit driven acidity with a medium minus body. The flavors of barely ripe cherries and cranberries on toast and unsweetened coco powder promoting a residual dusty earthy finish. Pair this with grilled portabella, wild mushroom risotto, or grilled game bird.
Innate Mourvédre 2017                                                            Calveras County, California
South Carolina Native Nathan DeCamps has discovered his dream of making minimum interventionist wines in selected vineyards of California. This eclectic fellow demonstrates his abilities with this classic French / Spanish variety. The first thing one notices is the lighter than expected color. This wine has the extraction and flavors you expect without all the astringency and tannin. The nose has a red fruit component (cherry, raspberry) and floral (violet). The palate has an elegance that is sometimes lost with the staunch variety with fine grained, well integrated tannins. There are flavors of raspberry and blueberry with an earthy tobacco element and a tart brambly finish. I used this wine to class up my Wagu beef burgers but would also pair with grilled pork chops and bratwurst.
Heaven Hill 7 year Bottled in Bond Kentucky Straight Bourbon                  Kentucky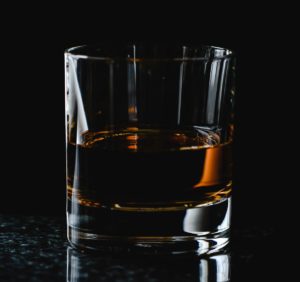 This classic Bourbon is distilled in Louisville and bottled in Bardstown, KY. Paying homage to the Bottled-in-Bond Act of 1897 that set rules for using this phrase when bottling distilled spirits. One first notices a bright medium amber color that hints to its prolonged aging in New American oak. The aromas are overt and complex with toasted coconut, cedar, toffee / caramel, and cola nut. The palate has warmness due to the compulsory bottling at 100 proof (50%abv) and pronounced body gives a rich mouthfeel. The prolonged aftertaste displays caramelized sugar and toasted coconut lingering to a dusty cedar finish. I prefer to add a slight bit of distilled water to get the abv under 40% releasing some of the alcohol soluble aromas and flavors. I invite you to try this method as there is an obvious change. This is an example of well-crafted bourbon and a pleasure to drink unaccompanied or with any and all pork fat.