Bolognese Lasagna Night (with wine, of course)
To be honest, my wife is the real cook in the house but from time to time I don my apron, roll up my sleeves, and get domestic. My wife either creates her own or varies greatly from any cookbook recipe she happens to try. Me, on the other hand, follows any said recipe to the letter of the law (at lea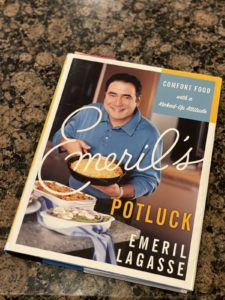 st the first time I attempt it); perhaps that's my Chemistry background and type "A" personality shining through.
With a few couples coming over for an informal Italian-themed dinner, I turn to one of my "go-to" recipes, in a greatly under-appreciated cookbook. Emeril has bailed me out on more than one occasion with easy but flavor-filled dishes that even a recipe novice like me can master. His Bolognese lasagna remains one of my favorites with its ability to take a traditional staple and kick it up a notch.
Our dinner nights are never just about eating the main course. The eating and drinking begin when you walk in the door then terminate as we shove a "to go" box in your hands, while you attempt to escape with some semblance of an intact waistline and a liver. So, amidst this explanatory digression, we should discuss the entry edibles.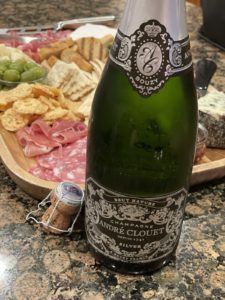 I always love to start an evening with a grazing board. I use this term in lieu of charcuterie board due to the fact that it is so much more than a tray of assorted meats (and/or cheeses). There is an amazing assortment of items that you can put on these trays from dried fruits, crusty bead / crackers with dipping sauces, olives, seasoned nuts, and even gherkins. The only limit is your imagination and your company's willingness to experiment.
It's difficult to pair a wine that will go with everything on your festive platter of goodies, so I usually choose some bottles that have diverse pairing abilities. Sparkling wines tend to be my go-to for two reasons: I really like sparkling wine and because I really like sparkling wines. Inexplicable as it may be, some may not share my sparkling fetish so, in addition, I open a dry or slightly off-dry (minimal residual sugar) rosé. Most of the rosé wines in this category go splendidly with these types of items so it's hard not to pick even a quaffable winner.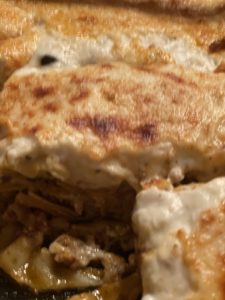 Finally, the main course of a rich, meat heavy, béchamel layered lasagna. There are different ways you could go with your wine choices. I always begin with the thought of which aspect is the lead and which is the supporting cast. Even though the wine I chose was fantastic, I still want the lasagna to be the showcased element. For this reason, I want the wine to not be too high in alcohol or over extracted. The tannins can be a little on the tight side as all the protein goodness will give the tannins something to bind to, instead of your saliva. The result will give us a softer mouthfeel and allows the other components of the wine to become more overtly appreciated.
I invite you to try the recipe with the suggested wines and let me know if you were, as I was, impressed with both. Also experiment with your own pairings and let me know what wines worked well for you. Above all else, have fun with it. If wine pairings become stressful, you're doing it wrong.
André Clouet Silver Brut Nature Champagne NV (Champagne AOC) – $55 
This 100% Pinot Noir has no dosage (no added sugar after the second fermentation has completed). Their properties are located in the Grand Cru villages of Bouzy and Ambonnay, and being négociants-manipulants, they source some grapes from a few trusted growers. The wine itself has a beautiful golden color, a hint to the use of a red grape variety in this blanc de noir. The nose has bright red fruit (cherry, raspberry, strawberry), a citrus note and baked pie crust note (time spent on expired yeast). The palate has a mouth-caressing mousse, sturdy full body and bright crunchy linear acidity. There are flavors of red fruit (strawberry and cherry), citrus (tangerine, blood orange), and the same baked crust or fresh baked bread crust. This is an amazing traditional method sparkling that will add a lift to any evening.
Villa Gemma Cerasuolo d' Abruzzo Superiore 2020 (Montepulciano d'Abruzzo DOC) – $20 
This rosado (rosé) made from 100% Montepulciano grapes exists as its own DOC, coving the exact same boundaries as Montepulciano d'Abruzzo DOC. The nose has overt red fruit aromatics (cherry, cherry stone, leaf), a slight almond element. The palate is dry, low slight perceptible tannin, and a bright refreshing linear acidity. There are flavors of red fruit (cherry, cherry pit, cherry stem), and a slight bitter nut finish, in a pleasant way. The finish has lingering acidity with red fruit hung onto it like decorations on a Christmas tree. This is a fun, affordable great addition to any meat and cheese tray to start a dinner party.
Podere Nuovo di Maremma Magnandré Sangiovese 2019 (Montecucco DOCG) – $40

This interesting 100% Sangiovese hails from the Montecucco denomination in Tuscany, a small denomination with just over 400 acres under vine. This wine displays "elevated" aromatics (perhaps some small amount of VA – volatile acidity). There are aromas of dark fruit (blackberry, currant, blueberry), slight hint of moist pipe tobacco, baking spice (all spice). The palate is dry with bright crunchy acidity, a medium body, and warming alcohol. The tannin structure is ripe and structured with an aggressive affinity for the gums. With the acidity and tannin structure one wonders if it could stand a few more years of integration. Like many Italian wines, it shows best when paired with food. Tonight, we will be doing my (Emeril's) Bolognese lasagna.