An Evening of Assyrtiko and Clams
I admit, I'm a bit spoiled. I am referring to the fact that, at a moment's notice, we will throw together a fun and amazing dinner. Of course, that opens the door for attempting, sometimes admittedly with varied success, a myriad of wine pairing opportunities. In this particular case, fresh clams happened to be available at our local market, and the evening blossomed from there.
There are many ways to do clams and sometimes the ensuing dish and methods of cooking are decided by what wine I'm putting on the table. I refer to this as a "retrograde" pairing as I select the wine first and then decide how to best prepare my protein so they fit together. Other people have different terms, but this is my table thus my rules and my terms. There are other factors in the process, as in what I have readily available so I refrain from making a second trip to the store.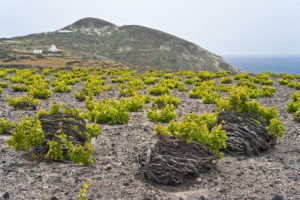 The wine that caught my eye was a particular parting gift from a physician I worked with in Sumter, SC. This was an Assyrtiko (grape) brought back from Greece; more precisely, the island of Santorini. This island, and the accompanying wine region, remains one of the most unique in the entire world. A volcanic eruption a few thousand years ago left thick layers of pumice and volcanic ash covering the area. These black soils give a beautiful contrast to not only the vines growing in them, but to the panoramic views of the deep blue waters surrounding the island.
If that wasn't inhospitable enough, the island is desert dry and exposed to almost constant brutally strong winds. To protect the vines from these gales and to help with water scarcity, the vines are trained low in unique basket shaped structures. These wreath-like woven vine structures, known locally a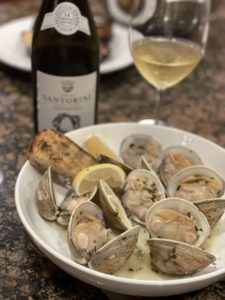 s "koulouri", are an amazing and unique site, unlike any other vineyard you may visit.
In keeping with the motif of this growing region, I decided to grill the clams over natural charcoal just long enough until they opened. Attempting to preserve the liquor in each shell, they were then placed in a garlic and tarragon infused butter sauce and tossed until beautifully coated. Olive oil brushed and grilled sourdough bread makes a great accompaniment to soak up all that goodness left over at the bottom of your bowl.
I invite you to give this a try, you will not be disappointed. There are endless ways to modify this simple dish to your tastes. If you come up with any, please share them as I am always looking for new cooking and wine ideas.
Santo Wines Santorini Volcanic Terroir Assyrtiko 2018 (Santorini, Greece) – $30 
On the nose there is a classic citrus (lime, pineapple), white stone fruit, a flintiness and a delightful petrichor (smell after a rainstorm) nuance. The palate is dry with a viscous mouthfeel attributed to the 14 months aging on the lees and the yeast autolysis (mannoproteins). This increase in viscosity also causes a slight perception of less acidity, compared to other Assyrtiko wines I've had the pleasure of sampling; which at times can be a bit bracing. The acid structure is citric, more linear than jagged, and broader on the palate than usual. The flavors are consistent with the nose and a mineral-laden finish. Pair these Assyrtiko wines with ocean crustaceans, seafood risottos (include some citrus zest), and grilled octopus.