FMN October 2022 – Interesting Italian Wines for Autumn
With the thermometers beginning to ebb below the ninety-degree mark and evenings requiring "long pants", the Autumn season begins to manifest hints to her impending arrival. Although many of your friends and colleagues will pontificate about filling their bellies with Octoberfest suds, you understand that this time of year is really about the juice of the vine.
In the northern hemisphere, harvest and crush are occurring; one of the most important (and stressful) times for winemakers. Along with these events, the Autumn seems to evoke a change in culinary fare, moving towards the more hearty and earthy dishes. These types of foods are some of my most favorite to experiment with different pairings. Although there are many wine countries, regions, and styles that work well with the tastes of the Fall, this month I hope to impassion your palate with some interesting Italian choices.
Prosecco remains one of the most popular wines coming out of Italy but I want to introduce you to a more "traditional" sparkling wine out of the Lombardy region of Italy, Franciacorta (fran-cha-cor-ta) DOCG. These wines are made more like Champagne in that the second fermentation takes place inside the bottle rather than in a stainless-steel tank, like Prosecco. One of the differences between these sparklers and Champagne are the allowed grape varieties with Franciacorta allowing Chardonnay, Pino Bianco (Pinot Blanc), Pino Nero (Pino Noir), and more recently Erbamat; an ancient variety know to be late ripening and high in acidity.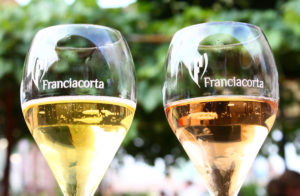 Like many other countries and regions producing sparkling wines, Franciacorta has different styles that are unique to this denomination of origin. The bianco (blanc), has a minimum of 18 months aging where the rosé requires 24 months on the lees. These give the wine those autolytic (breaking down of yeast cells) elements of biscuit dough and fresh baked bread. The specialty category of "Millesimato" is only made in special vintages with 85% of the final wine composed from that single vintage, and requiring 30 months of lees aging. The top of the aging pyramid finds the "Riserva" wines that see a minimum of 60 months of aging on the expired yeast, giving a brioche-like nuance to these luxury wines.
Moving further south, we find ourselves in central Italy (Marche, Umbria and Abruzzo), with popular grapes like Verdicchio, Trebbiano, Grechetto, and Verdello for white wines and Montepulciano, Sagrantino, and Sangiovese for reds. There is one ancient white variety, however, that has made a comeback and is grown in all three of these regions as either a variety wine or used as part of a blend, Pecorino.
I know you were probably reminded of the Romano cheese by this same name as the term pecurì (or pecora) means "sheep". There are a few rumors of how this grape achieved this name, one being that the sheep were drawn to it due to the grape's high sugar content. The other rumor comes from the tradition of giving these wines as an accompaniment when gifting local cheeses, a wonderful pairing that, thankfully, survives to this day.
This, like many traditional and ancient varieties, were grubbed up for easier to market "modern" varieties. With Pecorino's vines being low producers and a tendency toward some uneven ripening, it was easy to understand why this variety almost became extinct in the later decades of the twentieth century. Thanks to forward-thinking regional producers with a love for traditional Italian vines, they managed to save this variety. Although we currently do not see this vine cultivated outside of central Italy, and further south into Calabria (known as Greco Bianco), the wines made in its soulful home are extremely interesting and should be sought after and experienced by wine geeks alike.
Our final stop resides in the well-defined heel of Italy, Puglia. This province boasts some of the most unique and historic varieties in the entire country. Red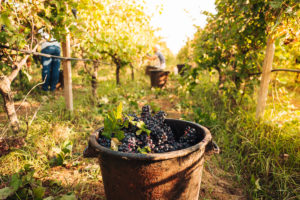 grapes like Uva di Troia (Nero di Troia), Negroamaro, and Primativo (Zinfandel) fill the landscape. The Susumaniello (sue-sue-man-yell-oh) grape, however remains one of the most obscure and least planted of these classic varieties. Having the indigenous white variety Garganega as one of its parents demonstrates how long this grape has existed in this region.
Susumaniello is rumored to derive from the word somarello, or "donkey," an allusion to the heavy loads of grapes this high-yielding variety bears. Keeping this vigorous variety in check was one of the reasons it's popularity quickly fell during the rise of international popularity of Italian wines. With the recent and refreshing popularity to save some of these ancient and historic varieties, the grape is making a slight comeback, albeit very slowly. With less than 150 acres planted in all of Italy, these wines, especially varietal (100%), are a rare and interesting treat.
With the arrival of Autumn comes welcomed changes in weather and in our culinary preferences. So, in celebration of the harvest season or just to show your individualism during Octoberfest, keep these unique and food-friendly Italian wines in mind. Not only will these selections pique your wine geek friend's attention but they will seamlessly pair with your seasonal, earthy food feasts.
Suggested wines:
Lo Sparviere Franciacorta Satèn                              Lombardy
With this 100% Chardonnay sparkling, one first notices the brilliant lemon color with overt green reflections. The nose boasts of the classic autolytic elements (fresh baked bread and biscuit dough), an homage to the over 24 months the wine spent on the expired yeast; along with floral and orchard fruit (apple, pear). The dry palate has a sexy creamy mousse mouth-feel (a testament to the lower pressures used with Satèn style) with a bright lively acidity. The palate mirrors the nose with the addition of some citrus elements. Pair this wine with baked Brie, oysters Rockefeller, and savory puff pastry appetizers.
Orlandi Contucci Ponno Abruzzo Pecorino Superiore DOC 2020
This 100% Pecorino hails from the hills surrounding Chieti, a small town rumored to be founded by the legendary hero Achilles. The use of all stainless steel with production, preserves the natural aromatics of the grape. The wine has a nose with aromatics of orchard fruit (peach), citrus, interesting cheesiness, and a fresh leafy herbal note. The palate is dry with a briny mineral-laden acid structure, a perceptible viscosity, and well-balanced alcohol. There are flavors of brined citrus and melon along with peach, and an herbal note. The finish is long with brine, mineral and tangy citrus persisting. The slight cheese note and increase in viscosity could be attributed to some sur lie aging (on the expired yeast). Pair this wine with your local oysters coming in season, dry salty Italian cheeses (Pecorino Romano), and au gratin casseroles.
Oltremè Susumaniello DOC Brindisi         Puglia                  
This 100% varietal Susumaniello displays a nose with a myriad of ripe red fruits (raspberry, blackberry, blueberry), fresh herbs (bay leaf, file, and thyme), and a white pepper spice. The palate is ripe but dry with medium body and a well-in-balance alcohol. The tannins are integrated and fine grained with an affinity to the gums. The palate picks up a slight plumb note and cherry note as well. The finish is medium in length with fruit compote wrapped in a coco powdery tannin mouthfeel. Pair with hearty beef stew with roasted root vegetables, grilled pork chops, or leg of lamb.
** All wines provided by respective wineries (via intermediary) as tasting samples **