FMN – May 2021 – Alto Adige
Although winter seems to be still holding on in some areas, the summer, along with its oppressive heat and humidity, lingers right around the corner. As the mercury starts to rise, my drinking habits begin to lean towards the cooler climate appellations. Not that I refrain from drinking any bolder wines in the heat of the summer, I just find the chilled crisp whites and lighter reds more appealing as I sweat like a meatloaf.
My love – hate relationship with Italian wine remains well documented; I love to drink them but hate trying to keep all the appellations and regulations straight. Almost every wine consumer I know finds at least one area, variety or style of Italian wine that they gravitate toward. Many, however, have not had the privilege of exploring the unique varieties and expressions that Alto Adige has to offer.
Part of Austria until after WWI and still sometimes referred to as Südtirol (south Tyrol), Alto Adige is located in the far northeast of Italy just south of Austria and maintains bragging rights as the most northern part of Italy. The region enjoys protection from the cold Alpine winds by the Dolomite mountain range while gaining influence from the warm moist air of Lake Garda and the Mediterranean.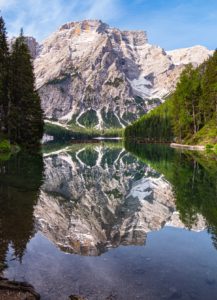 The vines are mainly planted along the Adige and Isarco River in the shape of a lazy "Y" with a multitude of diverse growing conditions (altitudes, vineyard orientation, and composition). These extreme varied vineyard environments allow for a wide variety of grapes to be grown and, more importantly, give the winemakers a broader palate of choices in which to create their masterpieces.
Although Alto Adige's production accounts for only one percent of Italy's total, they have long been associated with quality over quantity. With over 5000 fractionated winegrowers and just over 200 wineries, over three quarters of the wine comes from a small number of cooperatives and the remaining from family owned wineries. Helping to drive the quality –minded production, wineries pay growers more for quality grapes.
The drawback of this structure remains that the growers are compensated better for "easy to market varieties" and paid less for lesser known indigenous varieties, such as Schiava (ski-ah-va). This has led to an unfortunate decrease of indigenous varieties produced and a potential of some of these varieties to be lost forever; something we can change by increasing our consumption diversity.
Although the region continues to be white dominated with varieties such as Gewürztraminer, Chardonnay, Pinot Blanc, Pinot Grigio, Müller-Thurgau, Kerner, Veltliner, Silvaner and Sauvignon Blanc there are some interesting red varieties as well. Although Schiava (aka Vernatsch aka Trollinger), Lagrein and Teroldego are the most planted indigenous varieties , Pinot Noir ( locally known as Pinot Nero) along with Merlot and Cabernet Sauvignon have been cultivated here for over a century.
When sampling through the diverse bounty of varieties this region has to offer, one cannot help but envision the amazing landscapes of steep hillside vineyards back-dropped by the picturesque Dolomites. Interesting varieties that are, at best, scarce anywhere else in the world combined with proud, knowledgeable producers create a special opportunity that fills this wine geek with blissful exuberance. I would hazard to say that if you have not experienced these amazing wines you are truly depriving yourself of something special.
Wines:
Cantina Terlano Vorberg Riserva 2017 Pinot Bianco        Terlano, Alto Adige
The medium golden color invites us to discover the complex aromas of orchard fruit (pear, yellow apple, nectarine), tropical fruit (pineapple and lime zest), blossom / white floral notes and subtle quince. The dry palate has a bright, broad citric driven acidity with a noted increased viscosity (mannoproteins from the malolactic fermentation). The flavors are more tropical citrus in nature with a noted brined salty tang that lingers on the finish. This is not one of those "neutral" Pinot Blanc wines that we too often find but rather a wine that does the variety justice. Pair this with cheeses (brie, creamy goat cheese), scallop carpaccio or crudo, crab (soft shell / crab cake) with beurre blanc sauce.
Elena Walch 2018 Pinot Grigio                                          Vigna Castel Ringberg, Alto Adige
If you are used to drinking the mass produced insipid citrus water that many producers pass off as Pinot Grigio, this will awaken you to what this variety can aspire to. The opulent nose has bursting aromatics of orchard fruit (peach, pair), tropical (lime, honeydew), and a fresh herbal component. The palate boasts a bright linear well integrated acidity and a pleasant viscous body. The flavors mirror the nose with the addition of a mineral-laden tropical citrus, ripe orchard fruit and a blossom element. Pair this wine with herbed goat cheese, grilled trout, or seafood pasta / carpaccio.
Franz Gojer 2019 St. Magdalener                                           Vigna Rondell, Alto Adige
One first notices the brilliant medium ruby color followed by a delicate elegant nose. There are aromas of red fruit (candied cherry, raspberry, strawberry), baking spice (all spice), a slight herbaceous note of tea leaves and marjoram with a soft violet element. The dry palate has an interesting tart crunchy crescendoing acidity that provides the essential backbone for this wine. The tannins are evident but ripe, fine grained and well integrated. The flavors of red fruit are slightly riper on the palate with an additional edge of pomegranate and red currant wrapped in an earthy herbaceous package with a few dashes of minerality. The finish is wiped clean by the acid with just a slight red fruit skin remaining. This wine is truly the best Schiava I have ever had the pleasure of tasting. I suggest pairing this wine with cured charcuterie meats (speck, prosciutto), lean game meats (rabbit, turkey) and sturdier grilled fish.
** All wines provided by respective wineries as tasting samples **