Ringing in 2023 with some fun wines and self-awareness
Let me be perfectly honest, I have issues. When in college, with coaxing from one of my Resident Directors, I took the Myers-Briggs test and it helped me be more self-aware. My ENFJ type comes with a myriad of advantages and disadvantages. Accompany that with the issues I carried along from my childhood and I'm potentially someone's psychology thesis subject.
Nonetheless, that was a long road to travel to tell you I'm a bit "judgey". The idea of standing shoulder to shoulder with thousands of others in a cold outdoor holding pen of humanity while we all pee ourselves into our diapers is the furthest thing from an ideal New Years Eve in my self-opinionated book. Just imagine the difficulty to properly open and pour a Champagne in such a confined environment. How uncivilized.
Please do not misunderstand and confuse my opinionated nature for being pretentious. I've had really good (really, really good) wine out of a water glass and / or a red solo cup and I'm not ashamed to admit that. So enough with the self-indulgent digression and on to the unfolding of the evening we so aptly call New Year's Eve.
If I am unable to find something fitting into an already created societal construct, I simply create my own. Therefore, especially when it comes to wine and food, I consider myself a progressive traditionalist. I rather enjoy keeping the roots of what I do planted in tradition while experimenting laterally to include some newer and fresher elements.
Sparkling Wine
Take sparkling wine, for instance. I do feel it livens up an evening and would feel the vacancy of omitting its presence during our New Year festivities. My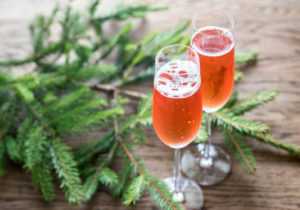 reasons for using multiple sparklers for the evening has little to do with clichéd expectations and more to do with my selfish unnatural fetish for sparkling wines. The caveat to that is, and this may sound "preachy", sparkling wine is not just for celebrations and not just for your charcuterie board. You could pair an entire meal, including main course and dessert with sparkling wines. Again, I digress.
Although I do enjoy the fruit-driven styles of Charmat method sparkling, the traditionalist in me loves a sparkling that was produced in its own bottle (méthode champenoise). I especially love a bit of prolonged yeast contact before disgorgement. As the expired yeast breaks down in the wine, mannoproteins are released that give a fuller mouthfeel. It also imparts a biscuit dough, brioche, yeasty element that adds a layer of complexity and interest to the wine.
These producers go to an enormous amount of work to create this lovely beverage. So, indulge me when I request that you take a moment, just a brief instant, to think about what you are experiencing when you sip that glass. You can then go back to indiscriminately pouring it into your gobs.
Surprise, Chenin Blanc
With any gathering, I like to make sure I'm being inclusive to all my guests' needs. I attempt to get people to try to drink outside of their comfort zone, but some of my crew are difficult at times. They can be dug in with their opinions like a tick on a hound. So, I somewhat indulge them, but with a twist. The white wine I served needed to check the boxes for the acidophile and the fatter wine lovers all while moving them slightly off their beaten path of wine consumption.
I love to sneak in a Chenin Blanc unannounced, whenever I am able. This grape, domestically especially, has often been over-cropped and used to add acid to otherwise flabby warm-weather wines. When treated with the respect it deserves, this variety has the versatility to produce everything from sparkling to botrytis affected dessert wines. The still whites produced from Chenin have a rich textural mouth-feel and a unique acid structure that seems to continue to increase the longer you hold it in your mouth. If you serve a Chenin at your next gathering, do so without telling your guests what you poured. Just sit back and watch their expressions.
"Super" wine from Tuscany
To continue the diversity, and since the main course involves something that has parents, there are red wines involved. I usually provide wines that will both satisfy the need for recognition (name, brand or variety) and take my guests on a journey. My journey wine involves a historic super Tuscan and my "safe" wine comes from the famous Krug brand.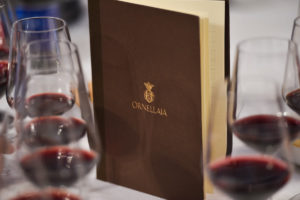 Even on a big celebration evening, most of us do not have the luxury of an endless budget. We certainly do not, however, want to sacrifice quality when presenting value to our guests. A good way to ensure success is by selecting a second wine from a famous producer. I've done this for years with my Bordeaux and it conveys well to many other parts of the world. In our case, I am referring to one of the original Super Tuscan names, Ornellaia.
Before there was a category for these wines, and since they contained some international varieties that fell outside the appellation rules, their labeling was relegated to that of table wine. These "table wines" were better quality and selling for higher prices than their DOCG counterparts. For that reason, we now have appellations that allow for these wines, DOC Bolgheri for example.
The flagship wines of these producers can go for hundreds of dollars a bottle. In our case, we are getting amazing quality from a famous producer at a fraction of the price. I almost feel guilty for paying such a low price for these second wines, but never enough to not drink the heck out of them.
California "Bordeaux"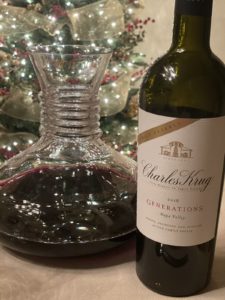 For my lovers of California produced Bordeaux-style blends, you can get no more iconic than Krug. The oldest winery in Napa Valley, founded in 1861 and later purchased by the Mondavi family in 1943, still flourishes as an amalgam of tradition and innovation. The three houses still on site are where the Mondavi boys grew up and played. Even though the Mondavi brand is far reaching, this property holds a personal and ethereal connection for the family. Not to mention they are still producing some damn good wines from these vineyards.
One element to keep in mind when looking back on your celebrations, is why do we not do this more often. It does not need to be an accepted holiday or birthday or anniversary. Life, itself, is a celebration and is so short and fleeting. Schedule yourself and your friends a weekend to eat and drink to appreciate each other and our mere existence. You have my permission to copy my wine list but be sure to add a few of your own as well. I wish you and yours had a happy and safe New Year.
La Crema Sparkling Brut Rosé NV (Russian River Valley / Sonoma) – $45
Even though this wine is a serious traditional method sparkling, it sure is fun to drink. The wine itself is about 2/3 Pinot Noir and 1/3 Chardonnay. There is a nose of orchard fruit (apple, pear) red fruit (cherry, strawberry) and a slight leafy note. The dry plate has citric type acidity and a silky mousse. The flavors mimic the palate with the addition of citrus fruits (blood orange and tangerine). The finish has a bright palate-cleansing backbone wrapped in red, orchard and citric fruits. A wonderfully complex and well-constructed sparkling. I was honestly surprised that this was domestic. Well done.
Aperture 2021 Chenin Blanc (Clarksburg AVA) – $35
This 100% Chenin Blanc has a nose has orchard fruit (peach, pear, apricot, nectarine) nectar, chamomile, citrus (tangerine, lime) and a fruit blossom note. The palate is slightly off dry but the perception of sweetness is masked by the bright mouth-watering crescendo-like acidity. The body is viscous and sensually mouth coating a nod to the lees aging, barrel exposure and slight residual sugar. The fruit on the palate still shows orchard but leans more toward the citrus element (tangerine, lime, orange). The finish is long with the citric-laden acidity lingering.
Le Volte dell'Ornellaia 2020 (Toscana IGT) – $34
A classic Super-Tuscan type blend containing Merlot, Cabernet Sauvignon and Sangiovese. The different varietals were fermented separately in small steel tanks to maintain their varietal characteristics. Once blended, the wine was then aged for 10 months, partly in barrique used previously for Ornellaia and partly in concrete tanks. There are aromas of dark fruit (blackberry, plum, cassis), an interesting note of woody flowering herbs in a cedar box, sweet baking spices (allspice). Dry, tart crunchy acidity, medium body, well-integrated alcohol, fine grained sandy tannins. Truly a great value as a second wine from one of the historic super Tuscan houses.
Charles Krug 2018 Generations (Napa Valley) – $85
This classic Bordeaux style blend contains 84% Cabernet Sauvignon, 10% Petit Verdot, and 6% Merlot. The blended wine lived in French oak barrels for 22 months before being bottled in 2020. Aromas of blackberry, black currant, figs, moist pipe tobacco box, leather, bay leaf, marjoram, unsweetened coco powder leap from the glass. The palate is dry with the ripeness of fruit giving a perception of slightly off dry.  The alcohol well in check, not always the case for big California reds. Flavors lean more tart black fruit and pomegranate with baking spice, leather and pipe tobacco. The tannin structure is ripe, gritty and has an affinity for the gums. Finish has tannins lingering with black fruit and tight linear acidity.