Low Country Thanksgiving (week)
My predictions of Thanksgiving 2022
The Thanksgiving holiday is right around the corner and with it exists an opportunity to consume an intemperate amount of food and beverage. Although many will "run the sprint" that is Thanksgiving Day, I prefer to jog the marathon, beginning the day before Thanksgiving and continuing unt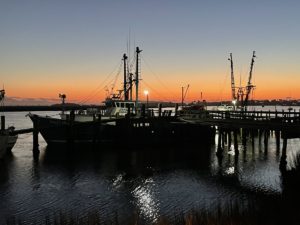 il I pass out watching football sometime Sunday evening. For this reason, there exists a myriad of paring opportunities with a variety of, potentially eclectic, culinary choices.
This year, I'll be heading to Beaufort, SC to spend some time with my family from another mother, along with attempting to fill the non-turkey and dressing portion of my stomach with some sea creature that woefully ends up on my hook. All this while maintaining the wherewithal to pair the wines I toted with me on this adventure to multiple low country grub.
Wednesday
As I envision, Wednesday evening will begin akin to a pregame, with assorted charcuterie and sparkling wine. Since this group is a bit smaller, we can bring an interesting (potentially funky) bottle that may not be as readily accepted by the masses. I chose this particular bottle to pay homage to his Italian heritage as well as my love of traditional method sparkling wine.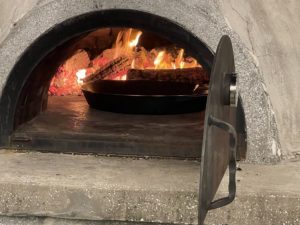 The evening will commence with his brick oven being lit and "pre-heated." This same brick oven that he and his father-in-law built with their own hands. A necessary explanatory digression. Nonetheless, the homemade pizzas of all styles and flavors will commence to flow out of this behemoth that could double as a crematorium.
With sparkling a somewhat distant memory, we turn to opening some reds that have the body to stand up to the savory animal parts we call our pizza toppings. We also want wines that can be enjoyed after we have sufficiently stuffed our gobs and wish to nestle by the fire pit. All these reasons lead me to the wines of Piedmont.
Although these wines can definitely do some damage to the wallet, like most regions, there are bargains to be had; something with impending importance as Christmas looms like a pickpocket on a dimly lit subway platform. I have listed three value suggestions, all at or under $30 a bottle: Dolcetto, Barbera, and Nebbiolo. Information on these wines with tasting notes are here.
Valdo Numero 10 Valdobbiadene Prosecco Superiore DOCG Metodo Classico Single-vintage 2019
This Sparkling made from Glera in the Valdobbiadene region of Italy, differs from Prosecco in that it is made with traditional method, akin to Champagne. Spending only 10 months in the bottle for second fermentation retains some of the fruity element of the Glera grape without imparting much autolytic components of the expired yeast. The nature of the bubbles is more of a mouth caressing mousse rather than aggressive prickliness.
There is also an elevation of the mouth feel in regards to body or weight of the wine. The nose and palate do have a slight fresh baked bread note wrapped around an orchard fruit (pear, apple) and citrus (tangerine) core. The bright citric driven linear acidity continues through the finish. Pair with creamy cheeses, savory tartlets, or just an interesting pour to get your guests in the proper frame of mind. This is a geeky amalgam of a grape and a style that we do not often see cross paths; like if Champagne and Prosecco had a love child.
Thursday (Thanksgiving)
With my stretchy waisted pants securely hoisted up, I make my way to the afternoon pot luck gluttony that we call a low country Thanksgiving. The foods there will be as diverse as Alsatian vineyard soil compositions so I will need to plan accordingly with the wine selections. Although I'm a pleaser, for this stroll through the food trough, I selfishly select what I want to drink for the day. The other guests can choose to ride the wave of my wine imbibement or stray in whatever tangential consumption direction they wish.
With tens of people at the festivity, I will put out a few token bottles for the masses to indiscriminately pour into their wine and food holes with blatant disregard. Although it may be wrong, I will reserve one white and one red, slyly hidden away for myself and maybe a few persons that made the "A" list. Admittedly, I get a bit beverage-selfish around the holidays. It may be something I need to work on to climb those rungs on the ladder toward self-actualization, but not this year.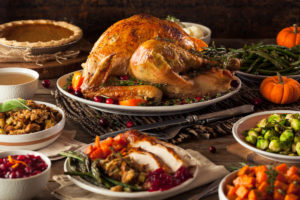 The white wine that I love to drink with traditional Thanksgiving fare, is Gewürztraminer (gah-verts-trah-meener). Long associated with producers in Germany, Austria, Northern Italy and Alsace, these wines can be hauntingly complex, perfumed and ageable. In many cooler climates, we often experience some residual sugar that helps to balance the acid levels. Domestically, these wines are a crap shoot at best. Getting the grapes to the proper ripeness (but not over-ripe) and keeping them happy during ferment, to produce those lovely terpenes, can be an understated headache. Not to mention Gewürztraminer is extremely polarizing; one winemaker stated Gewürztraminer was the Pink Floyd of wine, either you love it or you hate it, there is no in between. When handled with knowledge and care, these can be some of the sexiest white wines you will ever experience, and I found one such in production domestically. You're welcome.
My gated red wine choice is a Pinot Noir that has a bit of rusticity and hint of Burgundy in it. I say that because my personal preference for domestic Pinot Noir steers away from the fruit-forward, higher alcohol, jammy wines and more to the softer, elegant, restrained, earthy Pinot Noir. Again, this is a personal preference, especially this time of year. If you like the other styles, drink the heck out of them but don't judge me because I like it dirty.
Montinore Estate Reserve Gewürztraminer 2018 (Willamette Valley)
One first notices the overt aromatics associated with the variety. The nose has classic lychee, perfumed and floral notes (rose petals and lilac), orange blossom, and my wife's face cream. The palate is dry with a seductive oily texture and a broad acidity. The palate is gently warming with note of lychee, tangerine citrus pith, roses, and spice (ginger). The finish lingers with spice and citrus being the last to leave the dance. This is an absolute treat for those of us who love this variety. With a grape that is expensive to grow, hard to get right in the winery, and polarizing from a consumer perspective, it warms my heart that domestic producers, like Montinore, are not only making it, but making it well.
Montinore Estate Plumlee Road Pinot Noir 2016 (Willamette Valley)
This wine nods to Burgundy with the foundation firmly based in Oregonian style. The nose has complex aromas of red fruit (raspberry and black cherry), earthy notes (dried tea leaves and freshly sharpened pencil), slight sweet spice (all spice), and a savory element. The palate is dry with ripe fruit (raspberry, cherry and blackberry), and an evident mineral edge. The finish lingers with the ripe fruit giving way to dried tobacco dusted with baking spice. This would make a contemplation wine but will shine as my "hidden" turkey and dressing (with dried fruit and chestnuts) kind of wine.
Friday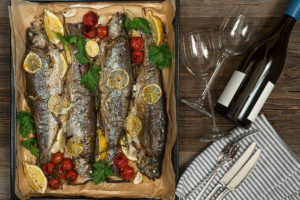 With a sliver of temperance from the evening before, an early morning rise will give the opportunity for some in-shore fishing. The red fish and trout are usually good to us this time of year so I'm making the assumption that we will be having fish for dinner. With our ocean bounty, I am looking for wines that will be a supporting cast to our culinary creations. Back to the Piedmont we go with some light crisp Vermentino for our trout dishes and some sturdy Arneis for any blackened redfish that we can coax into our boat. Information and tasting notes on these very different Piedmont whites can be seen here.
 

Saturday (Oyster Roast)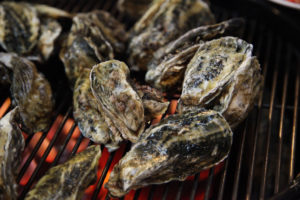 When you put an Italian who likes to cook, with a cacophony of friends who are also 'no slouches in the kitchen', a low country oyster roast is never just that. There will be everything from the aforementioned bivalve delights along with clams, shrimp, all the sides you can imagine and even prime rib. This is the point when you throw temperance to the wind, slip into your big-boy pants and surrender to the epicurean gods.
Although there is a myriad of wines you could serve with all these foods, I slide back into a traditional method sparkling wine to begin the evening. A sparkling for a bookend to any gathering just shows the guests this will be an evening to remember. I love Muscadet with shell toting seafood so I am choosing a sparkling Melon de Bourgogne (the grape in Muscadet) for our first pairing.
Spanish wines are another one of my guilty pleasures. Their wine and food culture has coexisted for centuries, especially when referring to seafood. It is, therefore, natural for me to gravitate to a Spanish white that has brined acidity notes to pair with our oceanic menu items. The Albariño based wines from the Rías Baixas region on the northwest coast of Spain are some of the best wines you can have with clams and oysters. Not only are they a great food wine, they still represent a value for the price point.
With any land animal served during the course of the evening, including but not limited to the prime rib, I will be consuming an interesting wine that I most recently discovered with my last wine vacation. Washington State has some amazing and vastly under-appreciated red wines, that I plan to cover with future content. For now, I am showcasing an amazing find credited to my crazy Korean friend, let's call her Nicole. With her coaxing, we stopped at a few tasting rooms in Woodinville, even before making it to check in at my conference hotel. One such tasting room, DeLille Cellars, ended up with the Malbec / Cabernet you'll see below along with an amazing dinner to follow.
Maléco Vin mousseux de Qualité Brut IGP (Muscadet, France)
What started out as a side project is now enjoying about a 450-case production. The wine consists of 100% Melon de Bourgogne and shows aromas of orchard fruit (peach, pear), citrus, sea spray and a slight autolytic element (yeast bread starter). The palate is dry with a bright briny, mineral-laden acidity that almost begs for raw mollusks. The mousse speaks of traditional method and the autolytic components showcase the 24 months the wine spent on the lees. The palate is akin to brined citrus fruits inside a freshly made pie crust. This is a fun and food friendly wine that is geeky cool and a must-try.
Albariño Do Ferreiro 2020 (Rías Baixas, Galacia, Spain)
As you are devouring your favorite sea creatures, you'll savor This 100% vegan Albariño (ahl/bah/REE/nyoh). There are nuances of tree fruit (green apple and white peach), lime zest and pith, brined citrus notes and a saline and struck flint minerality. The acidity has a jagged component that is mouthwatering and promises to cleanse the palate between every bite. The finish shows a slight bitter citrus pith element with a splash of ocean in your mouth.
DeLille Cellars Minuit 2019 (Yakima Valley, Washington)
This red blend (70% Malbec and 30% Cabernet Sauvignon) has an amazing array of aromas: blueberry, blackberry, raspberry, spice (green peppercorn, celery seed), and dried tea leaves. The palate is dry with ripe fruit and warming alcohol that give a slight perception of off dry. The acidity is juicy and mouth-watering with flavors of raspberry, elderberry and some blackberry. There are evident spicy and herbal notes integrated with the berry notes that remind one of a savory fruit dish. The tannins are evident but ripe, fine grained and well-integrated, one benefit from the 18 months in 100% French oak (60% new).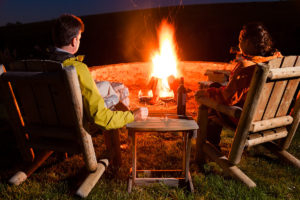 I truly hope all my research, and drinking, helps you in selecting some interesting and fun wines for your multi-meal holiday feasting. Remember, this pontification of the holiday weekend remains my vision or plan of what may be to come. A subsequent piece will follow up with the truthful actuality of events, for better or worse, that occurred throughout Thanksgiving. Stay tuned.