FMN – November 2019 – Bountiful Brunch Wines
Although I admittedly sometimes drink alone (for a multitude of reasons), I love sharing wine with groups of people. I have planned, facilitated, and presented at a number of wine events but some stand out as exceptional.  Over the last seven years I have had the pleasure of handling the wine for what I consider the premier wine and food event in the area, The Pee Dee Land Trust Bountiful Brunch.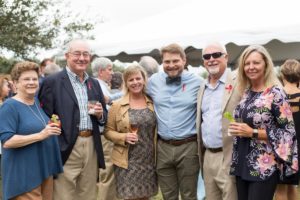 With the Brunch still fresh in people's minds, I wanted to take this opportunity to share the wines I chose for the event so everyone could experience some of these interesting treats. Unfortunately you'll have to cook the courses yourself and manufacture some of that southern plantation ambiance but with enough wine, anything is possible. (Forgive me George R.R. Martin for paraphrasing).
Although a bit cliché, I love to start an event with sparkling wine. I think it sets the mood, and in this case I went for rosé traditional method sparkling from Limoux. When a traditional method sparkling wine is made in France but outside the appellation of Champagne, it carries the name Crémant. In this case, Limoux is an appellation in the south of France inside the Languedoc region and has a long history of making sparkling wine; at least 100 years prior to Dom Pérignon traveling to Champagne.
Even though the history of sparkling wines remains ancient, it was only since 2006 that rosé Crémant de Limoux was allowed. These fuller bodied sparkling wines, with an obligatory minimum of Chardonnay and Chenin Blanc were exactly what I was looking for with our complex passed appetizers.
The next was a tricky pairing with a cornucopia of flavors, savory textures and pickled items.  I chose rosé that was petillant (lazy bubbles) and had a slightly off-dry (some slight perceptible sweetness) from northern Portugal in the denomination of Vinho Verde. This demarcated area, located between the Spanish border and the city of Porto, has an ancient history of wine production dating back to Roman times.
The term Vinho Verde, or 'green wine', has nothing to do with color but rather refers to the youthful nature as these wines are made to be consumed young and vibrant. A large percentage of wines produced here are white and of the minority red and rosé wines, most are consumed locally. The off dry nature and the spritzy component make a comfortable partner to a variety of charcuterie and salty, briny foods.
Scallops are one of my favorite treasures from the sea and there are nothing short of 20 wines I love drinking with them. Thus, one has much lateral maneuverability in selecting a wine but I could not succumb to the ordinary or overdone. With the first white wine served of the day, I wanted to make a statement and the central European country of Hungary certainly fulfills that need.
The Tokaj region, nestled in the foothills of the Carpathian Mountains of northeastern Hungary, has long been appreciated by European royalty for their unctuous nectar sweet wines. Although this region continues to produce these historic ethereal wines, many producers have begun to experiment with dry still wines made from the same indigenous varieties. I can honestly say that I was gob-smacked by the elegance, craftsmanship and complexity of these wines. With the tariffs affecting many wine imports, this presents a value alternative for your white wine fix.
In the Anjou district of the Loire Valley, near the city of Angers, there lies a classic appellation that contains some of the sexiest dry white wine in the world. Named after the ancient city of Savonnieres, the AOC Savennières pays homage to the Chenin Blanc grape by producing some of the most complex and age-worthy white wines in the world.
With complete honesty, I can admit that I could select many wines to go with a dish like celeriac, but I wanted this wine for, firstly, my own hedonistic reasons. I also wanted to show our crowd how truly complex a white wine can be, even if you are one of those professed 'red only' drinkers.  Prices can quickly reach nosebleed heights for some of the more boutique producers but even the "entry-level" wines in this appellation are boast-worthy.
The final course of crispy pork belly really strikes a chord with me. Although there are a plethora of wines that would be received with crowd-pleasing delight, I wanted to select the final wine from domestic stock. Of all the wines I tasted, the number of which is not entirely important, I favored some of the Syrah to satisfy what I wanted to portray. Surprisingly, the more restrained Syrah from Oregon won out over the rather larger and bolder brethren from California and Washington.
One reason for this particular Syrah was due to location. I always preach that the most complex and elegant wines on the west coast seem to occur just east of disruptions in the Coastal Range. These 'openings' allow the cool air from the Pacific Ocean to funnel inland creating interesting microclimates and some amazing wines, and in this case, credit goes to the Van Duzer Gap.
Although I take credit (or blame) for the wine selection, the praise truly goes to Micky Finns and the Havekost family for their generous donation of all the wines. I would also like to thank the Pee Dee Land Trust for their conservation of land for future generations to appreciate and allowing me to use my skills to assist with that goal. So get out there and be an active participant by consuming and conserving. The passive approach to conservancy is doomed to result in a gas station or parking lot.
Pee Dee Land Trust Brunch Wines 2019 :
Aimery Crémant de Limoux AOC Rosé Brut / France        $18.99
Produced from a blend of 65% Chardonnay, 20% Chenin Blanc and 15% Pinot, our wine spent 18 months aging sur lie (on the lees of expired yeast). One first notices the mouth caressing mousse followed by biscuit / hazelnut aromas a result of that yeast exposure. The red fruit (cherry, raspberry, and pomegranate) emulates a savory baked fruit tart. Steeped in tradition, the name itself 'Cuvée 1531' pays homage to the monks of Saint-Hilaire, credited for beginning the sparkling wine tradition.
Encostas DO Lima Rosé / Portugal           $11.99
This petillant, spritzy rosé contains a blend of 75 % Souazao (a local Port grape), 15% Borracal (also known as Caiño Tinto), and 10 % Espadeiro (Galician Grape type used specifically for rose wine production). The bright acidity and the medium dry nature of residual sugar balance well together on the palate. The crisp bright nature of the candied fruit element along with a temperate 10% abv removes any guilt of copious consumption.
Királyudvar, Tokaji Furmint Sec / Hungary           $23.99
This white blend is composed of 85% Furmint and 15% Hárslevelu, indigenous grapes of this historic producing region. Aromas and flavors of stone fruit (white plum and apricot) and a viscous medium-plus body finish with mineral-laden pleasure. Even though the aromatics are strongly overt and the palate a balance between viscosity and acidity, there remains a certain elegant thread woven through this wine.
Domaine des Baumard Savennières / France      $28.99
This, by rule, 100% Chenin Blanc remains somewhat different from other Chenin wines. The usual slightly perception of off-dry earthy honey is replaced here with orchard fruit (green apple, pear), nutty (almond) and smoky mineral undertones. There is a sexy leanness and elegance that will continue to evolve with bottle age. One of the few white 'contemplation' wines I have had the pleasure of sipping.
Cristom Vineyards, Syrah Estate / Eola-Amity Hills           $54.99
Graft 4 different clones of Syrah over Chardonnay vines in the warmest parts of the vineyards and add Van Duzer Gap ocean influence and you have something ethereal. This restrained elegant Syrah uses 1/3 whole cluster fruit and expended French oak aging to give complex aromatics of black fruit, spice (pepper, anise), violets and a well-integrated velvety tannin structure. The crazy low production of 260 cases in the 2016 vintage makes it a rare privilege to sample.