FMN – March 2022 – Spanish Wines, Overlooked and Underappreciated
Although I rarely make future plans based on the prognostications of a quadruped, I must admit that the little rodent was correct. Hoping that the winter will finally releases her grasp and let nature awaken from her slumber, I look forward to where my wine choices will take me. For those scrutinizing my personal pronouns, the answer is yes; I believe nature to be female rather than male for numerous reasons. I digress.
With the buds swelling and Spring approaching, my food and wine choices do change slightly with the seasons. This gustatory truth coincided with a Spanish wine talk I gave recently and the liver-challenging flood gates opened. These wines are grossly underappreciated along with a food culture second to none world-wide. The country is vast and the wine regions and styles plentiful, but by selecting some laterals (wines that have qualities similar to other wines), I think I can help you make the jump without any reluctance, gnashing of teeth, or regret.
The Basque Country in northern Spain, in proximity to the Bay of Biscay in the western part of the Pyrenees, has long been poorly understood by the outside world. The traditions, food and wines of these people date back generations and even transcend the French Spanish border. One particular unique beverage in this region that cries out for warmer weather is Txakoli (chock – oh – lee).
The winemakers there, and many wine professionals, will tell you that the white version of this wine is made from the Hondarrabi Zuri grape. This fact is partially true but the grape, upon recent genetic testing in the vineyards, has been determined to be a field blend with Courbu Blanc, Crouchen, and Noah (hybrid), according to Master of Wine Jancis Robinson. This petillant (lazy bubbles) wine is produced by fermenting in stainless steel then sealing the vat just prior to end fermentation. The pressure inside the tank builds and the carbon dioxide becomes dissolved in the wine. Since the tank is closed later during the fermentation process, the wine is not fully sparkling but rather reminiscent of a thirst-quenching spritzer.
Traditionally, the wine is poured into an interesting shaped pitcher-like carafe with a long narrow spout, called a porron. It is then passed around and each person takes their turn holding it high above their head and pouring it into their open mouth. A great celebratory shout of "Topa!" ("cheers") ensues and temperance goes out the window. This Basque wine drinking equivalent to a keg stand may be one of the most unpretentious and amazing ways to consume wine I've ever experienced.
If crisp and acidic are in your wine wheel house but you are completely bubble-averse, we can head over to the north western coast to a region known as Rías Baixas (ree-aahs buy-shahs). This D.O. (Denominación de Origen) is located in noncontiguous growing regions in proximity and within Galicia. Although some red is produced here, the majority is light crisp white wines to accompany their large and diverse seafood harvests.
The superstar white grape, Albariño is known by Alvarinho across the border in Portugal, where you may have enjoyed it as the wine Vinho Verde. This light crisp acidic wine will be an easy step for those that are versed with Sauvignon Blanc or Pinot Grigio. Make no mistake, this wine maintains its own identity compared to those other whites, but the acidophiles will smile at their first sip. There is also a brined minerality that some argue is from the proximity to the ocean and others due to succinic acid levels. Whatever the reason, Albariño wines may be one of the best things you can pour next to any type of fresh seafood, especially ocean mollusks.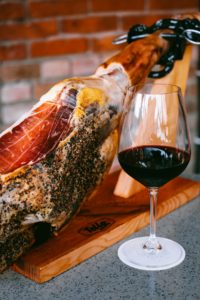 Fret not you red-preferring wine monomaniacs, I have a few Spanish wines for you as well. The two most familiar wine grapes coming out of Spain are Tempranillo and Grenache. These varieties are grown in vastly differing climates, soils, and altitudes all over the country. There are a few regions that are known for consistently producing great wines from each of these varieties but as markedly different wines.
Tempranillo gains its name from the Spanish word temprano, meaning early. True to its name, Tempranillo buds early and ripens early and remains the most planted red wine grape in all of Spain. This fact is reflected by the myriad of colloquial names enjoyed by this grape variety (Tinta del País, Tinto Fino, Tinta de Toro, Cencibel, Ull de Llebre, Aragones, and Tinta Roriz, in Portugal); and I'm certain I'm missing a few.
Although Tempranillo is grown in many regions, I decided to showcase the Denominación of Ribera del Duero, located in Castilla y León. Tempranillo is the focus here with almost all wine production being red; and a small amount of rosado (rosé). The region is incredibly diverse with over 30 different soil types and one of the highest average elevations of all wine regions in Europe (2500-2800 ft.). It was considered a noteworthy viticultural area since the Middle Ages and the underground cellars established by monks during the period are still in use today.
These wines have to contain seventy-five percent Garnacha (Grenache) to use the name Ribera del Duero on the label with international and local varieties completing the blend. Producers have a range of aging preferences (Joven, Crianza, Reserva, and Gran Reserva) with some aging in American and other French oak. Although there are a range of styles, Tempranillo always seems to have a freshness and vibrancy due to its acid structure. Along with this the tannins have a chalkiness and are rarely obtrusive, which makes it easy to drink these wines regardless of aging. Although some are good as a sit and sip, these wines get exponentially better with the proper pairings.
Many wine lovers may be familiar with Garnacha (Grenache) from some of the famous (and not-so-famous) blends of France's southern Rhone; the proverbial GSM blends (Grenache, Syrah and Mourvèdre). The well-known wines from Châteauneuf-du-Pape are a majority Grenache and sometimes 100% varietal. This grape enjoys a generous amount of area under vine in Spain, and for a long time was unfortunately not given the respect it deserved. For decades much of the Garnacha was used to raise the alcohol content in inexpensive blends.
Garnacha started its comeback in Spain during the 1990s thanks to some forward-thinking winemakers in the Catalonia area of Priorat. In this region Garnacha (Garnatxa in Catalan) is the superstar with an often-blended supporting cast of the indigenous Cariñena (Samsó) and international varieties of Cabernet Sauvignon, Merlot, Cabernet Franc and Syrah. The wide diurnal temperature (day – night temperature variance), the licorella (lee-co-rey-ya) soils, and protection from the Serra de Montsant Mountains offer a unique growing area. The Grenache wines here tend to be darker, more concentrated and have a more overt tannin structure compared to those of the southern Rhone.
To be completely honest, it surprises me that these well-priced food-friendly wines are not more domestically appreciated. The disconnect may be due to the regrettable fact that the Spanish food culture has not been widely adopted in this country. If there were more Spanish restaurants serving tapas and pinchos, our society may have the opportunity to have an increased exposure to these amazing wines. Hopefully, with the colder weather behind us, we can focus on firing up those grills and pairing your backyard culinary masterpieces with some Spanish juice.
Suggested Wines:
Ameztoi Txakolina 2020                                             Getariako, País Vasco                                                 $25
One first notices the lazy bubbles ebbing up to the surface. The nose is light with aromas of crisp orchard and citrus fruits. The dry palate has mouthwatering persistent acidity, a prickly note from the petillance, and a light refreshing body. The flavors mirror the nose with an added mineral backbone. Pair with seafood ceviche, lighter fish dishes, and fried foods (seafood or chicken) or, with such low alcohol drink with blatant disregard at the pool side.
Do Ferreiro Albariño 2018                                         Rías Baixas, Galacia                                                     $25
The wine has a profound nose of orchard fruit (green apple and white peach), lime zest and pith, brined citrus notes, saline and struck flint minerality. The palate is dry, with a brine laden minerality, and a noticeable medium plus palate. This is one of the more structured white wines with a noticeable phenolic grip that manifests as slight bitter citrus pith finish. Pair with any seafood with a shell, octopus or squid.
Dominio de Pingus Psi 2018                                      Ribera del Duero, Castilla y Léon                             $37
An affordable offering from the winemaking superstar, Peter Sisseck. Although predominantly Tempranillo, the blend is balanced with 12% Garnacha and 2% other varieties.  The nose is elegant and complex with aromas of red and black fruit, savory herbs, a slight sweet spice note (anise) and some torrefaction (roasted). The palate is dry, fresh acidity, and a medium velvety body. The flavors are red (raspberry, black cherry), blueberry and a blackberry fruit. The baking spice and dried savory herbs persist with a chalky fine grained tannin structure and evident minerality. Pair with roasted lamb, cochinillo (suckling pig), and Chorizo paella.
Alvaro Palacios Camins del Priorat 2019               Priorat, Cataluña                                                          $27
A typical regional blend of 35% Garnacha, 24% Syrah, 17% Cabernet Sauvignon, 11% Cariñena, 10% Merlot and 3% other varieties, this wine has aromas of baked black fruit (blackberry, currant), plum, fig, brambles, and baking spice. The palate is less complex versus the nose but every bit as pleasing, an integrated tannin structure, soft acidity, some mineralty, gently warming alcohol and a meaty, savory note. You could certainly pair with slow roasted beef but venison, boar, oxtail or even duck confit would be so much better.