FMN – March 2021 – Drinking Geeky Unusual Varieties
There are many aspects of the wine industry that are in constant flux. Popularity of certain wine styles and regions seem to wax and wane with the global consumer. Even our local shelves are affected by the purchases of those around us, as evidenced by interesting bottles relegated to the discount bin, never to be reordered again.
The consumers are far from blame, just buying what they are comfortable or familiar with. The onus lies on the industry "professionals" taking some initiative and introducing their customers to some of these unfamiliar treasures. With the industry margins getting ever slimmer and larger conglomerates gobbling up the proverbial "little guy," we are on the precipice of ebbing toward a wine monoculture. Meaning, the potential future of wine may consign the consumer to a choice of a limited number of varieties from only the largest of surviving companies.
So this month, after I get down from my lofty soap box, I will be exploring the idea of drinking diversely. Seek out unusual varieties from areas you are unfamiliar with and share what you learned with your consumption cohorts. Together we can drink to save some of these neglected wines.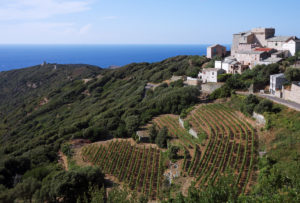 The Mediterranean island of Corsica lies slightly north of Sardinia and remains a French territory. Although there is a great deal of French influence here one notices the viticultural influences of Italy as well. As part of the busy Mediterranean trade routes for thousands of years, Corsica enjoyed importation of grape varieties from many different countries but it was the Italian sourced grapes that seem to have withstood the test of time. Over the centuries, many of these varieties developed their own colloquial names but recent ampelography unveils their true identities: Sciacarello (Mammolo), Nielluccio (Sangiovese) and Malvasia à Gros Grains (Vermentino/Roero).
Guilty of overproduction for much of the twentieth century, Corsica began grubbing up vines and converting from a quantity to a quality driven wine philosophy. We now see the benefits of these changes as even the entry level wines are quite palatable. As Corsica is only recently becoming relevant in the global wine industry, much of their juice shows attractive retail price points; great news for us savvy consumers.
North Africa may seem a strange place to find vineyards but viticulture here dates back to the Phoenicians and continued on later with Roman occupation. The altitude of the Coastal Atlas mountain range and the cooling effects of the ocean breezes help to moderate the otherwise unhospitable Moroccan desert climate. Under Islamic rule, alcohol was banned and from about the seventh century until well into the nineteenth century the wine industry was completely nonexistent. The roller coaster ride continued with Morocco being one of the largest wine exporters in the world by midway through the twentieth century only to collapse again after gaining independence in 1956.
Over the last thirty years foreign investment has breathed new life and restored Morocco to its former wine producing glory. Although a predominantly red wine area, they do produce their share of white and rosé as well. With less than ten percent exported, these wines can be an interesting and unusual treat.
We talk about the extensive history of wine behemoths like Spain, France and Italy but Eastern Europe maintains the bragging rights for some of the oldest wine producing sites in the world. Within the last few years a site was uncovered in Armenia that was later discovered to be the oldest known winery ever found, somewhere between 6000 and 4000 BC.
Although their wine production continued to flourish even under the Soviet rule, it was the Armenian brandy that gave them fame. At one point Armenia laid claim to a quarter of all brandy produced inside the entire Soviet Union. They continued to produce still and sparkling wines but little found its way outside the Iron Curtain. Once this curtain was "lifted" the world was unaware of the potential this small Eastern Bloc country held. There are a myriad of varieties that are unique to these regions and, along with the use of Armenian oak, the distinctive aromatics created are not found anywhere else in the world.
So although I encourage you to drink for the benefit of your beverage education, this month I am taking it a proverbial step further. I am asking you to consume these wines to help prevent the grubbing up and extinction of these potentially soon to be forgotten gems of the past. With tax time approaching, this may even qualify as a charitable donation but I would run that past your accountant first.
Suggested Wines:
Terra Santa Ile de Beaute Blanc                Corsica                                                                             $11.99
This wine is a blend of Chardonnay and Vermentino (aka Rolle in southern France). The nose has overt citrus characters (lemon curd), fresh cheese and citrus pith. The palate is dry with a crisp slightly bitter briny acidity, lemon pith, and a raw nut element. The finish is lingering with mouth-watering acidity. This represents a great transition wine for Pinot Grigio lovers but with more body. Pair with creamy cheeses, ceviche, and marinated shrimp.
Domaine de Sahari Rosé 2019                   Beni M'Tir, Morocco                                                   $12.99
As a blend of Grenache and Cinsault, this light salmon color rosé shows aromas of light bright cherry, raspberry, and cranberry with some tropical melon. The palate has bright crunchy red fruit, cherry stone, melon and a slight orchard blossom note. The balance is such that this would be a hit with food or just as a pool-side sipper. Pair with grilled fish (tuna steaks), blackened redfish, tagine cooked vegetable couscous, or garlic naan.
Yacoubian-Hobbs Areni 2016                    Rind, Vayots Dzor, Armenia                                      $33.99
The wine made from this thick-skinned ancient variety boasts a medium ruby with clear reflectiveness. The nose has elements of raspberry, blueberry, spice (pepper and celery seed), and a haunting purple floral hint. The dry palate has bracing acidity with a candied red fruit, brambles and a prevalent but fine grained tannin structure that is evident on the upper gums. The finish lingers of tart, slightly astringent red jolly rancher. Pair this with game birds, crispy-fatty pork belly, cured meats, bacon wrapped…anything.