FMN – February 2021 – Port Wine
With the New Year officially begun we have seen little change and improvement in our collective situations. Many of us still lack the ability to have a "normal" evening out or worse yet have a proverbial restrictor plate attached to our alcohol purchasing hours. Nonetheless, Saint Valentine Day hastily approaches and any respecting romantic knows that a global pandemic is no excuse for lack of preparedness. Although there are many choices of "priming" beverages for this occasion, I will be promoting a more old-school approach with the inclusion of Port.
Before you roll your eyes and conform to the ridiculous opinion that this drink is old fashioned and only consumed by old men wearing smoking jackets and puffing malodorous oversized cigars, indulge me. These wines are varied, have an interesting history and quite addictively delicious.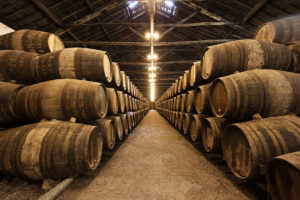 The name Port derives from the Coastal town of Oporto, Portugal, where the shippers stored, aged and exported their hooch. These storage warehouses were miles downstream from where the grapes were actually grown and the wines made. The interior of Portugal, being extremely hot and dry were inhospitable for aging so they were transported by small barges to the cooler and more humid coastal towns of Oporto and Vila Nova de Gaia.
The creation of the wine itself is another matter completely. Trade wars raged between France and Britain in the seventeenth century, with a punitive level of taxes placed on French wines by William III. The unthinkable notion that the Brits would have to go without pushed them to turn to another existing trade partner, Portugal. The harsh, astringent Portuguese wines, affectionately known as 'Blackstrap', traveled poorly on the long ocean voyage and often arrived in poor condition.
The idea of adding grape spirit (brandy) to the wine as a preservation technique was adopted from the monks at the Lamego Monastery, making the wines sweeter to taste and higher in alcohol. The resulting beverage not only travelled without issue but became an instant rage in Britain. The profound nature of this success spurred merchants and traders to spring up vying for their piece of the market. Duoro boundaries and production regulations were soon established making this the first demarcated area in the world for wine production.
Like a majority of wines, Ports are a blend of different grapes. However, unlike many wines, traditionally the blends occurred before the wines were made since different varieties grew together in the same vineyards. These 'field blends' made it difficult to ascertain the exact grape varieties and amounts in each wine. Depending on what source you believe, there are around 80 varieties approved for use in Port wine but the most widely planted varieties remain Touriga Franca, Tinta Roriz (aka Tempranillo), Tinta Barroca, Touriga Nacional, and Tinta Cão.
Similar to many other categories of wine, Port has a variety of styles that stem from how the wine is handled during the production process. The determining factors come down to length and type of aging and if the wine is allowed oxygen exposure. Although all are considered Port wine, their personalities are unique unto themselves.
The most common style, Ruby Port, relies on minimizing exposure of the wine to oxygen thus maintaining the primary fruit elements. They are usually aged for less than three years, are ready to drink when purchased and will not improve with bottle age. The special category, Reserve or Premium Ruby, have slightly more age (around five years) and show a bit more color and depth of flavor. These wines are not terribly expensive and tend to go well with chocolate desserts.
The term 'Late Bottled Vintage', coined by Noval with their 1954 vintage, represents characteristics of a Vintage Port and a Ruby. These wines are made from grapes harvested in the same year but not necessarily a year reaching the threshold for 'Vintage' Port. They are aged four to six years before bottled, a bit more complex than a Premium Ruby and are ready to drink at purchase. The label will note if the wine was filtered or not. The tradeoff for the trouble of having to decant the unfiltered wine is its ability to improve slightly with bottle age.
Vintage Ports are declared during years that the producer feels there were exceptional conditions resulting in a unique and quality wine. This, of course, remains quite subjective and relies on the reputation of said producer. The grapes are all harvested the same year and the resulting wines see two to three years of non-oxidative barrel aging. They are then bottled without filtering and require at least a decade before they begin to become approachable. These special wines will last decades in bottle, need decanting after opening and usually must be consumed within a day or so after opening.
Port wines that see some oxidative aging are referred to as Tawny Ports. The basic Tawnys are aged at least three years in oak with multiple rackings to encourage oxidation where the Reserve Tawny sees a minimum of seven years in barrel. There are some Tawny Ports that display an age designation (10 year, 20 year, etc.) which represents an average age rather than a minimum; an often misconstrued fact. These are filtered so they require no decanting and will generally deteriorate with prolonged bottle age. The oxidative aspects of these wines manifest as dried fruit, walnut, caramel, and coffee on the nose and palate.
These wines have their core volume sales in Belgium, France and the Netherlands. Although maintaining their popularity in Britain, their market continues to shrink in The United States. I believe the lack of consumer exposure and the poor marketing job by the industry has relegated these beverages to the record store equivalent of the discount rack; a sad and sorry state indeed.
When you bring a few bottles home to judge for yourself, remember that there are some proper traditions to follow with Port consumption. First, place the decanter, or bottle, to the right of the host or hostess on the table. Then the Port is passed to the left, counterclockwise, around the table and coming back to rest in its original position on the table. Although there are some rumors that this comes from the Royal Navy stating pass the Port to port or to the left to keep one's right hand free for drawing of a sword if and when needed, more likely it was to make certain everyone got a fair snoot.
If the Port comes to a standstill while making its table rounding journey, it is considered rude and poor form to ask someone to pass the bottle. Instead, tradition commands the question, "Do you know the Bishop of Norwich?" as a subtle hint to get the bottle moving again. This tradition comes from the rumor that Bishop Bathurst of Norwich, in his aging years, would fall asleep at the table leaving the port stalled in proverbial limbo.
I ask you again to put aside the preconceptions about this noble fortified wine. There are few drinks that pair so well with different chocolate desserts while maintaining the ability to be a dessert in itself. If it can add to the ambiance of the bawdy playwright William Shakespeare, it can certainly (help to) elevate your romantic Valentine Day evening.
Suggested Wines:
Graham's Six Grapes Reserve Port                                                                                                   $24.99
One first notices the sexy deep inky ruby color and nose of blackberry, baked plum, anise and wood shavings. The palate is rich with well integrated alcohol and flavors of blackberry, prune and baking spice. The finish is gently warming with sweetened black fruit reminiscent of the sauce left on the plate after grandma's blackberry cobbler. Pair this with dark chocolate, pungent cheeses (Stilton) or just sip and enjoy.
Quinta Do Noval Late Bottled Vintage Port 2012 (Unfiltered)                                                   $25.99
The deep ruby color give way to a slightly tawny colored rim. The nose was initially a bit closed and took a few minutes to open up to dark fruit (black current, plum, and blackberry), sweet spices, and cedar trunk. The palate has an array of fruit (preserved black cherry, Christmas plum pudding, and blackberry syrup). The palate has a sweet viscosity that wraps around the dusty mouthfeel for a lingering finish. Pair this with chocolate mousse, flourless chocolate torte with blackberry reduction or candied bacon.
Taylor Fladgate 10 Year Old Tawny Port                                                                                          $28.99
The tawny color hints to the oxidative aging. The nose has sweet spice, cedar, walnut, and dried preserved fruit. The palate carries the dried fruit and nuttiness along with a baking spice and toffee note. There is a slight perception of tannin via a dusty drying finish but well integrated. The wine finishes with a lingering sweet nutty element. Pair this wine with medium sweet nut based desserts (walnut, almond, pistachio), bitter sweet chocolate with toffee, aged nutty cheeses (cheddar), or toasted coconut.